An important feature of Galicia is the presence of many fjord-like indentations on the coast, estuaries that were drowned with rising sea levels after the ice age. These are called rías and are divided into the Rí­as Altas, the Rías Medias, and the Rías Baixas. Most of the population live near the Rí­as Baixas, where several large urban centers including Vigo and Pontevedra are located. The rias are important for fishing, and make the coast an important fishing area. The spectacular landscapes and wildness of the coast attract great numbers of tourists."

– Wikipedia
Buenos Aires – Though a large number of the Spanish restaurants here focus on Basque style cooking, every now and again we come across one that covers another region. Yesterday, I headed out to one of those with a friend who had spotted it in her wanders – a chance to try a little lunch from the Galicia region of Spain. Technically in the Monserrat barrio, but colloquially in Congreso, we found ourselves sitting down in a very charming little restaurant, Betanzos, at Venezuela 1534. The room is filled with paintings and photographs from the region, and while not packed with folks at lunch, they did a light but steady business. It's named after a town in the region.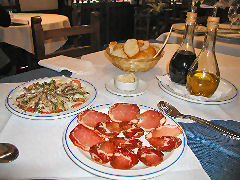 We started off with a sampling of a couple of appetizers. Of course, my favorite Spanish starter, boquerones, fresh anchovies preserved in oil and vinegar, had to make an appearance. Our waiter, who was delightful to chat with, asked if we wanted them plain or with tomato and onion, I said plain, the kitchen sent them out with tomato and onion – minor faux pas, but they were good – very plump anchovies actually. The other selection, some lomito embuchado, turned out to be slices of two different, but very similar types of paprika cured beef. Also very good. Some decent breads arrived as well, including a really good olive bread – interestingly, instead of butter or olive oil, the breads were served with a little ramekin of tuna salad.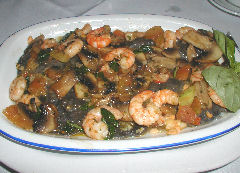 We were both in the mood for pasta-ish things, so I can't tell you a lot about the special fish dishes that make up a good portion of the menu. But among the chef's specialties were two black pasta dishes – the first, sorrentinos negros al peñón, which literally means something like "black sorrentinos in the style of the rock" – peñón usually referring to a large rocky island, like Gibraltar or Alcatraz… The sorrentinos themselves, big and fat and stuffed full of well seasoned salmon, the sauce a shrimp and mushroom sauce with lots of saffron and paprika. Really delicious!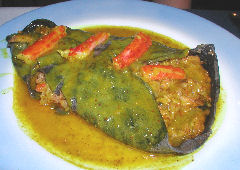 For our other main course, we selected the crepes negros con centolla – a slightly thick, very well made squid ink crepe wrapped around a mixed vegetable and seafood filling, and topped with steamed crab legs. The flavors were great, but the crab itself was a little on the chewy side – no doubt frozen crab legs and perhaps steamed just a trifle too long. Still, it was a good dish. We decided against dessert, perhaps another time – this place is definitely worth a visit – and finished off with a couple of coffees.
After leaving, we wandered on down Venezuela and happened across this rather interesting looking pink building at number 1671, I especially liked the doors…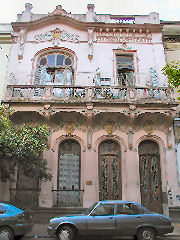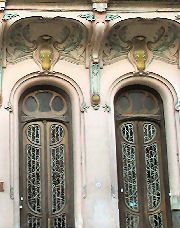 A bit later, I came across this home at Ecuador 927… really charming looking Spanish style – I want it. Real estate brokers, you have your work to do…