"In terms of fast food and deep understanding of the culture of fast food, I'm your man."

– Bill Gates, American Entrepreneur
Buenos Aires – I've talked a bit in the past about the apparent gradual and subtle addition of vegetarian restaurants to the Buenos Aires dining scene. It's one of those things that many folks still won't acknowledge, either because they're committed to the view that all porteños are carnivores or because they want to continue the self-flagellating "woe is me" view that there's nothing here for them to eat other than some sort of bad, imitation vegetable products. The other side of that view comes from the locals themselves, who pride themselves on their nation's beef consumption, even if vegetarian and not partaking of meat themselves. If you have that nationalistic view, it's hard to admit there's any growing trend of options.
The problem is, that the vegetarian restaurant world here is still in its fledgling state. It's also led by the steam line style cafeteria or tenedor libre. These can range from truly appalling to mediocre to quite good – dependent both on the type and quality of the food being served, but perhaps even more so by the logistical management of the steam line. For those who don't know, a steam line is a long serving station of hot food (there's usually a cold food non-steam section as well), with metal pans of food set above hot, steaming water, that keeps the food hot. Some of these are self-serve, some are not. At some places, the food looks fresh and appetizing, at other places it looks like it's been sitting above the hot water since steam was invented.
I started out a couple of days ago to visit a place that had been recommended by a local vegetarian, La Ciboulette, at Sarmiento 1802, in Centro. On walking in, I noted first of all that it was a tenedor libre, or all-you-can-eat sort of place. Second, it was setup with a salad bar, and a couple of self-serve steam lines. Third, that it wasn't completely vegetarian, by any stretch – sure there was the salad bar, and one small steam table was vegetarian dishes, mostly deep fried vegetables and a couple of vegetable tarts, but then there was the fish, chicken, and red meat too. The food fell into that "since steam was invented" category – crusty and dried out, wilted, sauces with skins formed atop… nothing that looked like I wanted to dip my fork into it once, let along freely. And while the place was fairly busy, everyone also looked fairly grim, as if they just wanted to get through the experience and then please, go somewhere else. So I did, without sampling, and am not sure that I'd go back again to give it another shot, even for the sake of review…
Instead, I headed not far away to Lotos, Córdoba 1577, also in the Centro area. It's right next to La Esquina de las Flores, a macrobiotic grocery and cafeteria that I found lacking last year when I checked it out. I wish I'd known I could go next door. Now Lotos is clearly popular. The tables are jammed in right next to each other in three long rows – essentially several dozen person communal tables. The place is teeming with people, and as fast as a spot opens up, someone is there to sit. A couple of busboys are kept on the constant move clearing tables as people get up and leave, and just manage to keep up with the flow. The steam line is of the "we'll serve you" variety – where you can point to things, ask questions, and receive a portion on a plate passed over the glass counter to you. It's clean and efficient, from the multi-selection salad bar to the man in a suit just past the cashier who places the silverware on your cafeteria tray.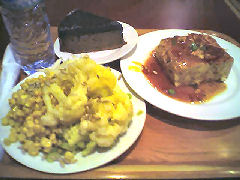 The salad bar selection is excellent, with a variety of greens and various steamed and raw vegetables, including some offbeat things like daikon. The portions are generous, if a bit pricey for a BsAs salad – AR$6.50 for a small salad of up to 4 items, AR$8.50 for a large of up to 6 – on the other hand, everything was really fresh, and I ended up with a delightful salad of daikon, corn, cauliflower, and celery. They have a selection of dressings, or you can add your own oil, vinegar, lemon juice, salt, pepper, or seasonings from a table at the far end.
The hot section is next, and there's quite a good assortment of dishes and styles of dishes, with a touch of a Chinese bent to them, and, in fact, most of the staff are Chinese. It's a little hard to figure out what you want to eat, as the place is so packed, and the line is moving along at such a clip, that you can't even figure out what all is available. You end up doing what I did, letting people bypass me with muttered imprecations (theirs, not mine), while you look things over. Many of the selections were usual suspects – vegetable tarts, canneloni, lasagna, stir-frys, but a few were more interesting, and I picked a nice sized portion of "tofu con alga marina", or tofu and seaweed – that was a baked and well seasoned scramble of tofu and roasted vegetables with a "crust" of seaweed below. Quite good!
The dessert section was overrun with a variety of nearly identical looking slices of cheesecake-ish desserts – made from tofu as it turns out, slightly gelled (presumeably not with gelatin but with agar or something like that), topped with a variety of different fruit gels. Mine was a fig topping and the tofu cake underneath was flavored like a spice cake – molasses, ginger, spices… excellent. Water and fresh juices were offered, but, in the incongruous world that is Buenos Aires, there was also an array of dietetic sodas, including Pepsi Light. Plenty of good high fructose corn syrup and additives for you. A nice touch on the waters – it's the first place here that I've ever been asked whether I wanted my water room temperature, chilled, or with ice.
Overall, I liked Lotos, and it's a far better alternative than it's next door neighbor. They do have a few dishes with honey, dairy and/or eggs, but they tell you which ones if you ask. There's a nice natural foods store in the basement level below the restaurant, accessed via a stairway in the center of the room (which just adds to the congestion). On the other hand, I like the self-serve, all-you-can-eat (and therefore ability to sample smaller quantities of multiple things), bigger selection, quieter atmosphere of Granix that I ate at a few weeks ago. And you'll pay less there too. Still, if I was in the neighborhood, I wouldn't hesitate to eat at Lotos again.