"One farmer says to me, "You cannot live on vegetable food solely, for it furnishes nothing to make bones with;" and so he religiously devotes a part of his day to supplying his system with the raw material of bones; walking all the while he talks behind his oxen, which, with vegetable-made bones, jerk him and his lumbering plow along in spite of every obstacle."

– Henry David Thoreau, Walden, American Essayist
Buenos Aires – It's a regular source of contention amongst various folks headed this way, former visitors, and even current denizens, that with its voraciously carnivorous culture, Argentina in general, and Buenos Aires in specific, offer few or no options for those who are of vegetarian bent. I have no doubt that was true at some point in history, perhaps even recent history, but it just ain't so anymore. Prior to this post, I'd already visited eleven specifically vegetarian restaurants in the city and reviewed nine, today I'll add two more postings to that, I've got a listing of another dozen that I have yet to check out, and that's just the ones I know about.
I'm not talking about simple pasta places with their pastas and plain tomato sauces, or parrillas that happen to have a grilled vegetable plate (usually sopping with the juices of the meats grilled on the same grill), or wonderful fresh salads or the substitution of a soy burger or milanesa for a meat one at many a porteño restaurant. I'm talking about real, dedicated vegetarian restaurants, even vegan restaurants, that really do exist here. Even for a die-hard carnivore, it's worth occasionally letting your body know that something other than charred flesh and fried spuds exist. Having been accused more than once by local friends of having an unnatural affinity for vegetables, I may as well live up to it and keep on visiting and writing about such dens of heresy.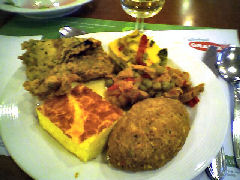 It's not often that I find myself along the bustling tourist ripoff pedestrian strip mall that is Florida Street. But I had to be in the general area on some other business, so it seemed like a convenient moment to cross another place off my list. Located on the 1st floor (not the ground floor – something to get used to here, 1st floors are the level above ground floors) of the Galleria Güemes, at Florida 165, is Granix, a six year old restaurant run by the church of the Seventh Day Adventists. A christian sect known primarily for keeping Saturday rather than Sunday as the Sabbath and for its recommended vegetarian diet (as a way of following biblical kosher laws), this church informally began in the 1840s and became a formal organization in the 1860s. One of its earliest proponents was John Harvey Kellogg, whose dietary research work led to the founding of Kellogg's cereals by his brother William. (As a side note, should you ever need to know it, the Peruvian consulate is located in the same shopping mall, directly above the restaurant.)
Granix is a cafeteria, simply put. It's large, bi-level, lit by tons of flourescent lights, and is reminiscent on the surface of any high school cafeteria. You enter, pay a flat 18 pesos fee, and from there it's all you can eat, or, as it's called here, tenedor libre, the free fork. Immediately on your left you will find a long, snaking steam table line – the first section of which contains various appetizers from vegetable empanadas to soups, to quiches, to tarts, to whatever else has been dreamed up for the day. The line continues past a small beverage station offering fruit juice and water dispensers (and there are a couple of other water dispensers scattered throughout the dining room), and then continues on to a selection of main course offerings – from mixed whole grain croquettes to stews to pastas. The line finishes off with a selection of desserts. Off to the right as you pass along the steam line is a nicely laid out salad bar, with a variety of greens, other vegetables, and composed salads (a quite good mixed bitter green and green olive salad was my favorite).
Being a tenedor libre, you're welcome to pack it in and make as many trips as you'd like, and looking around the room, which at lunch time was only about 10% full the day I was there, some folks do make an inordinate number of trips, while others are more restrained. Being a vegetarian is not an automatic pass to healthy living, it's still quite possible to eat poorly – and the evidence was definitely there. And although there was the excellent salad bar, and quite a few dishes that were tasty, fresh, and clearly health oriented, there were also a large number of deep-fried vegetable and grain dishes, and, not being a vegan restaurant, several packed with cheese. Regardless, the option is there for healthy eating, and I found the food to be quite good (I also noted several times that attendants came out and checked items on the steam line and replaced things that looked like they'd been sitting out too long, unusual for a cafeteria here). There's also, by the way, nothing pushing the religious background of the ownership – a small note on your receipt from the cash register that the place is owned by the church, and pretty much as minimal notation on their website. You can also stop in at the little takeout market in one corner of the restaurant where they offer a salad bar and a variety of packaged goods.
—————
On another recent day, I needed to be out in Palermo Viejo, and relatively near to the Plaza Costa Rica, a cozy little block by block park ringed by a wide variety of restaurants. It was a beautiful day, so I pulled up a low… very low… stool at an equally low brilliant red table outside of the vegetarian restaurant Krishna Love, Malabia 1833 – keeping in my church vegetarian theme, run by the International Society for Krishna Consciousness, what most of us refer to as the Hare Krishnas. I realized after leaving later that other than a glance, I hadn't seen inside – though it appears to be a small venue. It's open for lunch Tuesday through Sunday, and for dinner on only Tuesdays I believe. It was a beautiful day to sit in the sun, watch the world go by, and feel healthy.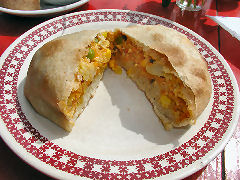 I hadn't known about the ISKCON connection, and had been told that Krishna Love was an Indian vegetarian restaurant. Turns out not. It's a general vegetarian restaurant, actually vegan I would guess, with most of the dishes falling into vegetarian versions of classic local foods – veggie burgers, soy milanesas, vegetarian empanadas, vegetable purees, salads. A basket of fresh whole wheat bread and a really good, lightly spicy vegetable puree were brought to the table with my menu. There are a couple of Indian styled offerings on it, and since that was more or less what my tastebuds were primed for, I ordered them – on the appetizer side a sort of large round whole wheat empanada stuffed with a mixture of corn, red peppers, peas, carrots, grains, and a light curry sauce. The filling was a trifle dry, but not overly so – a touch more sauce would handle it – and quite tasty – I apologize but I lost the name of the dish, still, it's clearly marked as an "empanada hindu" – something like a khothanti… probably not… but it started with a "k" a kachori.
A thali is a traditional Indian offering of regional delicacies, generally served on a single round plate with half a dozen or so local specialties in small sampling sizes. The only main course dish that I saw on the menu with an Indian theme, this one comes with a couple of slices of deep-fried eggplant; a large scoop of spicy, creamy, grated raw beets; a timbale of mixed vegetables, potato, and tofu; some plain white rice, a whole grain flatbread; and a very sweet mango chutney with just a touch of a kick. It was a delicious combination, and a quite good sampling of different dishes. I question whether the beet dish was of Indian origin, and I wish the rice had been spiced or flavored, or perhaps a brown rice, but I suppose one could ask for the latter, as they have brown rice available (arroz integral). I washed it all down with a well made lassi, or yogurt drink, listed only as available in sweetened, fruit flavored versions, but I asked for a plain, only slightly sweetened one and they served it up right away.