"All growth is a leap in the dark, a spontaneous unpremeditated act without benefit of experience."

– Henry Miller "The Absolute Collective" The Wisdom of the Heart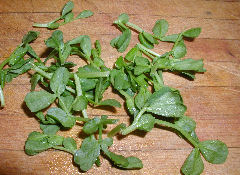 These are pea sprouts, or pea shoots, or, as they're called here, brotes de arvejas. A long time staple of many Asian cuisines, and especially prized during spring in China, these young, tender greens of the pea plant enjoyed a trendy spell in the late 90s in various culinary capitals around the world. They were, for a shining moment, the "in" ingredient. It was nigh impossible to go to a top restaurant in New York, Los Angeles, San Francisco, London, or Paris without finding them tossed into one dish or another. The shoots are harvested at the point where they are somewhere between two and four inches in height. They have a very intense pea flavor, and work very well in sautes and stir-fries. I have to admit I was surprised to find a package of them in a supermarket here in Buenos Aires – both because they're no longer a trendy item, and also the supermarket seemed an odd spot to find them. But, there they were.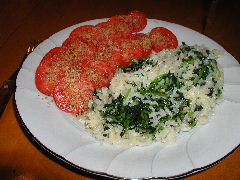 I started with a simple recipe that I found online from a Thai chef, Kasma Loha-unchit. Using that as the base idea, I sauteed a couple of sliced cloves of garlic in olive oil until just lightly browned, then tossed in the pea sprouts, I'd say I had a little over two cups of them, along with about a half teaspoon of salt. Sauteed them until they began to wilt nicely (in the end they will reduce in volume to about a quarter of the original), then added a teaspoon of sugar, a half teaspoon of fish sauce (if you want to keep this vegetarian use soy sauce), and just a splash of chili oil. Then I added a little less than a cup of leftover white rice and continued to saute the whole thing until the rice was just starting to get a color on it (all this was over high heat). It needed just a touch more salt, but that's to your own tastes.
I found another use for some of the pecan salt I made last week to go on the beet terrine. Simply sprinkled (somewhat heavily) on fresh, sliced tomatoes, it's absolutely spectacular. The nuttiness of the pecans, the salt, and the barest hint of the cayenne worked beautifully.