Buenos Aires – Today I'm going to more or less post a bunch of photos from my various wanderings over the last week. Much of it is simply buildings that I found interesting, a couple of things I have some things to comment on.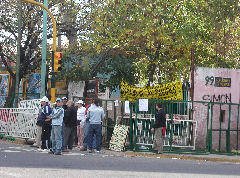 In that vein, by pure happenstance, I headed for the Mercado de Pulgas the other day. This is a somewhat rundown giant warehouse that's been turned into a flea market for furniture and other housewares. It's also often the site of various clashes between the government and various anti-government forces, so it's a place that I head to with a bit of care, though generally such things are obvious as soon as you get within a block or two of the place. Sure enough, starting about two blocks away, I started seeing an unusually large number of police officers, not doing much of anything but hanging out chatting, but still obvious by their presence. On arrival at the Mercado itself, it was obviously semi-closed – in that there were large iron gates erected across all the entrances with small groups of workers milling about in front of and behind them. Large banners talking about Raúl Castells, a sort of self-styled voice of the people (I think of him much as I think of Al Sharpton in New York – he always seems to have a cause celebre and is getting his face into the news, but doesn't always seem to have a personal connection to the cause itself, though in general, my sense is, unlike Sharpton, he actually cares about the people he's supporting) – he looks a little like a middle aged Fidel Castro, an image I'm sure he cultivates on purpose.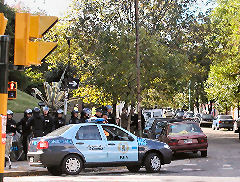 Amongst his various "stirs" lately has been the opening of a free food kitchen in the middle of the touristy Puerto Madero, attracting the homeless and the downtrodden for a square meal and putting them on display for the tourists to see – most, of course, merely snap a few photos and move on with their touring; I have noted that a lot of backpacking student types seem to take advantage of the free food, when they could probably afford to pay for a meal somewhere and leave the food for those who actually need it. According to the signs, it looked like he was opening another one in the Mercado de Pulgas, which is admirable in and of itself, if far less publicly visible. Surrounding the entire Mercado complex was a ring of riot-geared federal police officers, also more or less hanging out chatting. I snapped a few photos, sans flash, as I was getting some glares, and moved on, figuring I'd find out what it was all about later. I figured they were waiting for camera crews from the news stations to show up – quite common here. Sure enough, they were there to arrest Mr. Castells on yet some other charge, though he was released the next day. Always an adventure!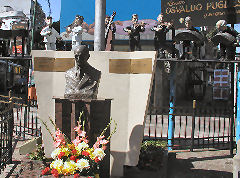 Another that I thought I'd comment on is not a subject of any particular controversy, but I happened across this cute statue to Osvaldo Pugliese, a famous tango pianist, band leader, and composer from the early 20th Century. I liked the statue not particularly for the bust of him, but the various figures of tango band members perched behind him on a wall. It was also nice to see, out in the middle of a more or less suburban neighborhood, a tribute of fresh flowers in front of the statue – I don't know if the city freshens them up, or if there's some Osvaldo Pugliese society that does such things, or perhaps just fans.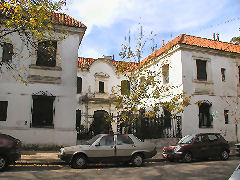 This is the Hogar Jose Devoto, now what we might call an "old-folks home" operated, I believe, by the Society of St. Vincent de Paul, to whom the building was donated by Devoto's widow, Filomena, when she died. Originally designated as an educational institution in 1938, and called Nuestra Hogar, or Our Home, it appears its usage was changed by the Archbishop in 1992, and is the home to roughly 40 retired folk. I have to admit, I'm not entirely sure who the Devotos were – searching on his name doesn't result in finding anyone of particular note. I don't know if he was famous politically, or socially, or philanthropically, though the latter seems likely. I have the feeling this is a case of some folk from a couple of the wealthy families of late 19th Century Buenos Aires who left behind a legacy of various buildings for use by social and religious organizations they supported during their lives.
For the rest, just interesting looking buildings I've encountered in my various wanderings.