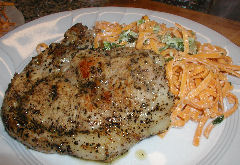 Buenos Aires – I love rubbing meat. So do a lot of people, and more than one has come up with a tasty rub worth copying. And, recently, I copied. More or less. I spotted a recipe for a Kona coffee rubbed pork chop made by Chef Christopher Ennis at the Vibrato Grill Jazz… etc., in Bel Air, that sounded pretty darned good. The recipe had a tag on it that said "Steal This Recipe". So I did. It was yummy. I'm sharing the recipe – with changes based on what I had available to me, you can get the original clicking on the link above.
Coffee Rubbed Pork Chop

1 lemon peel
1 lime peel
1 orange peel
1 teaspoon coffee, ground
2 pork chops
1 teaspoon olive oil
1 teaspoon salt
1 teaspoon mixed peppercorns

For my version, I heated the pieces of citrus peel (remove as much of the white pith as you can) in a pan over low heat for about 5 minutes, stirring regularly, just to get them to release some of their oils. Then I tossed the peels, the coffee, thyme, salt and peppercorns into a spice grinder and ground it up – relatively coarsely. Since I wasn't going to use it as a last minute rub, I didn't mind slightly larger pieces of things for a marinade. I tossed the two pork chops with the mixture and let them dry marinate for an hour. When I was ready to cook them, I scraped off the majority of the marinade and just simply sauteed them in a pan with just enough olive oil to keep them from sticking. Excellent! Though, I'd forgotten to add thyme from the original recipe to the marinade, and I think I would the next time just to give a bit of an herbal note – even dried thyme leaves, which would have been my only option.
I saw this bizarre sounding recipe for Pasta with Lentils and Greens on about.com that struck me as one of those sort of everything I had sitting in the refrigerator that I wanted to use up recipes that the moms in my neighborhood used to exchange and include in neighborhood cookbooks when I was growing up. I went with a much simpler version, that only took a few minutes to prepare.
Linguini with Swiss Chard

½ pound of dry linguini (roasted red pepper flavored)
1 clove of garlic, chopped
1 red onion, chopped
¼ teaspoon of red pepper flakes
¼ teaspoon of cumin
1 tablespoon of olive oil
1 cup of chopped chard leaves
¾ cup of ricotta cheese
salt

Cook the pasta in salted water until just al dente. Meanwhile, saute the garlic, onion, pepper flakes, cumin, and a large pinch of salt in the olive oil until just starting to turn golden brown. Add the chard leaves and continue to saute until cooked through (if you're using frozen, just add them frozen and cook until they're heated through). Add the ricotta cheese – you can use a little more or less depending on how creamy you want the sauce. Adjust the seasoning with a bit more salt if needed. Toss with the pasta. Serve with the pork chops above, the combination of flavors is fantastic!