Buenos Aires – The grapevine buzzes every now and again with a hint that some of the best sushi to be found in Buenos Aires is at a hip little club called Rubia y Morena, the blond and the brunette. I'm not sure if it's just one of those things where someone got the name wrong and it just continued from there as a rumor, or if there's some weird political correctness in using morena versus negra, a black-haired woman. (These could also refer to skin coloring, but in this case, having visited the place, and looked at the logo, don't.) I had to be over towards the downtown area yesterday afternoon to interview the owner of Flux Bar for a story I'm working on, and decided to drop in on what turned out to be Rubia y Negra, Libertad 1630, in Retiro. You enter via a more or less bare hallway and stair to the second floor – concrete floors, worn wooden steps, butter yellow walls, with little to indicate this is a restaurant other than the sign outside advertising the name. Inside, you find yourself in a large room with a mix of seating options – a comfortable lounge, regular tables, a long bar, or high brushed steel communal tables. Colors are cinnabar, beige, light and dark wood, all done up in bold squares and triangles. Jazz music. Very trendy. [This place is closed.]
I asked about sake, and had to repeat myself, twice. My waiter asked me what that was. I said "vino de arroz", or rice wine, and he looked at me like I was crazy. He said he'd never heard of such a thing, wine is made from grapes. Welcome to a brave new world….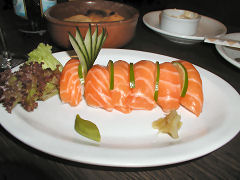 The tables were mostly filled with businessmen and yuppie couples having lunch, I decided to plop in the lounge, a group of four blond scandinavian girls off to one side poking at their sushi and giggling like they weren't sure if it was alive or not, and a young couple in business dress who looked like they were likely having an office romance. The menu is primarily designed around sharing plates – virtually everything is offered in anywhere from 12 to 40 pieces of sushi. Even if you just wanted one kind (not that there was much choice – despite the menu advertising salmon and white fish, they only actually had the salmon), it's a 12 piece plate. After finding out that the white fish wasn't available – there went the combo plate of salmon and white fish – I ordered two of the rolls, and asked if it was possible to just get a couple of pieces of salmon. My waiter said they could do a half order of the salmon platter, six pieces, which was fine. The salmon was pristinely fresh, and interestingly touched with just a bit of fresh lime juice – quite good. The plate is very prettily laid out, the wasabi is good, the ginger is clearly made in house and excellent.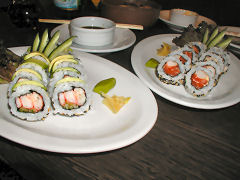 The two maki rolls I ordered were likewise excellent, and reasonably creative. The Red Dragon Roll was a white and black sesame encrusted maki with side-by-side salmon covered in "japanese mayonnaise" – mildly spicy, and shrimp dipped in a spicy sauce. A very interesting take on the usual "spicy" rolls that one finds (not in Buenos Aires) in sushi bars in other parts of the world. The Green Roll is fresh crab leg marinated in lime juice and ginger, and bundled up with some cucumber, and then the whole roll is topped with a slice of fresh avocado. Again, quite creative. Both rolls were touted as having 9 pieces, though they were actually cut into 11 – guess someone just miscounted their slices.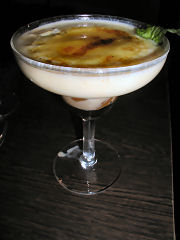 Though relatively full, I decided to give one of their desserts a try. Most of the desserts are simple fruit or ice cream desserts, nothing particularly interesting. But they were offering a dessert called natilla, which is sometimes called Spanish Custard, and which I haven't tried, as, based on description it sounded more or less like a creme brulee. And it was, kind of. But not exactly. At the bottom of the large martini glass used to serve it was a healthy dollop of dulce de leche. Atop that, the custard – but the custard isn't solid, it's more like a gloppy soup – and then the whole thing is topped with the brulee – or burnt sugar crust. It was delicious! I'm not sure if this was the tradtional way to serve natilla, as no recipes I've seen include things like the dollop of dulce de leche on the bottom, but it was certainly worth eating!
Overall – a very comfortable place to relax in. Excellent sushi, mostly limited to salmon, but shrimp and crab, and apparently sometimes white fish as well. Creative rolls and combinations. Good jazz playing in the background, and apparently live jazz performances some evenings. My only qualm – expensive as hell. For my two rolls, six pieces of salmon, dessert, and a bottle of water – 78 pesos.