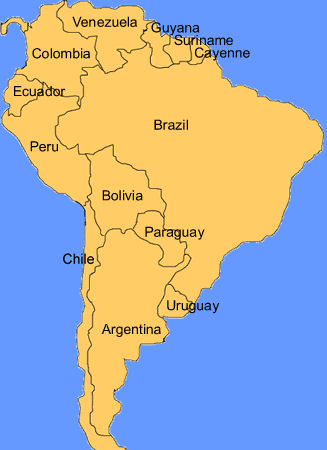 I apologize for starting off a Saturday morning with a geography lesson, but after all this time, it seemed like a basic one was in order. This, is the continent of South America. It's changed since I studied geography, not particularly in its physical shape, though I'm sure that even in my lifespan there's been some measurable continental drift, but mostly in its politics. There are country names that didn't exist when I was in school, Guyana (which I knew as British Guiana), Suriname (which I knew as Dutch Guiana) and Cayenne (which I knew as French Guiana), up north. Though, I'm not so sure about the latter – most maps still show this as French Guiana (different from French Guinea, which is in western Africa), and Cayenne as its capitol, but several claim that the name has been changed. Today, however, I'm just concerned with Argentina and Uruguay, which you can see along the southeast coast.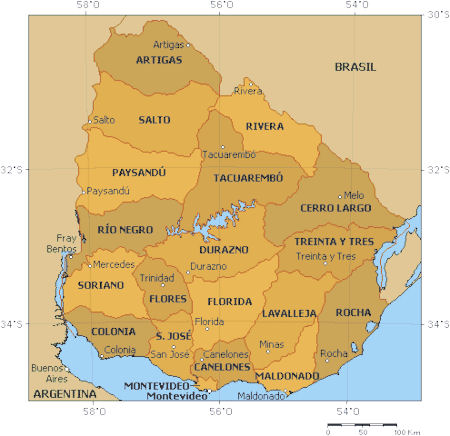 This is a closer look at Uruguay, hopefully enabling you to follow along a bit. To get a rough sense of scale and such, Uruguay encompasses roughly 68,000 square miles, slightly smaller than the state of Washington, and has a population of 3.4 million people. Officially it is the second smallest country in South America, after Suriname, however, that doesn't take into account the above mentioned French Guiana, which is not, according anyway to the CIA World Factbook, an actual country, but part of France, the populace even voting in the French presidential elections.
You can see Buenos Aires in the lower left, where I started out on Wednesday morning, crossing over to Colonia on the Uruguay side, via ferry. At that point the Rio de la Plata is roughly 34 miles across, the distance via ferry to the capitol of Montevideo is just over 100 miles. It's a big river. The first day we started in and just outside of the city of Colonia itself, and then headed up along the river to Carmelo, pretty much to the point you see that little spit of land sticking out at the lower edge of the delta. (You can also see further up along the west coast the town of Fray Bentos that I mentioned in my last post in regard to the disputed paper pulp plant.) Then we headed back south and east into Montevideo. On Thursday we started out in the province of Canelones, just north of Montevideo, and then headed west into the province of San Jose, which I'll get to in just a moment. Friday, as well, we zipped around in those two provinces. Saturday we're about to head east to the city of Punte del Este, which is in the province of Maldonado, and then we'll come back here, I'll spend the night, and then head back home to Buenos Aires tomorrow.
In regard to the wine world, some 79% of all the vineyards in Uruguay are in the areas of Canelones and San Jose, basically within about 50 miles of Montevideo. Another 18% are in the province of Colonia, the remaining 3% are scattered here and there – in Paysandú, Salto, Durazno, Rivera, and Maldonado. Most of those latter areas, however, have no more than one or two wineries, and the majority of vineyards in those areas are owned by wineries in the primary areas, grapes are sent in for processing.