New York City – My e-mail box went empty for several days, other than the ubiquitous offers for various erectile dysfunction products, credit cards, and pleas for help in transferring millions out of one country or another. I chalked it up to the holidays, I chalked it up to you guys giving me a break because I'm on vacation (really, I love getting e-mail from readers, it's not at all an issue), I chalked it up to being abandoned… but then this morning, two bright, shiny new e-mails loaded with compliments and encouraging me to continue (like you could stop me?)… and while last night's meal was tasty, it was not something to write home about. But then, I'm not writing home, I'm just rambling on the internet.
Noodles 28, 1643 Second Avenue (and two other locations, including one at 28th Street, presumably where the name came from), is a casual Chinese and Vietnamese eatery. A step up from the typical takeout place, and a step down from the typical white (or any other color) tablecloth Chinese restaurant, it's a neighborhood kind of place with friendly staff and lots of locals hanging out, consuming lots of plates of food. The prices are very reasonable, the service good, and the decor, well, more or less non-existent – bare wood walls with a few pictures hanging on them.
We started off with a couple of Saigon Export beers, not surprisingly the export version of a beer made in Vietnam. It's light, simple, pleasant, with a touch of bitterness from the hops. It's a great foil for spicy food, which we intended to consume. We ordered a couple of bowls of the Vietnamese Hot & Sour Soup, available in vegetable, tofu, chicken, or shrimp versions. It's loaded with the main ingredient, touched off with tomato, pineapple, basil, and plenty of hot chili oil, and really quite good. At the same time we decided to try an interesting sounding appetizer of Crispy Chicken in Tangerine Cream Sauce. This wasn't at all spicy, not that we thought it would be. It's tasty, a trifle sweet, but balanced against the soup was excellent. As an appetizer it's great, I'm not sure I'd want a larger plate of it for dinner.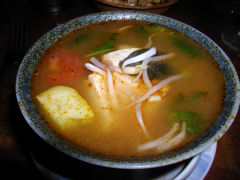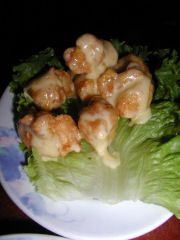 We moved on to a heaping plate of Singapore Mee Fun, a lightly curried dish of thin rice noodles with a mix of chicken, roast pork, shrimp, and vegetables that can be found on many a Chinese menu. Noodles 28's version is particularly spicy, and I liked it quite a lot. The other dish, Banh Hoi, I loved for its flavors, but its presentation was a bit strange. If you've ever eaten cha gio, those wonderful crispy Vietnamese spring rolls, you've probably rolled them up in the lettuce leaves with a few mint leaves, basil leaves, etc. Here, the pork chops are presented the same way. First, they're marinated in lemongrass and grilled, then topped with peanuts and scallions. They're delivered atop little bundles of rice vermicelli, along with a plate of lettuce and mint leaves, and two dipping sauces – one a peanut sauce, the other a sweetened vinegar sauce. I've had the dish before, and the pork chops are delivered to the table boneless at most places. At Noodles 28, no. Each piece of pork is still attached to its bones, which means, prior to any wrapping, you need to sit there and debone it. While tasty, that was more work than it was worth, and we ended up just cutting up the lettuce on the plates, along with all the other ingredients, and eating it all that way. Dinner was good!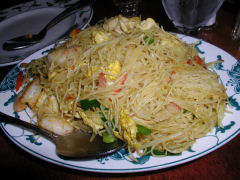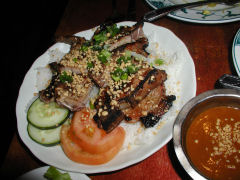 —————
In one of those New York moments, the type that reminds me that the city isn't all hustle, bustle, rushing around trying to get somewhere and paying no attention to other people, I witnessed this charming scene yesterday. As I was approaching the Times Square – Grand Central shuttle, there was a couple, whom I'd guess to be in their late 30s, approaching the train with a small boy, maybe 5 years old, between them, clutching their hands tightly. He was clearly enamored of the whole underground experience, and as the train pulled to the platform and the motor-woman leaned out, he looked up at her and said softly, "Can I watch you drive?" She looked down at him and replied, "Can you watch me drive?" He said, "Yes, please?" She said, "You come right on in honey, of course you can watch me drive."
And with that, she went over, and opened the door to the front and let him in. With his somewhat nervous parents peering through the window, she picked him up, put him on her lap, and proceeded to show him all the controls. When it was time for the train to go, she let him "drive" with his eager hand on the throttle, giving him advice (and presumably "helping") on going faster or slower, all the way across town. I have no doubt that she violated about 8,000 regulations, but she sure ensured one kid will never forget his New York experience!