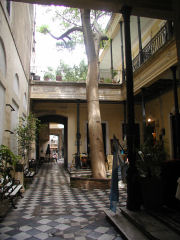 Buenos Aires – The first time I vacationed in Buenos Aires I stayed in the neighborhood of San Telmo. Despite its touristy bent, it's still one of my favorite neighborhoods to wander, with some of the more interesting, if dilapidated, architectural features to be found on homes; its central Mercado – a mixed farm stand, butcher, and flea market; or the narrow passageways housing various commercial endeavors, like the Pasaje Defensa, with everything from cafes to tarot readings to souvenirs to a shop that specializes in rescuing pieces of buildings. Antique shops and flea markets can be found throughout the zone. The famed Plaza Dorrego, where the city's largest and arguably most famous weekend flea market takes place is right in the heart.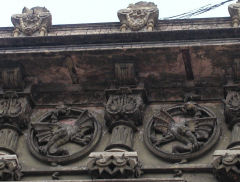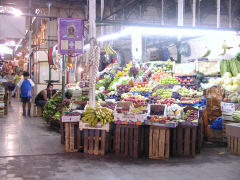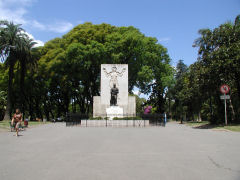 At the far end of Defensa, the main tourist drag, which is lined with antique shops and flea markets, is Parque Lezama, basically dividing the barrios of San Telmo and La Boca. A strange mix of well kept areas with rundown sections (like the amphitheater), the park is a popular place for locals to hang out and just take in some sun, or practice martial arts, or visit the Museo Nacional Historico (a great place to put faces with all those famous names, essentially the museum is a portrait gallery of virtually everyone famous to Argentine history – post indigenous period – along with some of their personal items, mostly chairs, writing desks, and various swords and pistols); or even what I gather was the first Russian Orthodox Church in Latin America.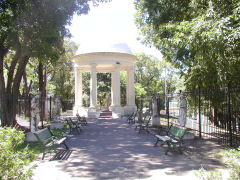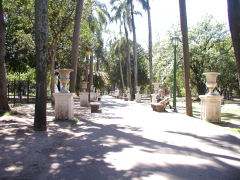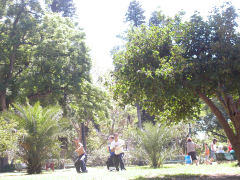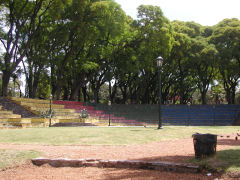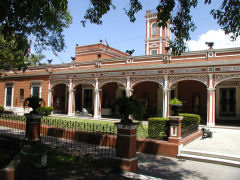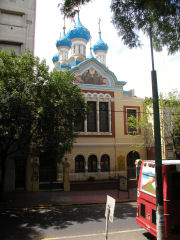 —————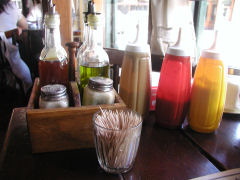 Just opposite the San Telmo side entrance to the park are two well known cafes, Bar Britanico and El Hipopótamo, Brasil 401. I decided to have lunch at the latter, a tavern styled venue that has been around since 1909. It's not a place where you should plan on amazing food – the menu seems to go on and on offering a variety of sandwiches, burgers, pastas, and various classics of porteña cuisine. It's the kind of place where if you don't specify that you want your appetizers, entrees, and desserts served in that order, they're likely to arrive at random, or more likely, all at once. Locals and tourists mix, the air, despite two sides of the restaurant having wide open windows, is thick with the smell of cigarette smoke (even when no one is smoking) – backpackers at one table asking for directions, a group of office workers getting together for a couple of beers and sandwiches, an elderly couple having "special orders" (and licking the tops of the condiment bottles after using them, with no one batting an eye, I do hope they plan on washing them afterwards).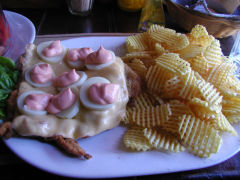 It's a place where the food is decent, but you're there for the atmosphere. In fact, possibly more interesting than the food was the array of condiments brought to the table and lined up – I have no idea how I would have shared this table with someone else, there was no room! The array included yellow and brown mustard, ketchup, olive oil, sunflower oil, lemon juice, red wine vinegar, salt, pepper, and toothpicks. And that was before the bread arrived. I ordered a simple tomato salad and a suprema gran golf – a breaded chicken breast topped with mozzarella, rounds of hearts of palm and lovely little spirals of salsa golf – probably the height of haute cuisine in El Hipopótamo. Still, not a bad lunch at all – fresh and tasty.