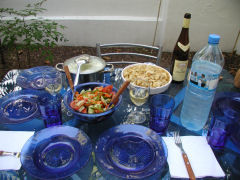 Buenos Aires – Another spectacularly beautiful spring day yesterday, and you'll have to forgive me for spending time in my garden eating instead of out reviewing restaurants for you. My friend Heather just got back from a trip home to New York and brought me back some goodies, so it seemed only fair to have her over for lunch. Not a cloud in the sky, temperatures in the low 70s, birds chirping, a light breeze, it was practically a Merchant-Ivory film.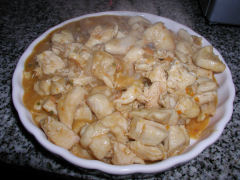 Whipped up a nice fresh salad of tomatoes, peppers, cucumbers, and carrots with a little balsamic-lemon vinaigrette, a pot of rice, and played around with a more or less Chinese Tangerine Chicken. I'm a big fan of the various citrus chickens and beefs that one can find at a good Szechuan (or is it Hunan?) style restaurant. Though, Lemon Chicken always seems to be sweet and without much spice. I'll have to do something about that. I had a bag of tangerines, and all the rest of the stuff I needed, other than picking up a few chicken breasts. The preparation takes a little time, though not too extensive, it's just a lot of chopping. The actual cooking takes less than ten minutes.
Opened a bottle of Etchart Privado Torrontés 2005, which was every bit as good as the 2003 that I had a couple of months ago out dining at Tomo I. A little lighter and fresher, but with lots of good, lively fruit, a nice aromatic quality, and just a hint of sweetness that balanced out the spice in this dish.
Tangerine Chicken

4 chicken breasts, diced in bite-sized cubes
¼ cup of cornstarch
1 tablespoon of MSG or salt if you prefer

Mix the cornstarch and MSG together and then toss with the chicken. Let it sit for a little while.

The juice and peel of two tangerines; reserve the former, finely chop the latter
2-4 fresh chilies, seeded and finely chopped
2 cloves of garlic, finely chopped
1 small onion, finely chopped
2 tablespoons of rice vinegar
2 tablespoons of soy sauce
¼ cup of cooking oil (something that can take really high temperatures, like peanut or soy oil)

Heat a wok or large saute pan over high heat. Add the oil and give it a minute to heat up. Add the tangerine peel, chilies (the 2-4 is just dependent on how spicy you want the dish), garlic, and onion, and quickly stir-fry for about 15 seconds – you don't want them to brown, just enough to release their flavors into the oil. Add the chicken and continue stir-frying until the chicken is lightly browned, about 7-8 minutes. Add the rice vinegar and soy sauce and toss it all together. The juices will thicken from the cornstarch. Serve over rice. Serves 4.