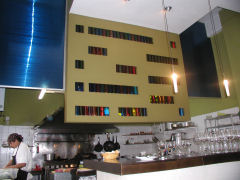 Buenos Aires – Back home and just out for a wander – not too far from home as it's a rather brisk day and Mom Nature is threatening rain. Spotted an interesting looking spot on a corner. Érin is a decent sized duplex "resto-bar" at French 2929, corner of Bollini, in Palermo. It has a really nicely designed open kitchen, and lots of well considered and placed color. Dark wood tables are topped with burgundy colored mats. Somebody clearly put a lot of thought into the design of the place, without going overboard. [This restaurant closed in 2011.]
Started with a glass of the house white, Bodega Ruca Malen's "Yauquén" Chardonnay, 2004. For a relatively inexpensive wine, this was quite good. It's a very California sort of styled chardonnay – lots of butter and oak, but it's nicely balanced with a strong core of ripe apple fruit, and finishes with good length.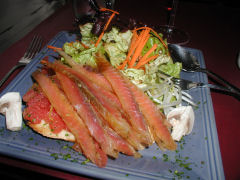 The menu is quite eclectic, which intrigued me when I looked at the posting of the day's specials outside. A lot of it is creative takes on local cuisine – e.g., grilled beef, but served with a dark beer reduction. There are a number of "wok" selections; basically stir-fries of varying types. A few fish dishes, and a selection of intriguing pastas round out the listing. A basket of fresh bread and herbed rolls was served with a vegetable puree to begin. I decided to start with the gravlax of salmón, it's the first time I've seen gravlax on a menu here, and sounded to be a good change from the more common smoked salmon. This particular gravlax was well-flavored, though a trifle too salty and chewy, basically meaning that it had been left in the salt coating too long.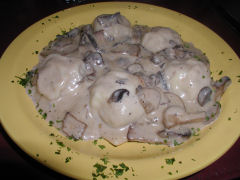 It also could have been sliced a little thinner which would have lessened those sensations. The gravlax was served on excellent homemade bread with tomatoes and a mixed lettuce salad with balsamic vinaigrette.
I can sum up my main course with a simple "outstanding." As I said, there were some intriguing sounding pastas on the menu. One of the specials of the day was ravioles de pollo y berenjena, ravioli with chicken and eggplant.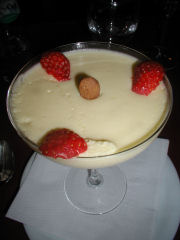 Plump, perfectly cooked ravioli filled with a mix of shredded chicken, chopped eggplant, and pine mushrooms (matsutake) were served in a creamed sauce of button and cremini mushrooms. A light dusting of parmesan and herbs rounded out the dish. Again, simply outstanding.
Normally at lunch I wouldn't bother with dessert, but I was so happy after my pasta course that I decided to give it a go. I'm a sucker for desserts that are either banana or lemon based, and so when my waitress offered espuma de limón, literally "lemon foam", basically a whipped custard, my choice was clear. Great flavor, light texture, the best lemon based dessert I've had in a restaurant here so far. Overall, I give the place really high marks.