Buenos Aires – Yesterday was Maureen's last day visiting and it was a day for her to get done all the shopping she'd been promising herself all week. By the time we were finished trekking hither, thither and yon, it was 3 in the afternoon, most restaurants were closed. It's a pretty good bet that tourist places will stay open during that siesta period between lunch and dinner, so we headed back to Puerto Madero. We were both in the mood for Italian, and our taxi just happened to drop us off right in front of a cute looking, if large, Italian trattoria.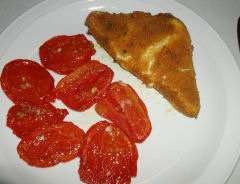 Roque is at #256 in the Puerto. We were in for a pleasant surprise. First off, a decent winelist, even though we weren't really looking for wine for lunch. Second, a menu that actually had a nice selection of Italian food on it – both classic and modern in style. Third, a totally friendly staff, several of whom were relatively fluent in English (the menu as well – in Italian, Spanish & English). And, fourth, the prices weren't all that high for the Puerto. We started with a plate of oven-dried tomatoes drizzled in olive oil and topped with coarse salt. Alongside, an order of the muzzarella milanesa – their version of mozzarella sticks. Both were great starters. [This place has closed.]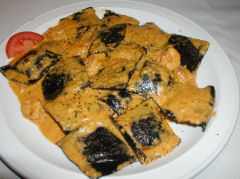 For main courses we debated back and forth between pastas and fish and finally decided on one of each. We were both kind of 'beef-ed out' and didn't even really look at the meat offerings. Maureen opted for the squid ink ravioli stuffed with salmon and topped with a mild pimiento cream sauce and shrimp. It was a big plate of pasta, more than one person really wanted to try to finish, and was quite good. The ravioli were clearly freshly made, as was the sauce. The salmon inside was cooked through but still tender.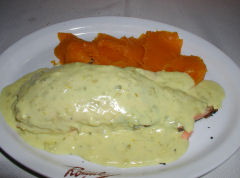 I decided on a fresh grilled lake trout that was filled with a prawn stuffing and topped with an interesting spiced onion cream sauce. It was absolutely fresh, delicious, and perfectly cooked. It was accompanied by several large slices of roasted squash, which made the dish even richer, but also even tastier. Maureen decided on one last shot at a panqueque con dulce de leche, which was the only real disappointment of the meal. The flavor was fine, the dulce de leche was perfectly done, but the whole dish had clearly been prepared in advance and was served cold. There's nothing quite like cold crepes filled with cold caramel to offset a perfectly good meal.
————————
Dinner later in the evening was Henry and I solo. Feeling a bit overstuffed from the last week's worth of dining, I decided to whip up a simple vegetable soup. There was a head of cauliflower and some other random veggies in the pantry, and the result (sorry,
sans photo
) was excellent. It was probably even pretty darned nutritious!
1 head of cauliflower, broken up into small florets
1 fennel bulb, diced
2 potatoes, peeled and diced
1 large onion, finely diced
1 clove garlic, minced
1 tablespoon marjoram leaves
1 bunch of parsley, stemmed and the leaves coarsely chopped
1 tablespoon butter
1 tablespoon olive oil
1 quart chicken stock
salt

Over low heat, saute the onion and garlic in oil and butter with a pinch of salt until soft and translucent. Add the remaining ingredients except stock, add another pinch or two of salt, and continue cooking, stirring regularly, for about ten minutes, just to get a little caramelization going with the vegetables. Add the stock (you can substitute vegetable stock if you want to make this vegetarian), turn up the heat and bring to a boil. Reduce the heat and simmer for 15 minutes until the vegetables are soft. Mash a good percentage of them against the side of the pan to thicken things a little – or puree a little bit with a handblender or removing some to a food processor. Adjust the seasoning with a little more salt to taste.
————————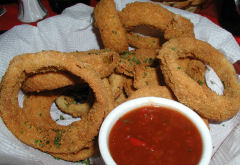 In a complete turnaround, I let myself get talked into going out for a "North American" lunch today. I knew it was a bad idea – pretty much the only places here are either strange imitations of fancy food that I think result from someone reading magazines about dining in New York and San Francisco, and places like Hard Rock Cafe. We ended up at one of the latter, it being close, a
Henry J. Bean's
, opposite the cemetery in Recoleta (Junin 1749). HJB is a UK-based imitation of some nightmare version of an "American Bar & Grill." Its major focus is a wide array of cocktails – the cocktail list was easily double the length of the menu. 
[Closed, thankfully, in 2007]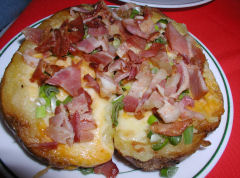 Stuck here with friends, and Madagascar playing on the big screen at one end (both dubbed and subtitled into Spanish, strangely), I was left to "show off" American food to the locals. No please, really, we don't eat this stuff. There wasn't even a way to make the best of it. Appetizers were typical bar fare at dives of this sort, so I gave a shot at an order of onion rings and one of potato skins. The latter were a bit of a hit, I guess the idea of filling a baked potato with cheese, bacon and chives was a new one. It was missing the sour cream, but other than that, I have to admit, not too bad. The onion rings would have been fine if they'd have pulled them out of the fryer a minute earlier. The salsa served with them was as dull as ketchup – in fact it seemed a sort of mix of ketchup, barbecue sauce, and a couple of chopped chilies.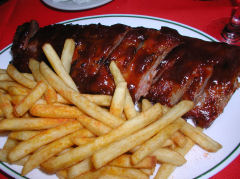 Other than burgers the only choices were a half a bbq chicken and a double rack of bbq ribs. The ribs were billed as the specialty of the house, so why not. They weren't a hit. Apparently the idea of a sweet sauce on meat isn't something that folks here are quite ready for. I have to admit it was a bit too sweet even for a typical bottled bbq sauce back home. The fries it was served with weren't bad – Argentines do seem to know how to cook a potato. The accompanying "cesar salad" was an abomination and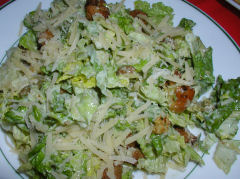 an offense to lettuce everywhere. It consisted of shredded iceberg lettuce that had been left to marinate in slightly seasoned mayonnaise and then topped with a smattering of burnt croutons and a huge amount of shredded imitation parmesan. I'm really not sure something worse could be done to a caesar salad.