Buenos Aires – Sunday was a day to continue playing tourist, and we planned on an afternoon in San Telmo at the famed antiques fair. The normally wide open Plaza Dorego is turned into a maze of booths hawking old glass, silver, jewelry, housewares, stamps, coins, and weapons. If it's an antique and collectible, it's probably there somewhere. Side streets have more of the same, and also a series of artisans fairs offering clothing, leather goods, and jewelry, mostly of souvenir grade, but fun to look through. This is a common Sunday pastime in Buenos Aires – every major park has something of the same sort, or with a variation on the theme – I've heard that in some of the outlying parks there are weekly book fairs and second-hand household goods fairs.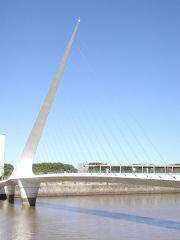 Enroute we'd taken a walk through Puerto Madero. We started with picking up some ferry tickets to Uruguay, where we're headed today. Puerto Madero is the relatively recently renovated section of the port – primarily used just for the ferry boats and a few navy and police boats. The main city side of Puerto Madero is a series of long, identical, red brick and glass buildings that now house restaurant after restaurant created pretty much for the sole purpose of separating tourists from their dollars and euros. It's a neighborhood I generally avoid (it was an interesting walk-through the first time, especially to see the landmark pedestrian bridge designed to look sort of like a ship's sail), because it is really not much more than the local version of the South Street Seaport or Fisherman's Wharf. That's not to say that the restaurants don't produce decent food, but anything they do in Puerto Madero is probably done better and definitely done for less money, elsewhere in the city.
But, my companions were hungry, we were there, it was on-and-off drizzling, and so we ducked into Marcelo, Avenida Alicia Moreau de Justo 1140, somewhere in the middle of the complex (which, also includes offices and fancy apartments above). Like many of the places in Madero, this place seats something like 200 people. The menu kind of goes on and on. Marcelo is ostensibly Italian cuisine, and that was certainly the focus of the food, and the menu is actually written in Italian with Spanish translations below. Interestingly, given that, we ordered one or two of the items using the boldface Italian names on the menu and our waiter had no idea what we were talking about until we switched to the Spanish. Service was charming if way too sales-oriented. Our waiter explained the menu to us within seconds of our sitting down, rattling off a series of recommendations and asking if he could just bring them. We said no, we wanted to look at the menu. Apparently feeling he hadn't communicated clearly, he sent a manager over, who repeated the same song and dance in English. Despite once again telling him no, our waiter promptly showed up with the first recommended dish and served it onto our plates. Telling him that as a gift it was very nice, but we hadn't ordered it and weren't going to pay for it resulted in him pulling our plates off the table (hey look, it was their "mistake," and I don't think I need to pay 15 pesos for half a dozen stuffed olives that I don't want – but what are they going to do with them? Re-serve them to someone else more gullible?) After that he began to behave a bit more like a decent waiter and the rest of the meal proceeded without incident.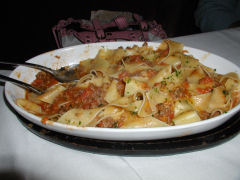 They serve some great bread at Marcelo, including a cheese-topped foccacia, which we wolfed down in seconds. We started with a nice mixed salad and a platter of grilled chiparones (baby squid), both of which were quite good. Apparently we'd commandeered the only peppermill in the place as waiters kept coming over to borrow it and then returning it. For our main courses our waiter had, now that he felt we were not pushovers, let us know that the dishes were pretty big and two would be more than enough for three of us. (Not that, given the typical price of 35-50 pesos per plate we were looking to do much more.) We ended up with a large casserole of pappardelle with bolognese sauce, and a grilled salmon with spinach sauce. The pasta was cooked right, which truthfully, was a nice change for BsAs, where noodles generally are as limp as a wet tissue.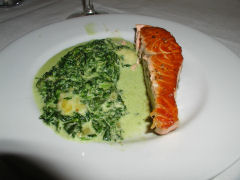 The sauce was bland, and consisted of little more than stewed ground beef, onions and carrots. A little olive oil, salt, pepper, herbs, and maybe even some tomato, would have gone a long way to making it palatable. On the other hand, the salmon while cooked slightly more than I usually like, was juicy, seasoned just right, and quite delicious. Even more of a surprise, the spinach "sauce" turned out to be a gratin of of creamed spinach that was equally good, certainly one of the better creamed spinach dishes I've had – I was actually disappointed that it wasn't a bigger portion (well, we were splitting it, it probably would have been fine on my own). The tab? For a salad, an appetizer, a pasta, a fish, and two glasses of wine… 180 pesos, or slightly over $60… ridiculous by local standards. On the other hand, if you have money, don't mind spending it, don't mind a bit of sales pressure, and want to have a decent Italian meal here, this might just be your place.
For dinner we had planned on re-visiting the szechuan restaurant I've enjoyed in the past, El Dragón, but unfortunately it turned out to be closed. Maureen had noticed Bis-a-bis, which I'd also enjoyed, and we headed there. I wish I could say I was equally happy this time, but I'd be lying. Service was scattered, starting with an argument between two waitresses about 20 feet away from us over who had to take our table. It was slow, our waitress was carrying the weight of the world on her shoulders and wasn't above making it obvious. And the food this time was rather disappointing. A decent salad, but a plate of half a dozen soggy, flavorless fried calamari rings started dinner. For main courses a steak that was clearly overdone and a bowl of insipid arugula gnocchi tossed with cherry tomato halves and canned black olives and nothing else. At least there was salt, pepper, olive oil, and parmesan on the table to toss it with. Even the lime mousse that I'd liked so much the last time seemed a bit listless, though that may just have been that the meal had been colored by the rest of the experience. We also were served the wrong wine, though didn't notice it until midway through the evening – not that we were charged more or anything, it just wasn't what we'd picked (my own fault for not asking to see the label before the waitress served it, but we were deep in conversation).