Buenos Aires – Met up with friend Bill C__ of a venerable Southern family, the great-great-grandson of one of Virginia's first governors, of the same name, for an evening of classical organ music at the Basilica del Santisimo Sacramento to be followed by dinner, both in San Martin.
Sorry Bill, couldn't resist one of those 1920s travelogue openings, a la Charles H. Baker, Jr. (Gentleman's Companion, and related volumes). Besides, I have to practice for the Bulwer-Lytton Awards. Enough of that… Had seen an advertisement for a free organ recital at this basilica (San Martin 1039) and figured, why not? I like classical organ music and cathedrals and basilicas are pretty much the best places to listen to it, the acoustics tend to be fantastic.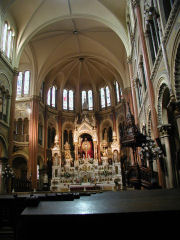 On the flip side, the organ (this one, not that I know anything about them, a Mutin Cavaillé-Coll 1912) is almost always located at the rear of the sanctuary, the pews face the front, and so you're stuck with the music being behind you and staring either at some ornate altar or your shoes. Bill even commented it would be great to have seats like old railroad trains where you could flip the back to the other side and face the rear.
Regardless, it was a great concert. Started with pieces from two French composers I wasn't familiar with, Louis Vierne's Allegro from the 2nd Symphony filled with clashing chords, spinning twists, and pounding notes (described by one reviewer as "storming the gates") and Maurice Durufle's Prelude sur l'introit de l'epiphanie, a mournful, melancholic fantasy piece.
These were followed by Felix Mendelssohn's Sonata No. 1 in F-minor, Opus 65, a wonderfully light, airy sort of organ piece at the outset, building steadily to a really grand, booming, crescendo.
A short couple of pieces from English composer Percy Whitlock, neither of particular interest (the Folk Tune and Andante tranquillo from his Five Short Pieces). These were followed by the pieces that were billed for the evening: Johannes Brahms' Prelude and Fugue in G-minor which somehow or other reminded me of the visual of M.C. Escher's Ascending and Descending (the "never-ending staircase") with repeated scales going up and down; and then Johann Sebastian Bach's Nun komm, der Heiden Heiland BWV 659, a rather dragging, meandering piece. The evening finished up with a grand, sweeping, swooping piece from Marcel Dupré, his Prelude and Fugue in C-minor, Opus 7.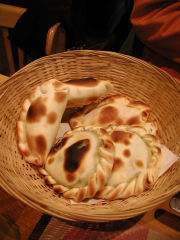 After the concert we headed a couple of blocks away to Esmeralda, the street on which I attempted to find one of Dereck Foster's recommended empanada restaurants a couple of weeks ago. Unfortunately, he had the address wrong in his book, and the restaurant has changed hands. We decided to give the new place a try anyway. Costumbres Criollas ("regional customs"), at Esmeralda 1392.
The menu is short, consisting solely of empanadas tucumánas, a few of the typical stews, and desserts.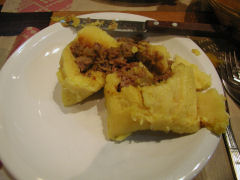 We ordered a selection of empanadas, the most interesting of which was the swiss chard and bechamel sauce filled one, and a tamale (apologies for forgetting to take a picture before we'd unwrapped it). They were all decent, but nothing special – I think the best I can determine about the tucumán style of empanada is that it has a cracker thin crust, and the fillings use a lot of cheese.
There was a large display of desserts,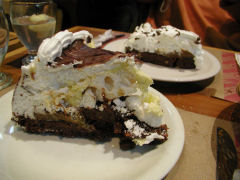 and since we hadn't filled up on dinner we decided to binge on sugar. In the foreground you can see the Torta de castañas Don Juan and the Torta brownie. Not all that different, the base layer in both was a chocolate brownie, topped with dulce de leche and meringue. The Don Juan had an additional layer of sort of a vanilla pudding just below the meringue, and the meringue was piled higher and cooked to a crackly crispness.