La Plata – Things are a little nutty here at the moment. My boyfriend Henry, whom I've talked about, is in the hospital. It's been quite serious, so I've been spending most of my time there, and food has been pretty much limited to cafeteria offerings. Things are looking up however, so within a few days all will hopefully be back to normal.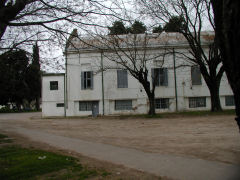 I can tell you, you never want to have to be in a "public hospital" like San Juan de Dios in this country (most are not, but for some folks, it's the only option, and unfortunately right now, for Henry that's true… we're working on changing that). If you can imagine what looks like a walled compound of concrete army bunkers that were abandoned fifty years ago or more and turned into a hospital…without a whole lot of fixing up. Nurses wander in and out when they seem to feel like, doctors visit the wards maybe once or twice a week. Yesterday, they "hadn't gotten around to filtering any more blood" so there was none available for people who needed it. Thank goodness Henry didn't arrive yesterday…
And this one's considered one of the better ones in the country.