As the craft beer movement grows in Argentina, there are going to be missteps and weirdness involved. Like the burger craze that ramped up over the last few years, and the sushi everywhere one that preceded it, not everyone is on the same page. Here in Recoleta, where until not much over a year ago, the only place to go out for a non-commercial beer on tap around here was Buller, there are now 12 "craft beer" bars within five blocks of home. Some, are more successful, and more… craft… than others.
Look, it's got alcohol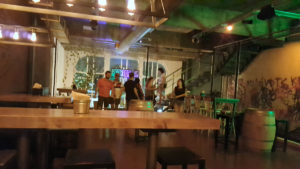 Boca a Boca, Junín 1763, Recoleta. Up a grimy, graffiti-laden staircase, above Bartola restaurant in the Village Recoleta strip, there's a huge room that's pretty much empty, except for the bar at one end. Turns out that's because there are probably 100+ people up on the roof, packed in like sardines, pretending they're enjoying themselves. 95% of them are young women, gathered in cliques, checking out the other cliques and, I have the feeling, wondering where Where the Boys Are? I'm not sure what it is about this place, and of course, it could have been a one-off evening, but males of our species seem to be a rarity here, other than the staff.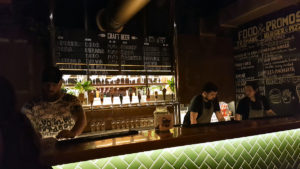 There are twelve taps at the bar, however only seven of them actually have beers attached to them the night I'm there. Bierhaus is clearly the house favorite, with four of those, and then a single tap each for Darwin, Mula, and "DSDO". The last of these catches my eye, with a beer called Poker, and I ask about it. Not only do the guys not have a clue what "DSDO" stands for (I had to search for it – Don Santiago de Ortuzar), but the only thing they know about Poker is "it's strong". Do you know what style it is – porter, stout, bock…? only gets a "I don't know what those are, it's strong, do you want it or not?" Beer knowledge is not the strong suit here.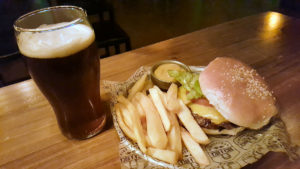 But, just because it's different, and I'm in the mood for something "strong", I go with it. Besides, the internet is always available these days, and a later search, after really enjoying the beer, determines that it's an IPA blended with Jack Daniels. Okay, strong isn't incorrect. I order a "classic" burger to accompany, and in about 15 minutes my little pager thingie goes off and I pick it up from the food counter. Though seasoned well, the patty that purports to be a burger can't possibly be more than ¼" thick, the single slice of American cheese gives it a run for the money in volume. A little lettuce, tomato, and mayo complete it. It's got decent flavor, just no substance. Blonde fries. At 120 pesos a pint and 180 for a burger, and the general lack of, well, everything, plus being sandwiched between Buller and Cobarde, about the only thing this place has going for it is the rooftop.
And, bizarrely, since I was sure I'd written it up, when I went to link Cobarde here, it appears I never have. So….
The forgotten taps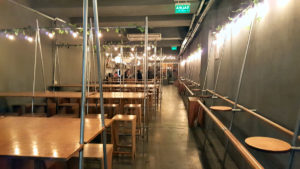 Cobarde, Junin 1725, Recoleta – since it's been awhile, and I've only dropped in once since the first visit (in July and October of last year), I'm going to just rely on what I wrote up on the craft beer map above, I don't recall enough other details to do a more thorough write-up.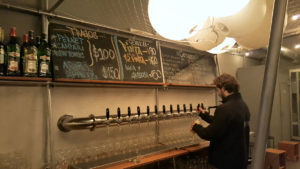 In the middle of the Village Recoleta strip, a little too pretentious for its own good, but a decent selection of 14 beers on tap, from around Argentina. On a first visit tried the Amnesia Vanilla Blonde Ale and the Portlander Burnside, both very good. Pluses – happy hour 2×1, and availability of half-pints for those who want to try multiple beers. Negative – the half-pints aren't included in happy hour, and they run ¾ (60 pesos) the price of a full pint (90 pesos).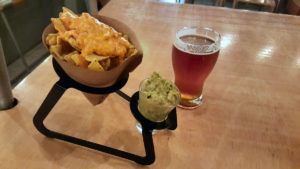 Food is pretty basic – bar snacks and a few sandwiches (oddly, a veggie burger, but no regular burger). Food's a little pricey for rather small portions. They're now open all afternoon, with a happy hour until 8pm, 2 pints for 100 pesos! (Prices as of October 2017.)
 The Confederate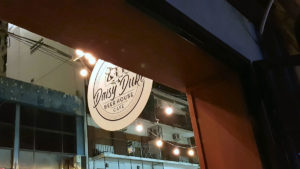 Daisy Duke Beer House Café, Azcuenaga 1872, Recoleta – I've been watching this one with interest, because, well, the name. And it's been under construction and under wraps for it seems like about 6-7 months now. You'd think, given that, that when I got to talking with the owner, I'd have asked him why the name. I will on my next visit.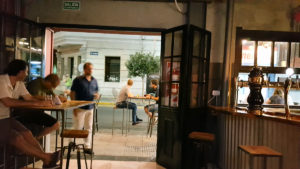 It's a small place, with room inside for probably not more than about 40 people, and a couple of outdoor tables. It's just down the street from the triumvirate of Drafters, Brew Republic, and Back in Black. A dozen craft beer taps on a line, and then two separate taps for commercial beers – as a guess since it's common here, the two big companies, Warsteiner and Grolsch, donated taps to the bar in order to get themselves on the menu. That's the owner coming in the door, by the way. The craft taps are limited to three breweries that he likes to work with – Beata, Buko, and Bierlife. And, great selections too. Pints are 85 pesos, half-pints 50. They have a 2×1 happy hour period, only applicable to pints.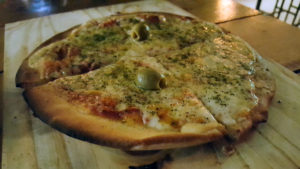 The menu consists of an individual sized plain cheese pizza (100 pesos), and a few sandwich selections. The plan is to expand that down the road, the place has only been open about a week now. They're also, sometime later this month, going to start opening at midday rather than just at night. The pizza wasn't half bad – good crust, sauce, and cheese, which pretty much nails it, especially for a bar pizza. Only negative, the food promo-combos of sandwich and beer or pizza and beer, are limited to the two commercial beers only – that sucks. Tried the Beata Scottish Ale and the Buko APA, both in half pints, long with the pie – both excellent!
The Underpass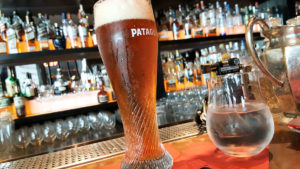 Negroni, Posadas 1029, La Recova (between Recoleta and Retiro) – Someday I'd really like to know how this bizarre little area under the expressway not only became a hotspot for a whole group of restaurants, but particularly that they're all high-end places. Not really a craft beer spot, as the only beers on tap are from Patagonia, which is pretty commercial, even if it once was more of a craft brewery, but, hey, we're talking beer here, and a really nice bar. 120 pesos. And they give you a glass of ice water when you sit down. That's unheard of in Buenos Aires. (Well, give is a misnomer, since they charge a cubierto for water and bread.)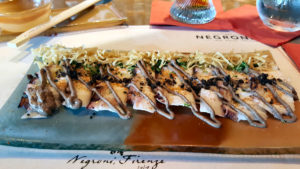 I'd originally been planning on trying their burger, as the one at their original Palermo location has gotten some pretty good reviews. But, the nikkei style menu started calling out to me, and I went that way. The burger can wait. Started off with the pulpo olivado, a take on the traditional Peruvian pulpo al oliva, in this case amazingly tender strips of octopus, lightly spiced, with a black olive mayo, black olive crumb, cilantro, and little shoestrings of fried phyllo dough. It may have cost 295 pesos, but wow, one of the best versions of this dish I've had, anywhere.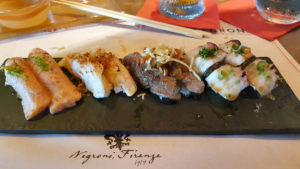 Likewise, completely impressive their selection of nigiri sushi, which they offer up individually, or in a little 8-piece tasting, with two each of salmon, white fish of the day, octopus, and sirloin steak. All beautifully spiced, well prepared, and even at 365 pesos (just over $2 per piece), I'd happily order those again. The one negative, in addition to already being on the pricier side, is a cubierto charge, which at lunchtime adds 29 pesos to the tab – for ice water and bread. Yeah, yeah, it's only a dollar and a half, but… come on, it's a stupid charge.
Another Stab at NYC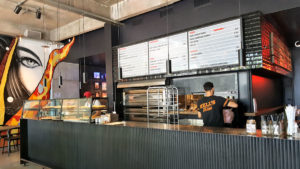 Hell's Pizza, Humboldt 1654, Palermo – Stepping outside of Recoleta, I had to eventually get to this new pizza spot touting "authentic New York style pizza by the slice". We've seen attempts at this before here, most recently at the ostensibly aptly named New York Style Pizza on Gorriti – which is good pizza, but falls short of the mark in being NY style.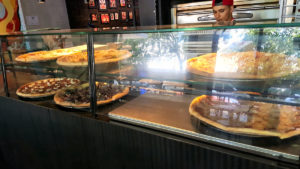 There are more options here, about 8-9 different combinations available, and they put them up on display as they come out of the oven, and do the whole NY warming up your slices to order thing. It looks good. I do wish they'd not go with this strange porteño tradition when it comes to norteamericano food of coming up with fanciful names for combos, especially if they have no relation to who or what they're named after. I mean, the Obama is a pepperoni slice? Why not something Chicago-ish, where he's from. The Giuliani, which might make more sense as a NY pepperoni classic, is buffalo mozzarella and basil. The Jackie Kennedy is red onion, portobello mushroom, and crispy bacon. Etc.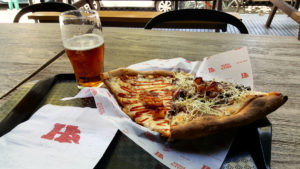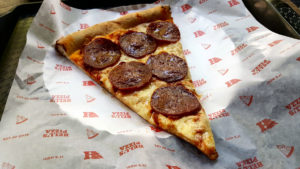 So, how did it fare? Two of the four slices had pretty much perfectly cooked crust, and had that flexibility that NY style pizza needs to fold the slice over lengthwise and pick it up. The Jackie Kennedy was too crisp to do that and just broke apart when I tried to fold it. The toppings are good, the bacon is really crispy, and the pepperoni is the closest I've tasted to the real thing here. The eponymous Hell's, with jalapeño, smoked mozzarella, bacon, and chipotle sauce has a kick to it, and seems to be the only sensibly named slice on the menu.
The one thing that's lacking here is the cheese. Good mozzarella for pizza needs to have that stretchy, elastic texture that leaves strings of cheese stretching from your mouth to the pie after each bite. This stuff just sort of puddles and gets oily and granular. It's just not right. Fix that and I'd give them the nod for decent NY style. Slices run 70 pesos each, or $3.60. Oh yeah, and I'm supposed to be focused on beer in this post, they have four beers on tap – Budweiser, Heineken, and both a pale ale and red ale from Kunstmann, a Chilean brewery. Nothing Argentine, which is strange, and not really craft beer – Kunstmann may have been at one time, but they've outgrown that long ago.
The Sommelier of Beers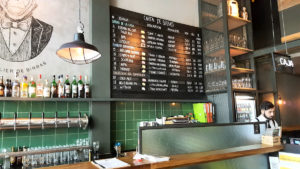 Bar Pintón, Mercedes 3940, Villa DeVoto – Quite a bit further afield for this one, but it's a spot I've been hearing great things about, and on a Sunday afternoon I decided to make the trek out there. A little complicated by the fact that the San Martín train line is shutdown for track work, which I didn't know about until arriving at the station at this end, but, it's only an hour bus ride….
A dozen beers on tap, each from a different producer, and each a different style. That already piques my interest. Creative sounding bar food. And, the claim that they/he (I'm assuming the young man running the place) is a "sommelier" of beers. I'm going to put him to the test.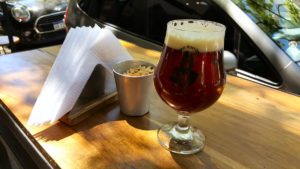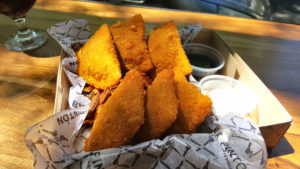 I order up the pork empanaditas, described as pork filled wonton skins with teriyaki sauce. Okay, they're a bit bigger than wontons. They're the size of half a normal empanada, each, so six of them the equivalent of three full sized empanadas. Certainly splittable, but I was solo. I wasn't going to eat all of them. But, they were soooooo good. I mean, really, really good, with juicy, Asian spiced pork fillings, perfectly fried, crunchy exteriors coated in panko crumbs, and both teriyaki and coconut sauces (mixed together is the winning combo). 130 pesos, and I'd make the trip out there just to eat these again. Mr. beer sommelier paired a Scottish ale from Norfolk in Sarandí, out in BA province, which was a dead-on delicious match. Only negative, the pile of sweet potato waffle fries beneath, all basically burnt, unsalted, inedible. And why serve chips with empanadas? 130 pesos. Half pint 80 pesos, versus 100 pesos for a full pint.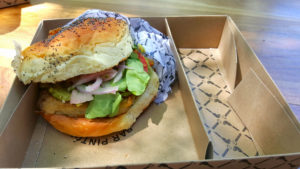 My original thought was a regular burger, because, burger. But a prawn burger with cilantro, guacamole, lettuce, tomato, and red onion called my name. The burger comes without chips, bizarrely, not that I would have wanted more of those (and even more bizarre, since looking at the presentation, it's clearly got a space for chips or fries in the box. It's delicious, and at 200 pesos, not a bad deal, though really ought to come with something on the side. The negative, not in the original making of the burger, but, for some reason, the kitchen sent out both plates at the same time (I'd specified one after the other, so don't know if that was the bartender's or the kitchen's mistake), so I sent the burger back while I ate the empanadas. The way to handle it would have been to make a new one and eat the cost (and probably literally eat it). But they didn't, they kept it warm somewhere, and it was all a bit dried out by the time twenty minutes passed by. 200 pesos. Paired with probably the best APA I've had in Argentina, from Arpegia.
This is the kind of place I wish was closer to home, it's certainly, even just based on one lunch visit, one of my top three favorite beer bars in the city so far – based on style, choices of beers, service, and food.