February 7-9 – 2018 – 7-9 de Febrero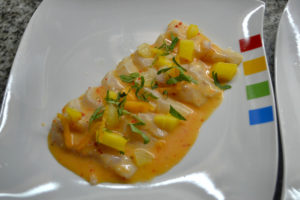 Sandperch / Citrus / Mango – sashimi slices of sandperch cured in a white miso and gochugaru vinaigrette; mango, shallots, lemon and lime supremes, mint, cilantro, rocotos.
Salmón Blanco / Cítricos / Mango – tiras de salmón blanco curado en vinagreta de miso blanco y gochugaru; mango, echalotes, supremas de limón y lima, menta, cilantro, rocotos.
Codoniú María Extra Brut, Maipú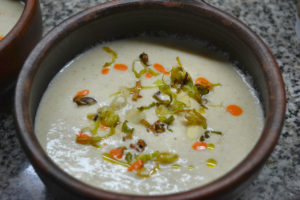 Almond / Cucumber / Garlic – pureed and chilled soup of toasted almonds, bread, and garlic with raspberry vinegar and olive oil; fried leeks, piquillo pepper puree, toasted almonds, olive oil.
Almendra / Pepino / Ajo – sopa fría en puré de almendras, pan, y ajo tosatados con vinagre de frambuesa y aceite de oliva; puerros fritos, puré de pimienta piquillo, almendras tostadas, aceite de oliva.
Domingo Molina Torrontés 2015, Cafayate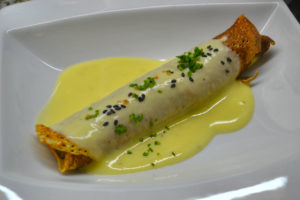 Eggplant / Lemon / Chickpea – chickpea and scallion crepes filled with puree of charred eggplant, garlic, mint, thyme, tahini, merquén, sesame and olive oils; lemon egg yolk sauce; chives, pink sea salt, black sesame.
Berenjena / Limón / Garbanzo – panqueques de garbanzo y verdeo relleno con puré de berenjena quemada, ajo, menta, tomillo, tahini, merquén, aceites de sésamo y oliva; salsa de limón y yemas; ciboulette, sal de mar rosado, sésamo negro.
Humberto Canale "Old Vineyard" Rosé 2017, Río Negro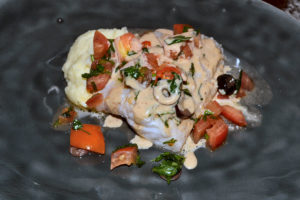 Ling Cod / Tomato / Potato – broiled ling cod; warm salad of tomatoes, black olives, limo chilies, parsley; sauce of tahini, peanut butter, lemon juice, merquén, cumin, fish stock; buttery mashed potatoes.
Abadejo / Tomate / Papa – abadejo asado; ensalada tibia de tomates, aceitunas negras, aji limo, perejíl; salsa de tahini, pasta de maní, jugo de limón, merquén, cómino, caldo de pescado; papa puré mantecada.
Alta Vista Premium Estate Bonarda 2015, Luján de Cuyo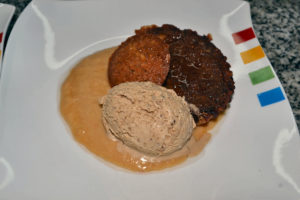 Honey / Walnut / Peach – half a tartlet filled with honey, butter, egg, and baharat; walnut flour and brown butter financier; grilled peach butter; butter walnut gelato, bourbon syrup.
Miél / Nuéz / Durazno – media tartita rellena con miél, manteca, heuvo, y baharat; financier de harina de nuéz y manteca quemada; manteca de duraznos a la plancha; helado de nueces y manteca; jarabe de bourbón.
Santa Julia Tardío 2016, Maipú