February 1-3 – 2018 – 1-3 de Febrero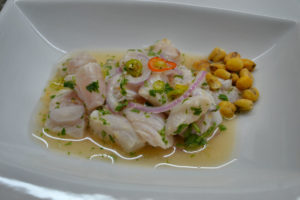 Grouper / Citrus / Rocoto – diced grouper cured in lemon and lime juices, ginger, garlic, celery, rocoto chili, salt, pepper, cilantro, red onion; toasted corn, limo chilies.
Mero / Cítricos / Rocoto – dados de mero curado en jugos de limón y lima, jengibre, ajo, apio, rocoto, sal, pimienta, cilantro, cebolla morada; maíz tostada, ají limos.
Cruzat Cuvée Nature, Luján de Cuyo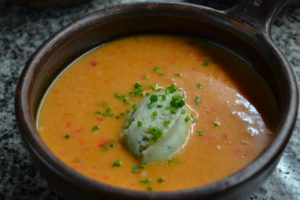 Watermelon / Onion / Bell Pepper – pureed soup of watermelon, garlic, kimchi, basil, olive oil, red wine vinegar, salt, pepper; finely chopped red bell pepper and onion; sherbet of cucumber, egg white, serrano chili, honey, milk, salt, xanthan gum; chives.
Sandía / Cebolla / Morrón – sopa licuada de sandía, ajo, kimchi, albahaca, aceite de oliva, vinagre de vino tinto, sal, pimienta; picada de morrón y ceboola; sorbete de pepino, clara de huevo, ají serrano, miél, leche, sal, goma xántica; ciboulette.
Alamos Sauvignon Blanc 2017, Mendoza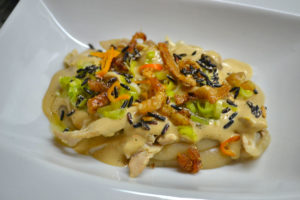 Rice / Maitake Mushroom / Chicken – hydrated rice and dried maitake mushrooms, pureed, cooked in chicken stock until thick; shredded chicken thighs and legs confited in olive oil with bay leaf, garlic, salt, pepper; hollandaise sauce blended with garlic and confited chicken livers; dots of salsa negra; crispy chicken skin dusted with salt and merquén; sauteed leeks; yellow chili; puffed forbidden rice dusted with salt and oyster mushroom powder.
Arroz / Hongo Maitake / Pollo – arroz y hongo maitake seco hidratados, licuados, cocido en caldo de pollo hasta se espesa; trizas de pata y muslo de pollo confitado en aceite de oliva con laurél, ajo, sal, pimienta; salsa holandesa mezclado con ajo y higados de pollo confitado; puntos de salsa negra; piél de pollo crocante espolveado con sal y merquén; puerros saltados, ají amarillo; arroz prohibido inflado y espolveado con sal y polvo de gírgolas.
Sophenia "AltoSur" Malbec Rosé 2017, Tupungato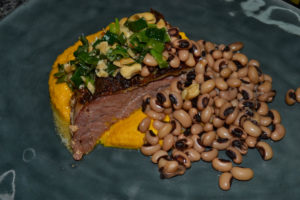 Brisket / Black-Eyed Peas / Carrot – brisket coated in miso, espresso, cumin, smoked chili, black pepper, salt, then braised in milk for 6 hours; saute of green onions and cashews with roasting juices and soy sauce; roasted carrot, chipotle, coriander, and cumin puree; black eyed peas cooked in beef stock.
Vacio / Porotos Tapes / Zanahoría – vacio rociado en miso, espresso, cómino, merquén, pimienta negra, sal, luego braseado durante 6 horas en leche; saltado de verdeos y cajues con los jugos del braseado y salsa de soja; puré de zanahorias asadas con chipotle, coriandro y cómino; porotos tapes cocido en caldo de rés.
Doña Paula "Velvet Blend" 2016 (Malbec, Pinot Noir, Bonarda), Luján de Cuyo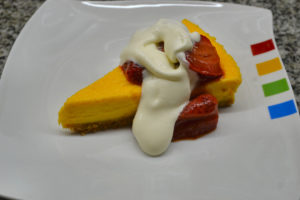 Lucuma / Ricotta / Strawberries – cookie crust; lucuma flavored homemade cream cheese filling; strawberries cooked in prickly pear syrup; whipped cream.
Lucuma / Ricota / Frutillas – masa de galletitas; relleno con queso crema casero saborizado con lucuma; frutillas asadas en arrope de tuna; crema batida.
Amalaya Blanco Dulce de Corte 2016 (Torrontés, Riesling), Valle Calchaquí