January 25 & 27 – 2018 – 25 y 27 de Enero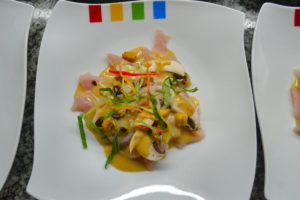 Roosterfish Tiradito – sashimi cuts of roosterfish; sliced mushrooms; cured in lime juice, olive oil, white miso, garlic, rocoto, salt, white pepper; threads of limo chilies, shallots, green onions, shiso leaves; toasted corn.
Tiradito de Pez Gallo – pez gallo en tiras de sashimi; laminas de champiñones; curado en jugo de lima, aceite de oliva, miso blanco, ajo, rocoto, sal, pimienta blanca; hebras de ají limo, echalotes, verdeos, hojas de perilla; maíz tosatado.
Bodega El Esteco "Don David" Extra Brut, Cafayate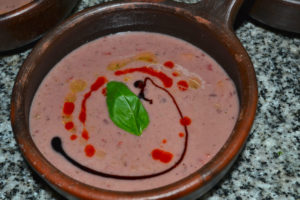 Cherry Gazpacho – pureed and chilled soup of cherries, cucumber, red onion, garlic, horseradish, balsamic vinegar, olive oil, basil, salt, pepper; decorated with olive oil, reduced balsamic vinegar, piquillo pepper puree, basil leaf.
Gazpacho de Cerezas – sopa fría en puré de cerezas, pepino, cebolla morada, ajo, rabanito picante, vinagre balsámico, aceite de oliva, albahaca, sal, pimienta; adornada con aceite de oliva, vinagre de balsámico reducido, puré de pimienta piquillo, hoja de albahaca.
Salentein "Killka" Sauvignon Blanc 2017, Valle de Uco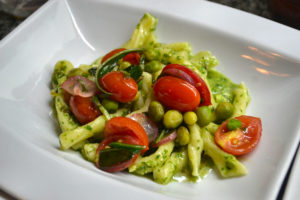 Strozzapreti with Radish and Pistachio Pesto – handrolled semolina strozzapreti; pesto of radish and spinach leaves, toasted pistachios, garlic, sheep's milk cheese, serrano chili; saute of sliced radishes, cherry tomatoes, fresh peas, radichetta.
Strozzapreti con Pesto de Rabanito y Pistacho – strozzapreti de semolín hecho a mano; pesto de hojas de rabanito y espinaca, pistachos tostados, ajo, queso de oveja, ají serrano; saltado de rabanitos rebanados, cherys, arvejas frescas, radichetta.
Las Perdices Malbec Rosé 2015, Luján de Cuyo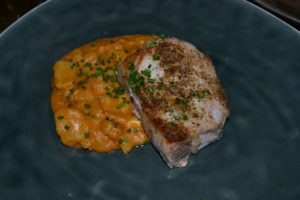 Potato "Ajiacco" with Spiced Pork Loin – potatoes cooked in potato stock, cream, milk, panka and mirasol chilies, garlic, huacatay (Amazon Black Mint); broiled pork loin rubbed in salt, pepper, and cumin; chives.
Ajiacco de Papas con Carré de Cerdo Especiado – papas cocido en caldo papas, crema, leche, ajies panka y mirasol, ajo, huacatay; carré de cerdo asado, rociado con sal, pimienta, y cómino; ciboulette.
Gonzalo Tamagnini "Desquiciado" Garnacha 2017, Tupungato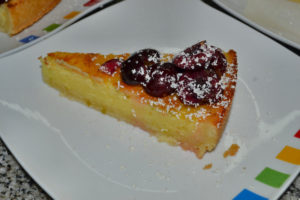 [Photo from a previous dinner, this time we used raspberries and blackberries in limoncello / La foto es de una cena previa, esta véz utilizamos frambuesas y moras en limoncello]
Lemon Kiss Tart – pâte sucre crust; filling of eggs, butter, lemon juice and rind; raspberries and blackberries in limoncello; grated white chocolate.
Tarta Beso de Limón – masa de pasta de azucar; relleno de huevos, manteca, jugo y ralladura de limón; frambuesas y moras en limoncello; ralladura de chocolate blanco.
Ruca Malen "Aimé" Moscatel de Alejandria 2016, Mendoza