December 19-21 – 2017 – 19-21 de Diciembre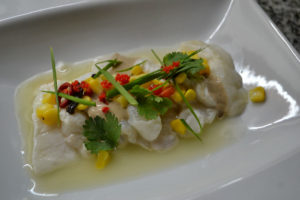 Sole Tiradito – sole cured in lemon and lime juices, ginger, garlic, rocoto chili, salt; use some of the curing liquid to make a black garlic mayonnaise; charred corn, limo chilies, soy preserved ginger, nira, cilantro, lumpfish roe.
Tiradito de Lenguado – lenguado curado en jugos de limón y lima, jengibre, ajo, rocoto, sal; usá algo de liquido de cura para elaborar una mayonesa de ajo negro; maíz dorado, ajies limos, jengibre conservado en soja, nira, cilantro, huevas de lumpo.
Bodega La Rural "La Vuelta" Extra Brut, Mendoza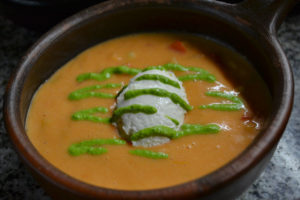 Classic Gazpacho, Horseradish Gelato – pureed soup of tomato, garlic, bell pepper, chili, olive oil, red wine vinegar; dice of bell pepper, cucumber, white onion; horseradish gelato; parsley puree.
Gazpacho Clásico, Helado de Rabano Picante – sopa en puré de tomate, ajo, morrón, ají, aceite de oliva, vinagre de vino tinto; daditos de morrón, pepino, cebolla blanca; helado de rabano picante; puré de perejíl.
Salentein "Killka" Sauvignon Blanc 2017, Valle de Uco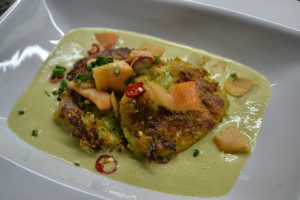 Zucchini Latkes, Green "Huancaina" Sauce – latkes of zucchini, ricotta, egg, salt, white pepper, nutmeg; sauce of fresh cheese, walnuts, serrano chili, anchovy, cilantro, parsley, fish stock; smoked trout; fried garlic chips; chinese chilies; chives.
Latkes de Zucchini, Salsa "Huancaina" Verde – latkes de zapallito largo, ricota, huevo, sal, pimienta blanca; salsa de queso fresco, nueces, ají serrano, anchoa, cilantro, perejíl, caldo de pescado; trucha ahumada; laminas de ajo frito; ajies chinos, ciboulette.
Bodega Santa Julia Syrah Rosé 2017, Maipú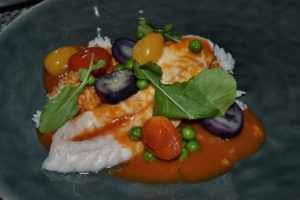 Broiled Sea Bass, Sudado Reduction – broiled sea bass; reduction sauce of bell pepper, tomato, mirasol and panko chilies, garlic, white wine, vegetable stock, cumin, oregano, cilantro stems, black pepper, salt; garlic rice; purple potatoes, roasted cherry tomatoes, peas, arugula.
Corvina Asada, Reducción de Sudado – corvina asada; salsa reducción de morrón, tomate, ajies mirasól y panko; ajo, vino blanco, caldo de verduras, cómino, orégano, talles de cilantro, pimienta negra, sal; arroz con ajo; papitas violetas; cherys asados, arvejas, rúcula.
Trapiche "Costa y Pampa" Pinot Noir 2015, Buenos Aires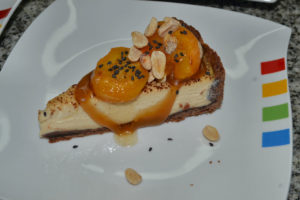 Halva Cheesecake – cocoa crust; filling of homemade cream cheese, peanut butter, tahini, honey, miso, eggs; dusted with cocoa; honey-roasted apricots; toasted peanuts, black sesame seeds, soy caramel.
Cheesecake de Halva – masa de cacao; relleno de queso crema casero, pasta de maní, pasta de sésamo, miél, miso, huevos; enpolveado con cacao; damascos asados con miél; maní tostado, semillas de sésamo negro; salsa caramelo de soja.
Crotta "Mistela d'Oro" 5 Años Roble Anejo, San Martín