Having pretty much exhausted all the big name brands and any easier to find smaller producers, this (likely last) roundup of Argentine blues is spread out over the time it took to track down more options. In fact, after the first one, in early 2015, this got back-burnered and I didn't even think about it until mid-2017 again. You can check out Case #1 and #2 in past posts. Figure that anything pre-January 2016, the pricing, in pesos, has at least doubled, since the massive peso devaluation then.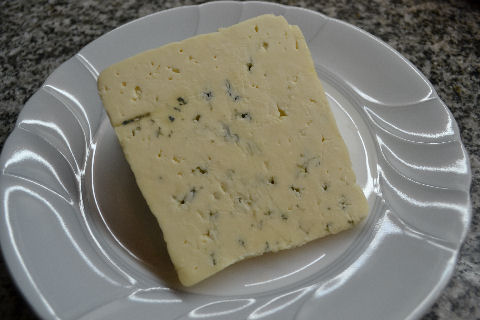 Found this one by chance in a small gourmet shop in Barrio Norte. The label was torn and so the actual producer is unknown, and the counter guy didn't have a clue. From what was left of the label, this is a gorgonzola style cheese made in Mercedes, Buenos Aires province – an online search didn't yield up a producer of gorgonzola there, but lack of online presence even in today's world doesn't mean a lot, especially here. The cheese is creamy white with deep-green-grey veins. Aromas of butter and grass, maybe even a hint of popcorn. Smooth, creamy cheese with very soft, bordering on sweet flavors – a really delicious version of gorgonzola – certainly the best one I've tried here. 250 pesos/kg (May 2015 from El Club del Queso, Agüero 1663). [I'm sure it's much more expensive these days, given that this price is from before the peso devaluation by almost double in January of 2016.]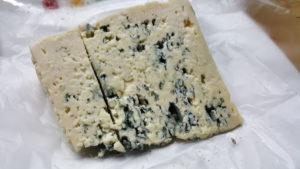 There's a small chain (3 shops now) of gourmet food stores here called Cittadella, and the most recent of the the three just opened a couple of blocks from us, at Pacheco de Melo 1887. They offer up a trio of blues, the least expensive of which comes with their own shop branding. The label doesn't indicate who makes it for them, but the guy behind the counter was fairly sure it's made by La Paulina, which is actually one of the ones left on my list of larger cheese producers I'd not yet tried, as I've not found someone selling their blue cheese. The cheese is fairly creamy, and has a hint of bitterness to it. It's quite salty, actually a bit more than I find acceptable. 439 pesos/kg (August 2017 from Cittadella, Pacheco de Melo 1887, Recoleta).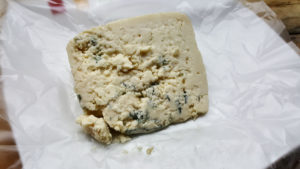 Also from Cittadella and with their own brand name, but this one their "Premium" Queso Azul. Creamier and crumblier, and a much milder, more buttery flavor. The salt is much more in balance. There's obviously a lot less veining in the cheese as well. Quite good, and apparently made by another cheesemaker, and comes in at 489 pesos/kg (August 2017 from Cittadella).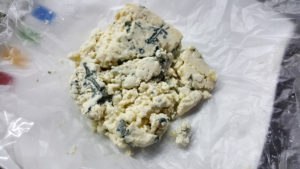 Cabaña Piedras Blancas – a fairly well known cheesemaker located to the west of Buenos Aires, in Suipacha, mostly specializing in excellent goat and sheep milk cheeses. Their blue, however, is made from cow's milk. Very white, with a whole lot of blue-grey veining. Almost fudgy in texture, and crumbles fairly easily. Pungent aroma of mushrooms and grass, and it's a bit, well, funky. But I liked it a lot, albeit very different from any of the other blues tried on this adventure. (599 pesos/kilo, August 2017 from Cittadella.)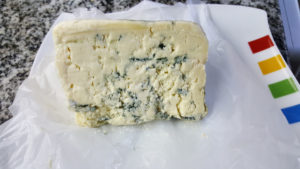 Tonutti – a small commercial cheesemaker up in Entre Rios province, I found this one completely at random while wandering through Villa General Mitre, towards the western side of BA. Cream colored, a fair amount of blue-grey veining. This might be one of the most pungent of blues I've tried on this entire venture. Intense aromas brown butter, brine, and grass. Fairly salty – not over the top, but noticeable. I can't say it was one of my favorites, it was just a little too intense and out of balance for my tastes. Surprisingly inexpensive. (220 pesos/kilo, September 2017 from Queseria de mi sin ti, Alvarez Jonte 2224, Villa General Mitre.)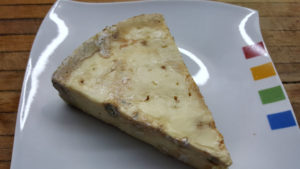 Don Santiago – I'm not sure what to think about this one. A small cheesemaker up in Córdoba, the blue is touted as a gorgonzola style cheese. It comes in individual foil-wrapped wedges. Now, based on photos on the cheesemaker's website, this should be a richly veined cheese with blue-green veining throughout. I found it to have minimal veining – maybe three thin veins passing through the whole thing. On the other hand, the texture is creamy and soft, the flavor is, indeed, classic gorgonzola, and a quite good one. Maybe a trio of thin veins is all it needed. (580 pesos/kilo, September 2017 from Armesto, Rosario 201, Caballito, or Pacheco de Melo 2101, Recoleta.)