October 25-28 – 2017 – 25-28 de Octubre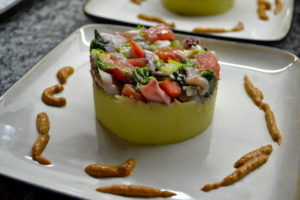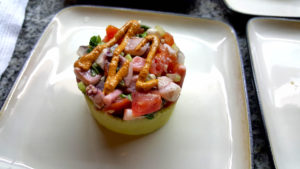 Calamari "Causa" – Potato puree base flavored with green onion, green chili, lime juice, olive oil, salt; Sardinian style calamari salad with mint, basil, celery, red onions, tomatoes, garlic, lemon, olive oil, salt and pepper; cashew, guajillo chili, sun-dried tomato puree. First photo is better, but the second presentation is prettier.
Causa de Calamares – Puré de papas saborizado con verdeos, ají verde, jugo de lima, aceite de oliva, sal; ensalada de calamares estilo cerdena con menta, albahaca, apio, cebolla morada, ajo, limón, aceite de oliva, sal y pimienta; puré de cajues, chilies guajillos, tomates secos. Primera foto es mejor, pero la segunda presentatción es mas linda.
Philippe Caraguel Extra Brut, Mendoza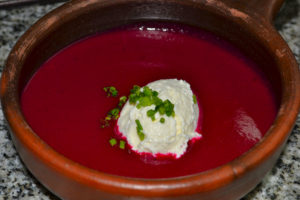 Chilled Beet Soup, Horseradish Gelato – Pureed soup of roasted beets with red onion, toasted cumin, merquén, parsley, lemon juice and rind, olive oil, tamarind, salt and pepper; gelato with horseradish and salt; chives.
Sopa Fría de Remolachas, Helado de Rabano Picante – Sopa puré de remolachas asadas con cebolla morada, cómino tostado, merquén, perejíl, jugo y cascara de limón, aceite de oliva, tamarindo, sal y pimienta; helado con rabano picante y sal; ciboulette.
Catena Zapata "Nicasia Vineyard" Blanc de Blancs 2016, Mendoza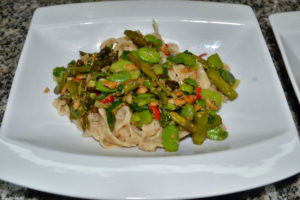 Stradette with Roasted Asparagus & Broad Beans, XO Cream – Fettucine made from polenta with a thickened cream blended with homemade XO sauce; saute of broiled asparagus, broad beans, green onions, limo chilies, peanuts, garlic.
Stradette con Espárragos Asados y Habas, Crema XO – Tallarines hecho de polenta con salsa de crema de leche espesada mezclada con salsa XO casera; saltado de espárragos asados, habas, verdeos, ají limo, maní, ajo.
Santa Julia Syrah Rosé 2016, Maipú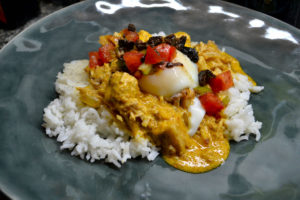 Milk-Braised Pork Flank in Yellow Chili-Cheese Sauce – Pork flank braised for four hours in milk blended with garlic, shallots, and yellow chilies, then diced and added to a huancaina sauce (yellow chilies, fresh cheese, walnuts, milk) with onions and garlic; 63°C sous vide egg; rice; chopped tomatoes, black olives, and rocoto chili.
Ají de Matambrito Braseado en Leche – Matambrito braseado durante cuatro horas en leche con ajo, echalotes, y ají amarillo; luego cortado en daditos y agregado a salsa huancaina (ají amarillo, queso fresco, nueces, leche) con cebollas y ajo; huevo sous vide de 63°C; arroz; salpicón de tomates, aceitunas negras, y rocotos.
Tajungapul de Montaña 2013, Mendoza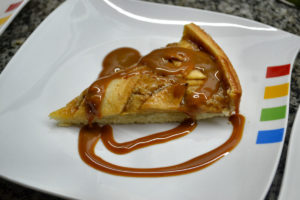 Apple Tart, Bourbon Caramel – Tart filled with thin sliced green apples tossed with Chinese five-spice; caramel sauce flavored with bourbon, Szechuan peppercorn, cayenne.
Tarta de Manzanas, Dulce de Bourbón – Tarta relleno con laminas finas de manzanas verdes volteada con cinco-especias chinas; dulce de leche saborizado con bourbón, pimienta sichuan, y cayena.
Putruele "Tardío de Abríl" Chardonnay 2013, Valle de Tulum