11-13 de octubre 2017 October 11-13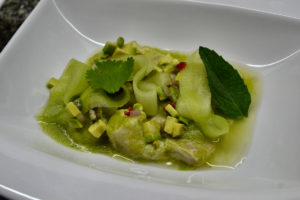 Grouper "Chili Water" – cubes of grouper cured in lime juice, cucumber, onion, cilantro, mint, serrano chili; strips of salted cucumber; fine dice of avocado, red onion, piri-piri chili.
Aguachile de Mero – dados de mero curado en jugo de lima, pepino, cebolla, cilantro, menta, ají serrano; tiras de pepino salado; daditos de palta, cebolla morada, ají piri-piri.
Bodega El Esteco "Don David" Extra Brut, Cafayate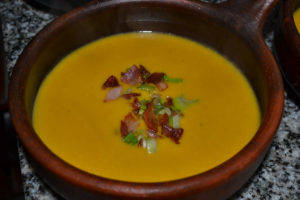 Creamy Cheddar Cheese Soup – pureed soup of leeks, carrots, celery, mirasol chili, milk, beef stock, stout, pommery mustard, cheddar and gouda cheese; bacon lardons and green onions.
Sopa Cremosa de Queso Cheddar – sopa en puré de puerros, zanahorías, apio, ají mirasól, leche, caldo de rés, stout, mostaza pommery, quesos cheddar y gouda; daditos crocantes de panceta, y verdeos.
Bodega Uxmal "Tilia Vineyards" Sauvignon Blanc 2014, Mendoza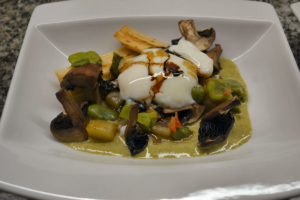 Portobello "Harvest" – portobello mushrooms roasted with huacatay and hierbabuena; palm hearts roasted and brushed with merquén chili oil; potato cubes cooked fondant in mushroom stock; broad beans, rocoto chili; huacatay cream sauce; sous vide egg drizzled with soy-balsamic reduction.
Capchi de Portobelos – hongos portobelos asados con huacatay y hierbabuena; palmitos asados y cepillados con aceite de merquén; dados de papa cocido fondant en caldo de hongos; habas, rocotos; salsa crema de huacatay; huevo sous vide rociado con reducción de soja-balsámico.
Finca Sophenia "Altosur" Malbec Rosé 2016, Tupungato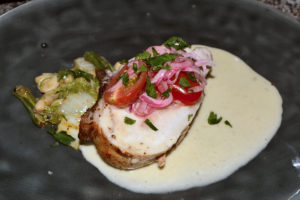 Pork Loin in Garlic-Chili Sauce, Chinese Cabbage Saute – pan seared pork loin coated in salt and togaroshi; saute of chinese cabbage, padron peppers, and white beans in butter, miso, and togaroshi; poached garlic-rocoto pureed sauce; warm salad of cherry tomatoes, red onions, chives.
Carré de Cerdo al Ajillo, Saltado de Akusay – carré de cerdo dorado frotado con sal y togaroshi; saltado de akusay, pimientas padrones, y alubías en manteca, miso, y togaroshi; salsa en puré de ajo y rocoto pochado; ensaladita tibia de cherys, cebolla morada, y ciboulette.
Bodegas San Huberto "Nina" Petit Verdot 2014, La Rioja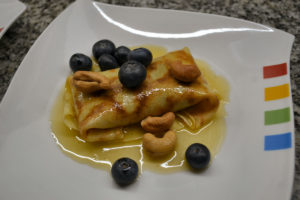 Dulce de Leche, Cashew, & Blueberry Crepe – crepe filled with dulce de leche and dried blueberries rehydrated in sweet vermouth; bourbon butter sauce; blueberries and toasted cashews.
Panqueque de Dulce de Leche, Cajues, y Arandanos – panqueque relleno con dulce de leche y arandanos secos rehidratados en vermút dulce; salsa de manteca y bourbón; arandanos y cajues tostados.
Ruca Malen "Aimé" Moscatel de Alejandria 2016, Mendoza