September 27-30 – 2017 – 27-30 de Septiembre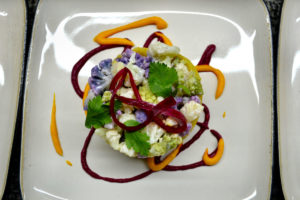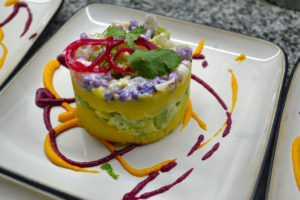 Three Cauliflower Causa – One of the prettiest dishes I've done, I think! Beet-cumin puree; carrot-coriander puree; mashed potato flavored with yellow chili, lemon juice, olive oil, salt; diced avocado in our Szechuan mayonnaise (egg yolk, sesame oil, Szechuan peppercorn oil, corn oil, lime juice, salt); white and purple cauliflower and romanesco, steamed over roasted vegetable stock, cooled, and mixed with the Szechuan mayonnaise; pickled red onions; cilantro.
Causa de Trés Coliflores – Uno de los mas lindos platos elaboré, pienso! Puré de remolacha-cómino; puré de zanahoria-coriandro; papas aplastadas y saborizadas con ají mirasól, aceite de oliva, sal; daditos de palta en nuestra mayonesa sichuan (yema, aceite de sésamo, aceite de pimienta sichuan, aceite de maíz, jugo de lima, sal); coliflóres blanco, violeta, y romano cocidos al vapor de caldo de verduras asadas, enfriados y mezclado con la mayonesa sichuan; cebolla morada encurtida; cilantro.
Bodega del Fin del Mundo Extra Brut, Patagonia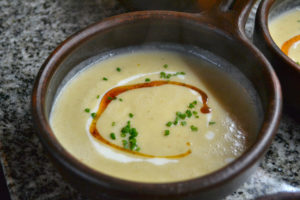 Cream of Butter Bean Soup – Pureed soup of cooked onion, garlic, butter beans, smoked chili, vegetable broth, cream, salt, white pepper; smoked chili oil; salted yogurt; chives.
Sopa Crema de Porotos Pallares – Sopa puré de cebolla, ajo, porotos pallares, merquén, caldo de verdura, crema de leche, sal, pimienta blanca; aceite de merquén; yogúr salado; ciboulette.
Bodega Uxmal "Tilia Vineyards" Sauvignon Blanc 2014, Mendoza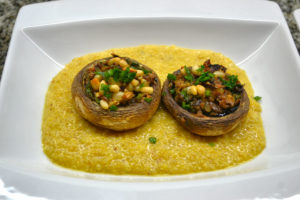 Half the week: Baked Stuffed Mushrooms over Chili-Cheese Quinua – Quinua cooked in saffron vegetable stock and finished with huancaina-inspired cheese sauce of yellow chili, mozzarella, gouda, parmesan, walnuts, milk; mushroom caps stuffed with mushroom stems, pinenuts, parsley, garlic, lemon, pepperoncino, salt, pepper.
Mitád de la seman: Champiñones Rellenos Asados sobre Ají de Quinua – Quinua cocido en caldo de verduras y azafrán y terminado con salsa inspirada de huancaina de ají amarillo, mozarela, gouda, parmesano, nueces, leche; capas de champiñones rellenas con tallos de champiñones, piñones, perejíl, ajo, limón, peperoncino, sal, pimienta.
Finca Sophenia "Altosur" Malbec Rosé 2016, Tupungato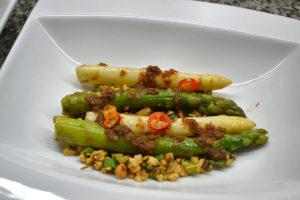 Other half of the week: Asparagus XO – Griddled white and green asparagus covered with homemade XO sauce; saute of chopped peanuts and green onions in peanut oil; limo chilies.
Otra mitád de la semana: Esparragós XO – Esparragós blancos y verdes a la plancha cubierto con salsa XO casera; saltado de maní y verdeos picadas en aceite de maní; ají limos.
Finca Sophenia "Altosur" Malbec Rosé 2016, Tupungato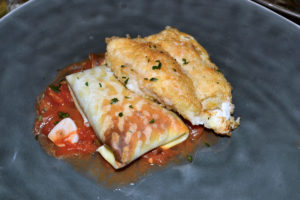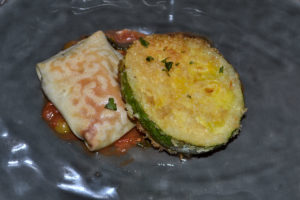 Half the week: Fried Chicken (or Globe Zucchini), Smoked Eggplant Crepe, Spicy Tomato & Green Olive Sauce – Chicken breast (or globe zucchini) coated in panko crumbs and fried; crepe filled with charred eggplant puree with garlic and mint; sauce of chopped tomato, green olives, rocoto chilies, garlic, basil.
Mitád de la semana: Pollo (o Zapallito Redondo) Frito, Panqueque de Berenjena Ahumada, Salsa Picante de Tomate y Aceitunas Verdes – Pechuga de pollo (o zapallito redondo) cubierto en migas panko y frito; panqueque relleno con puré de berenjenas quemadas con ajo y menta; salsa picada de tomates, aceitunas verdes, rocotos, ajo, y albahaca.
Tajungapul Tinto de Montaña 2013, Mendoza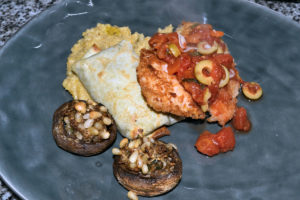 Other half of the week: the same chicken dish, slightly smaller, with the quinua and mushrooms to accompany it.
Otra mitád de la semana: lo mismo plato de pollo, mas pequeño, con la quinua y chamipiñones como guarnición.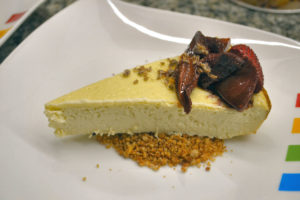 Sweet Gorgonzola Cheesecake – a riff on our blue cheese pudding dish – gorgonzola and homemade cream cheese cheesecake over a crumb made from walnuts, flour, sugar, and butter; strawberries roasted in molasses and vanilla; candied fennel seeds.
Cheesecake de Gorgonzola Dulce – un riff en nuestra natilla de queso azúl – cheesecakde to gorgonzola y queso crema casero sobre unas migas hecho de nueces, harina, azucar, y manteca; frutillas asadas en melaza y vainilla; semillas de anís acaramelizadas.
Familia Zuccardi "Malamado" Viognier, Mendoza