September 20-23 – 2017 – 20-23 de Septiembre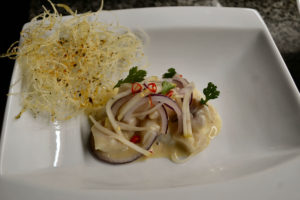 Ling Ceviche – Ling (fish) cured in lemon and lime juices, garlic, pommery mustard, yellow limo chilies, salt and pepper; red onions; red limo chilies, fermented daikon, cilantro; crispy rice noodles dusted with togaroshi.
Ceviche de Abadejo – Abadejo curado en jugos de limón y lima, ajo, mostaza pommery, ají limos amarillos, sal y pimienta; cebollas moradas, ají limos rojos, nabo japonés fermentado, cilantro; fideos de arroz crocantes espolveados con togaroshi.
Bodega El Esteco "Don David" Extra Brut, Cafayate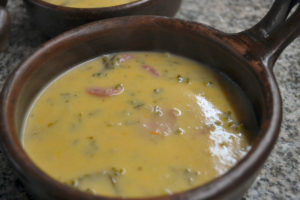 Potato-Kale-Sausage Soup – semi-puree of potato, onion, garlic, yellow chili, chicken stock, egg yolks, cream, and milk; kale; cured Tandil sausage.
Sopa de Papa-Kale-Salchicha – semi-puré de papa, cebolla, ajo, ají amarillo, caldo de pollo, yemas, crema de leche, leche; kale; fuet de Tandíl.
Bodega del Fin del Mundo "La Poderosa" Viognier 2016, Neuquén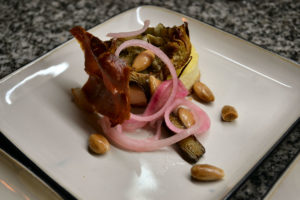 Savory Gorgonzola Cheesecake, Marinated Artichoke – Gorgonzola and ricotta cheesecake with a touch of smoked chili; serrano ham potato chip crust; marinated artichoke heart; toasted almonds; crisp serrano ham; pickled red onions.
Cheesecake de Gorgonzola Salado, Alcachofa en Escabeche – Cheesecake de gorgonzola y ricota con una toca de merquén; masa de papas chips sabor jamón serrano; alcachofa en escabeche; almendras tostadas; jamón serrano crocante; cebolla morada encurtida.
Clara Benegas Cabernet Franc Rosé 2016, Luján de Cuyo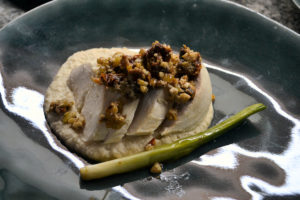 Poached Chicken Breast, Roasted Cauliflower Puree, Walnut Salsa – Chicken breast poached in chicken stock; puree of roasted cauliflower, shallots, and yogurt; grilled leek; chopped salsa of walnuts, green olives, sun-dried tomatoes, and rocotos.
Pechuga de Pollo Pochada, Puré de Coliflór Asado, Salpicón de Nuéz – Pechuga de pollo pochada en caldo de pollo; puré de coliflór y echalotes asados con yogúr; puerro a la plancha; salpicón de nueces, aceitunas verdes, tomates secos, y rocotos.
Bodegas San Huberto "Nina" Petite Verdot 2014, San Rafael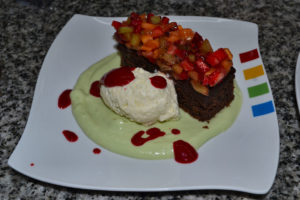 Chocolate Torte, White Choclate Mousse, Seasonal Fruit – Cocoa and coconut torte with dark chocolate ganache and a layer of chopped kiwi, papaya, and strawberry; avocado, coconut, and lime cream; white chocolate and green lemon oil mousse; raspberry chamomile coulis.
Torta de Chocolate, Mousse de Chocolate Blanco, Frutos de la Estación – Torta de cacao y coco con ganache de chocolate y amargo y capa de picada de kiwi, papaya, y frutilla; crema de palta, coco, y lima; mousse de chocolate blanco y aceite de limón verde; coulis de frambuesa y manzanilla.
Amalaya Dulce de Corte Blanco (Torrontés-Riesling) 2016, Valle de Cachalquí