Continuing my little investigations into various locro recipes, this time, a corn based locro from north central Argentina.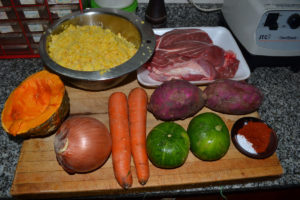 Okay, what do we have here. A bowl of grated corn (choclo desgranado) from six ears; a kilo of stewing beef; half a squash (roughly 1/4 kilo); 1 large onion; 2 carrots; 2 sweet potatoes; 2 globe zucchini; 1 tablespoon each of salt and hot paprika. If you don't feel like grating the corn off of the cobs, or it's not fresh corn season, you could use a large package (or two standard) of frozen corn, left to thaw, and then pulsed a few times in the food processor).
While setting everything up, I took the corncobs that I'd grated the kernels off of and threw them in a pot of water and let it simmer away for about 40 minutes to create a "corn stock". Just adds to the corn flavor, it's not traditional – most of the recipes I found just went with plain water, a couple went with either vegetable or beef stock, or, in one case, cream of corn soup (but, that one came from Knorr's recipes using their cream of corn soup mix). I decided to emphasize the corn flavor, but go old school.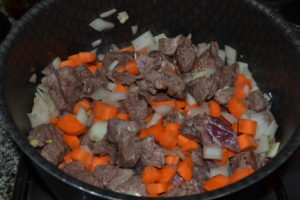 Dice up all the vegetables into roughly equal, 1 cm cubes, and the beef into roughly 3 cm cubes (they shrink) after trimming it of silverskin and any large lumps of fat. No added oil (a couple of recipes suggested adding a little beef or pork fat to the pot, but most didn't, presumably because even after trimming, stewing beef has a fair amount already). Lightly brown the beef, seasoned with the salt and hot paprika, and then add the onions and carrots to the pot, continue cooking for about ten minutes, stirring regularly.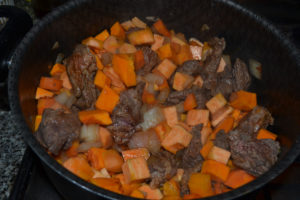 Add the rest of the ingredients except the globe zucchini (if you can't find them, a green summer squash or a traditional zucchini will also work).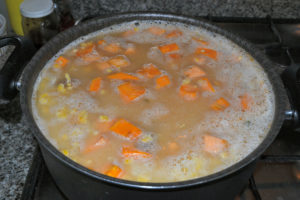 Top off with the corn stock (or water or other stock). Bring to a boil, reduce heat to minimum, cover, and let simmer for an hour and a half, stirring occasionally.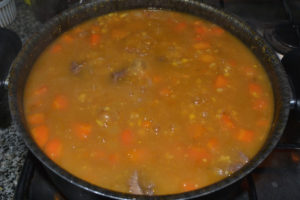 It should look more or less like this. Using a wooden spatula, I crushed some of the squash and sweet potato against the side of the pan, then stirring it back in, just to give it a thicker consistency. Classic locro technique.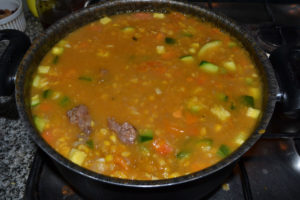 Add in the zucchini and cook for another 15 minutes to cook it through. Adjust seasoning if needed – I found it needed just a touch more salt for this quantity of stew, roughly another teaspoon.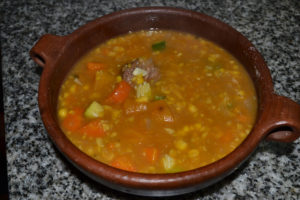 Serve it up and enjoy! We, of course, added a little chili oil drizzled over the top (not pictured) for some more kick than our particular hot paprika gave the dish. We liked this one a lot. It does lean towards the sweet side of things, given the corn, sweet potato, and squash. Some recipes suggested potato instead of or in addition to the sweet potato for exactly that reason.
More locros coming!