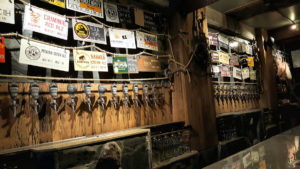 Brew Republic, Vicente Lopez 2233, Recoleta – Yet another new opening of a craft beer bar here in the 'hood. This one's been in the works for awhile and finally opened recently. Boasting a solid 30 taps, from somewhere between 15-20 different breweries, it's one of the better stocked places around. There's a certain staid formality to the service, the barmen in leather aprons and offering up an amiable, though short of friendly greeting and serving of beer. There's even a doorman with a clipboard, deciding if you can come in or not, despite the fact that the place has far fewer attendees (at least so far) than the other beer spots within a block or so. It has less of a feel of a trendy, hopping place to hang out and more of a place for serious beer drinkers to come and sample.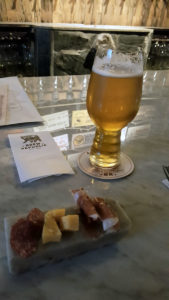 The selection of beers doesn't list a size, and different beers get different glassware – just eyeballing it, I'd say that you're getting anywhere from a half to a full pint, depending on which beer, you just don't know in advance. And, it's a little pricey, with about 2/3 of the list coming in at 90 pesos and the remainder at 100. There is a happy hour during early evening, from 6:30 to 8:30, but rather than a flat reduced price, the offering is any of the 90 peso priced beers, a second one for only 30 pesos more, i.e., 120 pesos for two beers. They don't have to be the same, but they are limited to the "lower" priced beers. You do get a little board with some cheese and cold cuts on it to accompany your beer.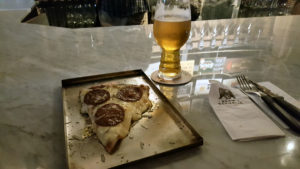 The menu specialty is pizza – with a dozen varieties available by the slice. It's not the best pizza I've ever had, it's not the worst. The crust is a little chewy, and not in a good way – I think it simply needed to have been left to rise a bit longer and get a lighter texture. The cheese is a bit oily, but flavorful. The "pepperoni", which I tried with great hopes, was, as is so typical here, not pepperoni, but just some sort of mildly spicy salami. Ah well. They do have a combo price of a beer and a slice for 130 pesos, which saves you a whopping 10 pesos over the two ordered separately (again, 90 peso beers only) – as slices come in at a hefty 50 pesos apiece. Considering that the 10 peso difference between the two "levels" of beer amounts to a whole 55 cents U.S., personally, I think they should just price them all the same and be done with it. Would I go back? Yes, mostly just because of the beer selection over the other spots in the area, as well as, I tend to like a quieter bar.
---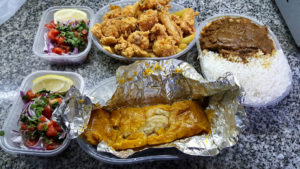 Sabor Peruano, Uriarte 2312, Palermo – a delivery order through PedidosYa. A bit slow on the delivery, arriving a solid 45 minutes after their promised window, and they didn't answer their phone at the restaurant – we were actually ready to give up and just go out and grab something here in the 'hood, not being sure if they were even open, as it was verging on two hours after we ordered.
But, the food turned out to be really quite good, and put this place on the list for an in-person visit. We tried their seco de cordero, chicharrón de pollo, and a tamál. All well above average and we'd happily eat any of them again. Reasonably priced – 180, 100, and 100 pesos, respectively (interestingly, the fried chicken is available in two sizes, and that one in the picture is the "individual" size, we had more than enough of each of the main courses to leave for next day). More to come when we give them a visit.
---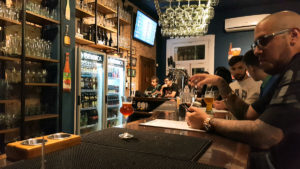 Bélgica, Av. Pedro Goyena 901, Caballito – The craft beer craze continues. In fact, my friend Frank, of Asado Adventure, who is now also doing craft beer tours, and I, have started putting together a little map of places as we try them.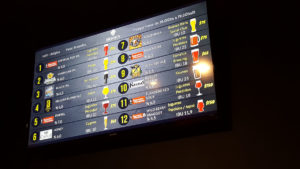 The place offers up a dozen beers on tap, roughly half of them from the owners of the place, Juguetes Perdidos Cerveza, in Caseros, a bit northwest of the city. They also offer a selection of imported beers in bottle, along with some very interesting barrel aged beers. I was with a couple of friends in the beer world who are down visiting as judges for a competition of local beers, so we sampled through a good number of what was available. I'm thinking about offering up a week coming soon with paired beers from this brewery, rather than wines. Like Brew Republic above, this place also has different style glasses for different beers, though here, you get a little chart on placemats of which glass goes with which beer, and why (in Spanish). The owner we sat with says that the majority range between 400-440ml – just shy of a pint. They range from 65-150 pesos.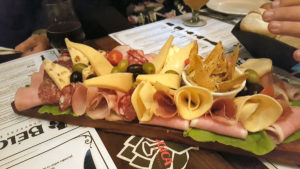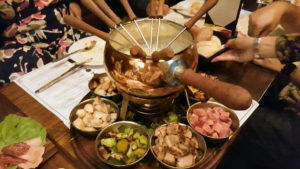 We were guests of the owners, so they ordered up some snacks for us to try – a cheese and cured meat plate, a fondue (an interesting choice that I quite like for a beer bar), some fries, some mussels. We didn't get to try the burgers or pizzas, but I liked this place quite a bit and will definitely go back and try some at some point.
---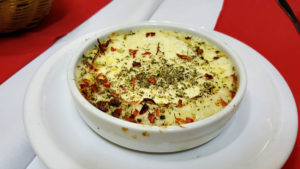 La Tasca de Fósforita, Av. Hipólito Yrigoyen 1218, Monserrat – With Pete and Jesse busy judging wines the next day, Eli, wife of Jesse, is a chef from California, and she and I spent the morning and afternoon out exploring a couple of different markets in the city, and then headed back towards San Telmo, where they're staying. Decided to give her a glimpse of some really classic, local fare at an old neighborhood bodegón. Started off with a provoleta – I prefer the grilled version, but the "liquido" version is still pretty damned good, and this one was nicely spiked with some chili.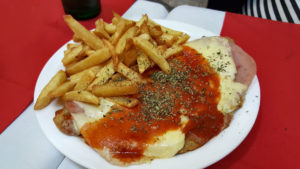 We went totally classic and got a milanesa napolitana – nicely done, though we both found the tomato sauce a little bland. Nice touch, however, is that they grill the slices of ham that are on top. 175 pesos.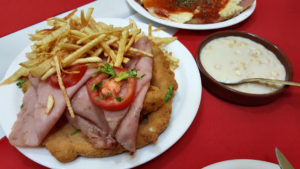 And, I just had to introduce her to one of the offbeat classics of old school porteño fare, a suprema maryland, which I'd done a whole series on way back. Actually one of the better versions I've had, again the ham having been grilled, which gave it a nice texture and smokiness, fresh tomatoes, a good sized ramekin of the creamed corn sauce to smother it in, and a decent fried banana. Also, the papas pailles that it came with were far better than the regular fries on the milanesa above. 195 pesos.
Nice place. Slow, but friendly service. Slightly cramped quarters. I'd go back again if I was nearby.
---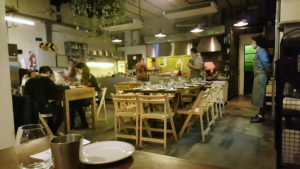 Proper, Araoz 1675, Palermo – This place has seemingly made it onto everyone's list of hottest new places, favorites, must-dos, etc. The setting is industrial chic (not a personal fave, but fine), they don't take reservations, it's a first come, first served melee for a table when they open the doors at 8pm, and a lineup waiting after the tables are full (which happened by about 8:30). Service is efficient and friendly, and all the waiters seem to be at least moderately fluent in English for those who don't speak Spanish.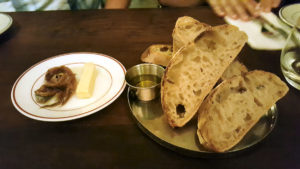 The menu is a mix of a dozen more or less tapas type plates, in three price range blocks of 75, 95, and 155 pesos. Bread, quite good sourdough bread, is available for 40. That plate with a rectangle of butter and 7 or 8 anchovies straight from a jar, runs 75.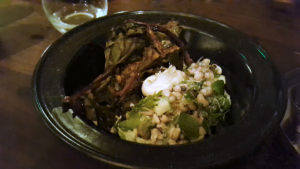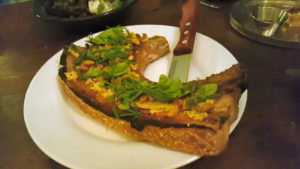 I'm not going to go into an analysis of each dish (a whole lot of acidity). There were four of us, two chefs, two craft beer brewmasters, one of whom co-owns a restaurant with the other chef. We ordered 9 of the 12 tapas plates, three from each range, and two from the four "main" courses – one of which, pictured here, is what's sometimes called a "bacon chop" – as such, it's about 2/3 fat and bone. For 320 pesos. The general consensus was "interesting". Not said with much enthusiasm.
It reminds me of back when molecular gastronomy was the hot new thing and people would go and be confronted by a confusing array of foams and gels and powders that didn't taste all that great, and come away gushing about how fascinating the meal had been, not wanting to admit that they "didn't get it", and secretly wishing they'd gone for pizza. Proper is also expensive for rather small portions. After 9 tapas plates and two "main courses" and a bottle of wine, we paid the bill (with tip, 2400 pesos), and walked three blocks over to Cosi mi Piace and had pizza.
---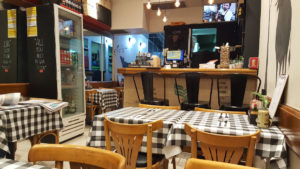 Entrecot, Vicente López 1722, Recoleta – I spotted this one recently because they have sandwich boards set-up in a couple of key spots in the neighborhood advertising being the "Kobe Burger House". Thought I'd give it a shot. Once solo, for a burger, once with a friend, for a more mixed lunch. Like the space, it's cute. They could do without the television set playing an endless loop of some barista making flowers out of steamed milk in a cup of coffee over the bar, and two televisions over the opposite wall, side by side repeatedly playing some El Gourmet channel clip – I mean, this is a 20 or so seat restaurant, with three TVs going, with nothing on them but repetition of the same clips, over and over (and they're not muted, they're all playing at low level volume). Service is friendly, bordering on chipper, and the waitstaff all seem to speak at least some English for those who need it.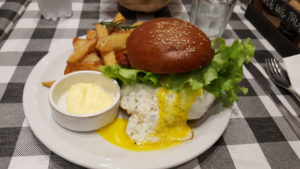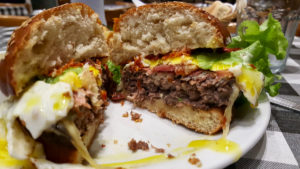 They offer four different burgers – well, in a sense eight – a plain cheeseburger, a cheeseburger with ham, a cheeseburger with bacon and egg, and a four-cheese burger. All available in your choice of Angus or Kobe beef, hence the doubling of options. Priced from 170 to 230 pesos. I admit to not having asked for rare to medium rare as I usually do, but this was way into well done territory. And whoever grinds their meat needs to be careful, I found a couple of pieces of cartilage (this is the Kobe, and the one with bacon and egg and some sun-dried tomato). Too much lettuce. They broke the yolk on the egg (sad face). The bun is sturdy, perhaps too sturdy, almost dry. The fries are a sodden pile of oily potato, more or less stuck together. The aioli doesn't taste of garlic. This is not auspicious for the already planned second visit with a friend a few of days later.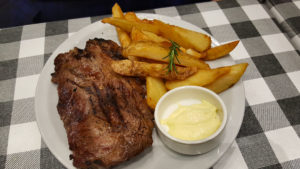 So on a second visit, my friend ordered up the signature entrecot steak, cooked rare. She wanted to know if she could have it with a salad instead of potatoes, the waiter said it came with salad already (which the menu also says), and a choice of papas rustics (steak fries) or a cheese filled baked potato. Apparently, it doesn't come with salad already, even though it's on the menu, unless you want to count the sprig of rosemary as the "green leaves". The fries, the same as above. The steak, properly cooked – it was slightly uneven, with a portion of it bordering on "blue" rather than just rare, but over all, pretty good. A little too much of a fat cap left on it, probably close to 25% of that steak was fat. The waiter's comment, "the fat is the best, I eat that and it's just dreamy". 290 pesos for the Angus beef steak – other options, a Jack Daniels laced dry aged Angus steak (390) or Kobe beef (599).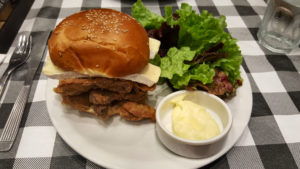 I went with another sandwich, one that intrigued me. I like my offal, and the idea of a sweetbread sandwich was too much to resist. Pluses? Nicely seasoned, the caramelized onions and the brie were a good combo (could have melted the brie over it, that would have been even better. The bun here was what the bun on the burger should have been – both big enough, and soft. Maybe the one I had with the burger was a day or two old. I got salad as one of my choices for garnish. Minuses? The cilantro aioli had no discernible cilantro, nor garlic. The sweetbreads were cut into little tiny pieces and then battered and fried (rather than the promised breadcrumbed and fried), and so they could have literally been anything. I didn't need the ramekin of mayo for dipping the fries in, given that I ordered a salad. 210 pesos.
I like the space, the service is charming. I hate the TVs, both distracting and because of the repetition, a bit mesmerizing. The food, based on these three dishes, is only okay. I wish it were better, as it's got so much potential and is only a couple of blocks from home.