August 16-19 – 2017 – 16-19 de Agosto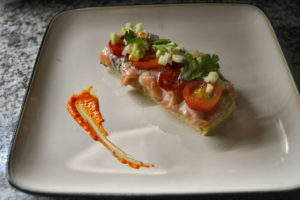 Salmon Tartare – potato chip crust; diced salmon mixed with szechuan mayonnaise (szechuan pepper and sesame oils, egg yolk, lime juice, salt, white pepper) and chives; cherry tomato rounds, small dice of avocado, radish, cucumber; cilantro; homemade sriracha sauce.
Tartare de Salmón Rosado – masa de papas chips; dados de salmón rosado mezclado con mayonesa sichuan (aceites de pimienta sichuan y sésamo, yema, jugo de lima, sal, pimienta blanca) y ciboulette; rodajas de cherys; daditos de palta, rabanito, pepino; cilantro; salsa sriracha casera.
Philippe Caraguel Extra Brut Rosé, Tupungato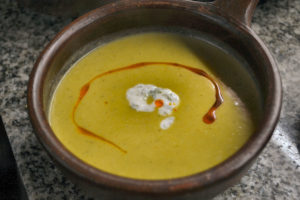 Green Bean & Mint Soup – Pureed soup of green beans, leeks, potato, lemon, garlic, tahini, cumin, mint, smoked chili, vegetable stock; mint yogurt; chili oil.
Sopa de Chauchas y Menta – Sopa puré de chauchas, puerros, papa, limón, ajo, tahini, cómino, menta, ají ahumado, caldo de verduras; yogúr de menta; aceite de ají.
Catena Zapata "Nicasia Vineyards" Blanc de Blancs 2015, Mendoza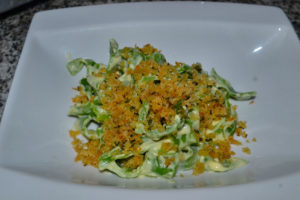 Spinach Fettucine with Mascarpone Sauce – Hand-rolled fettucine made with pureed spinach, flour, eggs, salt, pepper; creamy sauce of mascarpone, Romano cheese, garlic, egg yolks; toasted bread crumbs with garlic, thyme, oregano.
Tallarines de Espinaca con Salsa de Mascarpone – Tallarines hecho a mano amasado con puré de espinaca, harina, huevos, sal, pimienta; salsa cremosa de mascarpone, queso romano, ajo, yemas; pan rallado tostado con ajo, tomillo, orégano.
Familia Bressia "Sylvestra" Pinot Noir Rosé 2015, Mendoza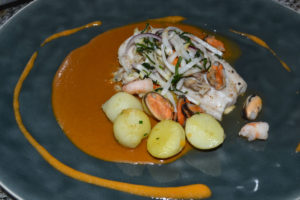 Broiled Roosterfish, Shellfish, Reduced "Chupe" – Broiled fillet of roosterfish brushed with mushroom oil and roasted tomato salt; sauteed cockles, mussels, and shrimp; Andean potatoes; "chupe" (Peruvian shellfish and fish soup) reduced to a sauce (fish and shellfish broth, wine, three different chilies, mixed herbs, aromatic vegetables, smoked paprika, miso, cream); swirl of emulsified sauce vierge; warm salad of homemade dongchimi (fermented daikon), shiso, red onion.
Pez Gallo Asado, Mariscos, Chupe Reducido – Filet de pez gallo asado cebillado con aceite de hongos y sal de tomate asado; saltado de berberechos, mejillones, y camarones; papines; "chupe" (sopa peruana de frutos del mar) reducido hasta una salsa (caldo de frutos del mar, vino, trés tipos de ají, hierbas mixtas, verduras aromáticas, pimienton ahumado, miso, crema); remolino de salsa vierge emulsificada; ensaladita tíbia de dongchimi casera (nabo japonés fermentado), perilla, cebolla morada.
Aniello 006 "Riverside Estate" Pinot Noir 2016, Río Negro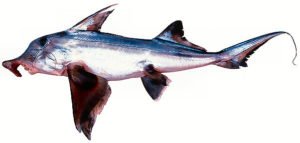 Roosterfish (a.k.a. Elephant fish) / Pez gallo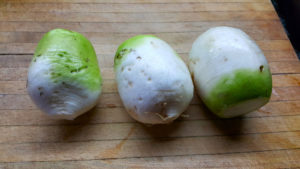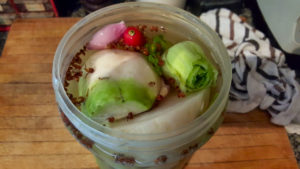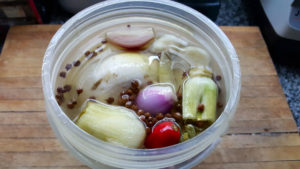 Dongchimi (homemade fermented daikon / nabo japonés fermentado casero)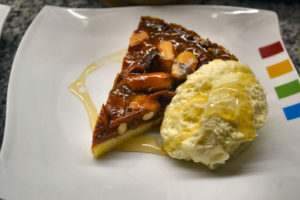 Cashew & Brazil Nut Tart, White Chocolate Mousse – Sweet tart crust; caramel with cashews, brazil nuts, tangerine peel; white chocolate mousse infused with Hesperidina (Argentine orange liqueur); orange and eucalyptus infused sugar syrup.
Tarta de Castañas de Cajú y Para, Mousse de Chocolate Blanco – Masa dulce para tarta; caramelo con castañas de cajú y para, ralladura de mandarina; mousse de chocolate blanco infusado con Hesperidina (licór argentino de naranja); almibár infusado con naranja y eucalipto.
Amalaya Dulce Blanco de Corte (Riesling & Torrontés) 2016, Valle de Cachalquí