14-20 de Julio – 2017 – July 14-20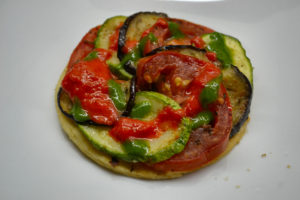 Polenta Galette with Confit Bayaldi – Crisp base of polenta and Romano cheese; trio of roasted vegetables: eggplant with smoked chili, zucchini with coriander, tomato with mixed herbs; piquillo pepper puree; parsley salsa verde.
Oblea de Polenta con Confit Bayaldi – Masa crocante de polenta y queso romano; trio de verduras asadas: berenjena con ají ahumado, zucchini con coriandro, tomate con hierbas mixtas; puré de pimienta piquillo; salsa verde de perejíl.
Bodega La Rural "San Felipe" Extra Brut, Maipú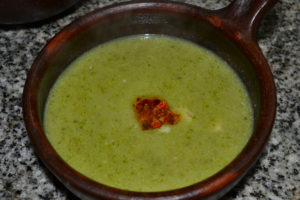 Timbuche – Amazon inspired soup of onions, garlic, rocoto chili, potatoes, cilantro, parsley in fish stock, pureed, added diced albacore. Drizzle of chili oil.
Timbuche – Sopa inspirado de la Amazona con cebolla, ajo, rocotos, papas, cilantro, perejil en caldo de pescado, puré, agrego daditos de albacora. Un choro aceite de ají.
Salentein "Killka" Sauvignon Blanc 2016, Valle de Uco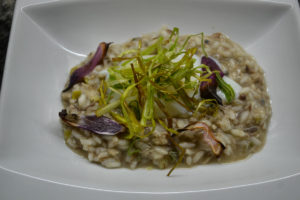 Smoked Mackerel Risotto – Risotto started with a base of shallots, green onions, leeks, cooked with fish stock, finished with smoked mackerel and pecorino cheese; topped with a 64°C egg; chopped green onion, lightly charred red onion petals, crispy leeks.
Risoto de Caballa Ahumada – Risoto preparado con base de echalotes, verdeos, puerros, cocido con caldo de pescado y terminado con caballa ahumada y queso pecorino; encima un huevo de 64°C; verdeos picadas, petalos de cebolla morada asada, puerros crocantes.
Familia Bressia "Sylvestra" Pinot Noir Rosé 2015, Luján de Cuyo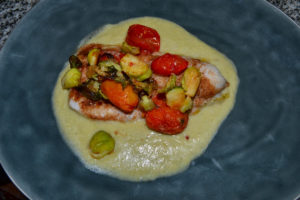 Spice-Rubbed Cod, Spicy Artichoke Puree – Cod fillet rubbed with a mix of spices; puree of steamed artichoke hearts with olive oil and jalapeño; roasted cherry tomatoes; caramelized Brussels sprouts.
Brótola Rocada con Especias, Puré Picante de Alcachofa – Filet de brótola rociada con mezcla de especias; puré de corazones de alcachofas con aceite de oliva y jalapeño; cherys asados; repollitos caramelizados.
Trapiche "Costa y Pampa" Pinot Noir 2015, Provincia de Buenos Aires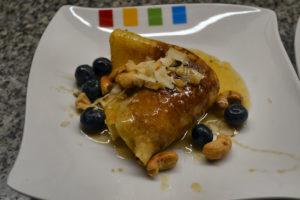 Dulce de Leche Crepes – Crepes filled with homemade dulce de leche; toasted cashews and coconut, blueberries in liqueur; bourbon butter sauce.
Panqueques de Dulce de Leche – Panqueques rellenos con dulce de leche casero; cajues y coco tostados; arándanos en licór; salsa de manteca y bórbon.
Crotta Mistela d'Oro Roble 5 Añejo, Mendoza