A hodge-podge of cuisines!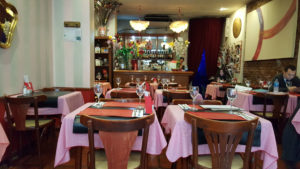 Till Bistro, Marcelo T. de Alvear 2321, Recoleta – Cute little place that I've walked by many a time, and heard reasonably good things about. A friend who'd been a couple of times invited me to lunch, so, why not? Friendly service, albeit not overly attentive, though much of that seemed to be that there was only one waitress in the room, and once it filled up, she was busy!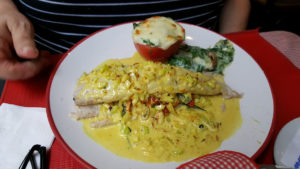 My friend ordered up a fillet of fish, merluza, or hake, kind of smothered in this ostensibly saffron tinged sauce of finely diced vegetables. At least based on a quick taste, that wasn't saffron, and hake is kind of the bottom of the barrel fish here, though it's quite popular, mostly because it's inexpensive. Still, it was cooked properly, and a nice, lighter dish, that my friend enjoyed thoroughly.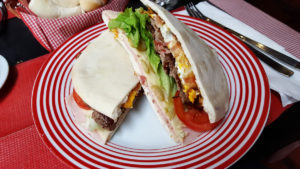 I went with one of their sandwich selections – actually, it was while I was back doing my series of Sandwich Hunts that I first heard about this place. I decided to go with their Gran Uruguayo, a take on the classic Chivito Uruguayo, a sort of Dagwood takes on the steak sandwich. Here, it's served stuffed in a pita bread. It's not bad as these things go – it's got steak and ham and cheese and egg and lettuce and tomato and olives, it just doesn't have a lot of them, because, hey, it's stuffed in a pita bread. And, it has no moisture – in the sense of no condiments, though I did get the waitress to bring some mayo to the table.
Overall, nice atmosphere, good if slightly overwhelmed service, and okay food. It is a bit pricey for what you get – the sandwich alone rang in at 215 pesos with nothing accompanying it, and the fish was 195 pesos.
---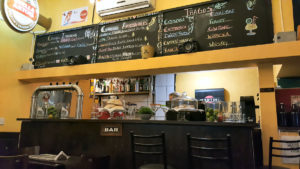 Byggvir, Laprida 1805, Recoleta – one of a spate of new craft beer bars that are springing up all over Recoleta, now that the trend has spread this way. Taking over the space that was a casual café, Apunto, the place still feels more like a café than a beer bar. And, in fact, as it opens up before noon, throughout much of the day, it functions as a café more than anything else. (The name means "abides" in Icelandic, which seems an odd choice for the name of, well, anything.)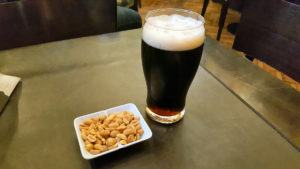 Five craft beers from Zeppelin, which is located out in Mataderos here in the city. On my first visit I tried the porter, which, while it had great flavor, also felt really high in alcohol, with a noticeable alcohol burn at the end. I haven't been able to find out more info about the line to see if it is actually a higher alcohol beer. 70 pesos a pint.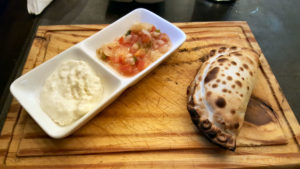 Most of the menu is burgers and pizzas, and café sort of stuff, but they also have a couple of empanadas, and a Patagonian lamb one sounded like a good snack with a beer. Delicious, and I like the tangy sour cream (maybe a touch of blue cheese in it?) and salsa criolla accompanying it. For 35 pesos, you ought to get something to accompany a single empanada, lamb or not. Worth a return visit, and close to home, beer available prior to the more typical 7pm, and not having that cattle call beer bar atmosphere!
---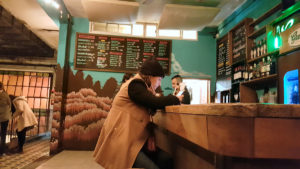 Centro Cultural Matienzo, Pringles 1249, Villa Crespo – Not really a restaurant or a full on bar, but a nice "terrace" bar on the upper floor of the cultural center. We were there for a play that turned out to be an excruciating family drama of the sort that borders on performance art. Thankfully it only lasted about an hour and a quarter – there was no escaping, as the audience entered from behind the stage, which meant the only way out would have been to cross the stage. We waited it out – actually, Henry thought it wasn't bad, if a bit stupid. Either way, prior to the play…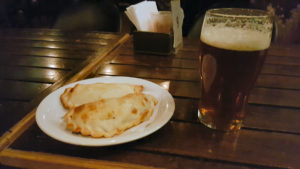 …we grabbed a beer (50 pesos with our admission stub, I think regularly it's 70) and some empanadas (25 pesos) in the bar. The beer selection is mostly bottled domestic and international beers, a small selection of half a dozen, and on tap, either Grolsch, or a local English IPA from Cerveza Perra, here in BA. A bit over-hoppy, but not bad. The empanadas were edible, and kept us going until dinner after the show. The bar also offers a selection of burgers, sandwiches, and pizzas (including a jalapeño pizza, of all things, here in BA).
---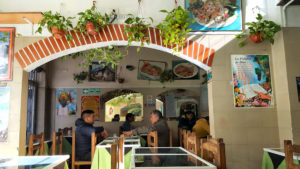 Milagritos, Tucumán 2790, Once – A little hole in the wall Peruvian spot we've passed by many a time and just never got around to trying. The name, "little miracles", kind of fits the theme of the place, as it's plastered with Catholic religious posters and kitsch. Semi-pop versions of hymns are pretty much playing constantly over the music system (interestingly, in between songs, you can hear from the kitchen that the cooks are listening to rock and Andean pop music).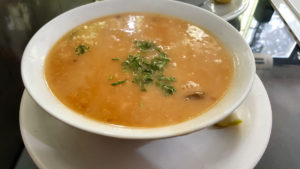 Being a Monday, the soup of the day on the menú (90 pesos including a small tumbler of sugary fruit flavored liquid) was shambar, the traditional wheatberry soup of the north. Decent flavor, but not a lot of substance, mostly just liquid. A bit disappointing.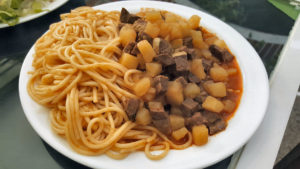 A reasonably good chanfaina with pasta – good flavors. The negative here was that the main course plates were brought out at the same time as the soup, and the waitress refused to return them to the kitchen, so they sat there getting cold. Henry decided to just go ahead and eat his that way…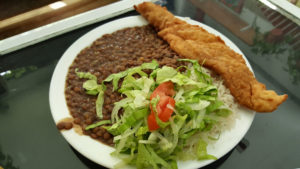 …I insisted that, as long as they had a microwave, they heat mine up again. She was pretty surly about it, and, of course, it doesn't come out right – the fried fish ended up soggy rather than crispy. The lentils, rice, and fish, were completely unseasoned, and the rice was overcooked (though that could have been the microwaving). I toyed with about half of it and pushed it away.
Overall, given the attitude (not at all in keeping with all the charitable Catholicism beaming from the walls), and the insipidness of the cooking, I'd give this place a complete pass.
---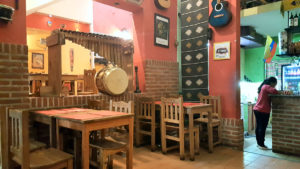 Ecuador 787, Recoleta – The name and the address match, and both pair just as well with the cuisine, this being the only Ecuadorian restaurant in the city (the chef used to have a second one somewhere towards downtown, but it's no longer around). Hidden behind an unmarked door, you just push that open and enter – you have to know it's there. Much larger than we expected, taking up most of the ground floor of the building, with a small kitchen at the back.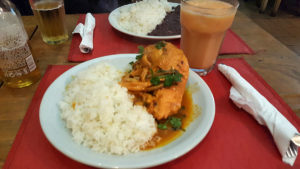 Friendly service, a short menu of half a dozen items, with more basic plates running around 70-80 pesos, and bigger, more shareable plates, topping out at 150 pesos. I went with one of the former, a seco de pollo, very different from the Peruvian version – this, more or less a chicken breast and wing stewed in an onion and tomato sauce and accompanied by rice. Great flavor, I think I'd have preferred a leg-thigh combo, as the breast just gets a bit dried out in the stewing process (probably could ask for that, and see if they have it). Good, fiery hot sauce available on request. Accompanied by a fresh juice made from tomates del arbol, or tamarillos.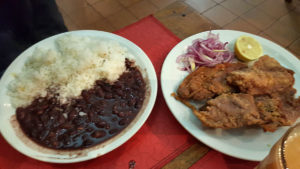 Quite the contrast from the similar dish at Milagritos above, though also more expensive, Henry ordered the fried fish with rice and beans plate, one of the 150 peso ones. An ample serving for two, or one very hungry person, with four fried fish fillets, and a good sized plate of rice and beans. Maybe order a second plate of those and share the fish! Also, quite good – well seasoned, and a really nice batter coating.
Nice space, only open for lunch on, I believe, Tuesday through Saturday. Friendly, attentive service. Good food. We'll go back.