July 1-5 – 2017 – 1-5 de Julio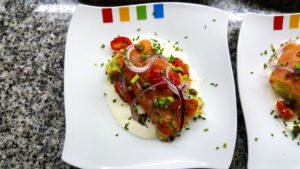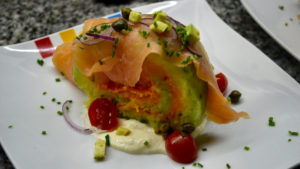 Smoked Salmon Causa – Trio of potato purees rolled together – flavored with lemon & yellow chili, lime & green onion, tangerine & roasted bell pepper; over horseradish sour cream; topped with smoked salmon, pickled cherry tomatoes, red onion, avocado, capers, chives.
Causa de Salmón Ahumado – Trío de purés de papa enrollado juntos – saborizado con limón y ají amarillo, lima y verdeo, mandarina y morrón asado; sobre colchon de crema agría y rabano picante; coronado con salmón ahumado, cherrys encurtidos, cebolla morada, palta, alcaparras, ciboulette.
Viniterra "Omnium" Extra Brut, Mendoza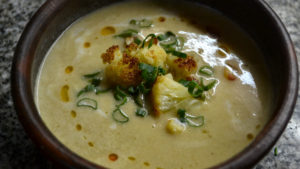 Hummus Soup, Seared Cauliflower – Puree soup of chickpeas, onion, garlic, potato, tahini, lemon zest and juice, smoked chili (merquén), parsley, salt, white pepper, vegetable stock; cauliflower lightly charred in butter and olive oil; salted yogurt.
Sopa de Humus, Coliflór Dorado – Sopa en puré de garbanzos, cebolla, ajo, papa, tahini, cascara y jugo de limón, ají ahumado (merquén), perejíl, sal, pimienta blanca, caldo de verduras; coliflór dorado en manteca y aceite de oliva; yogúr salado.
Bodega Atamisque "Serbal" Viognier 2016, Valle de Uco – Tupungato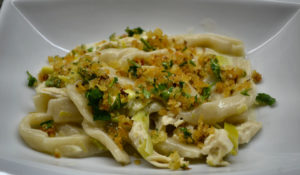 Strozzapreti with Chicken & Leek Cream – Handmade strozzapreti; sauce of leeks, garlic, pepperoncino (dried Italian chilies), cream, chicken stock, goat's milk brie, poached and shredded chicken breast; toasted panko crumbs with lemon zest, black pepper, parsley.
Strozzapreti con Crema de Pollo y Puerro – Strozzapreti elaborado a mano; salsa de puerros, ajo, pepperoncino (ajies italianos secos), crema de leche, caldo de pollo, brie de cabra, pechuga de pollo pochada y deshebrada; migas de panko tostadas con rallado de limón, pimienta negra, perejíl.
Santa Julia Syrah Rosé 2016, Maipú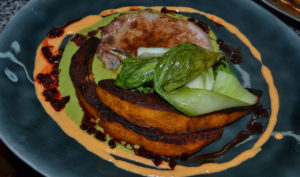 Pork Loin, Roasted Squash, Herb Sauce – Pork loin rubbed in blend of salt, pepper, cumin, coriander, ginger, smoked paprika, cayenne, seared and finished in the oven; wedges of roasted squash in olive oil, salt, cumin, cinnamon; garlic sauteed bok choy; cilantro, chive, parsley, and yogurt puree; caramelized beets infused with Hierro-Quina Peretti and chipotle chili; tomato shallot puree.
Carré de Cerdo, Zapallo Asado, Salsa de Hierbas – Carré de cerdo rociado con un blend de sal, pimienta, cómino, coriandro, jengibre, pimentón ahumado, cayenne, dorado y cocido en el horno; trozos de zapallo asado con aceite de oliva, sal, cómino, canela; bok choy saltada con ajo; puré de yogúr, cilantro, ciboulette, y perejíl; remolachas acaramelizadas y infusadas con Hierro-Quina Peretti y ají chipotle; puré de tomate y echalote.
Durigutti Cabernet Franc 2014, Luján de Cuyo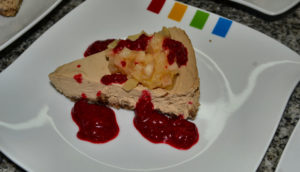 Pear & Brown Butter Cheesecake, Raspberry Sauce – crust of flour, oats, brown butter, brown sugar, vanilla, cinnamon; filling of homemade ricotta, pear essence, brown butter, brown sugar; diced pears cooked in butter and cinnamon; sauce – raspberries, lime juice, sugar, raspberry vinegar, olive oil, chamomile, salt
Cheesecake de Pera y Manteca Quemada, Salsa de Frambuesa – masa de harina, avena, manteca quemada, azucar negra, vainilla, canela; relleno de ricota casera, essencia de pera, manteca quemada, azucar negra; daditos de pera cocido en manteca y canela; salsa – frambuesas, jugo de lima, azucar, vinagre de frambuesa, aceite de oliva, manzanilla, sal.
Putruele "Tardío de Abríl" Chardonnay 2016, Valle de Tulum