Okay, not really part of the dumpling crawl, though I did get in a dumpling plate at one point. Originally I hadn't planned to stay in Boston for much of Sunday, but head back on one of the "chinatown buses" sometime in the morning. But my friend Ed, who also joined for the Il Molo dinner on the first post of this series, had prevailed on me to stay into the afternoon, as the Boston Gay Men's Chorus had a performance at Symphony Hall, so I grabbed a ticket for that and decided to fly both ways to Boston just to make the timing work (it also helped on day one, as I didn't have to do something silly like take a 5 a.m. bus just to get into town early enough to start our crawl).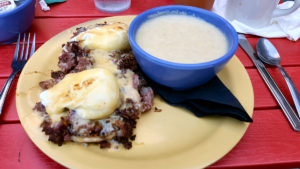 Out of the blue, I found out another friend, Moira, is now living in Boston and grabbed a previously unplanned breakfast just around the block from my hotel at The Friendly Toast, 35 Stanhope Street. It's one of those million item breakfast menu all day places and everything sounded really good. I "settled" for corned beef hash eggs benedict with cheese grits on the side. Delicious! Nothing like a light start to the day. Nothing like.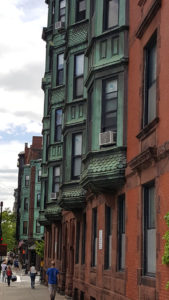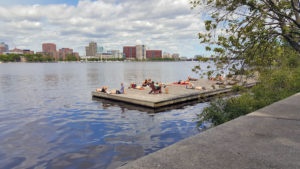 I managed to get in a fair amount of walking prior to the start of the concert. A lovely walk up towards the Charles River and then a short way along it. Love the "urban beach".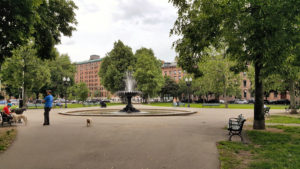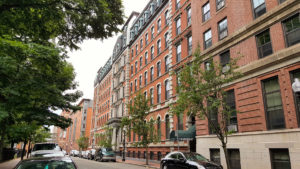 A loop down into the South End and a wander through there. Very reminiscent of much of Buenos Aires, I thought.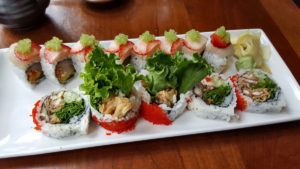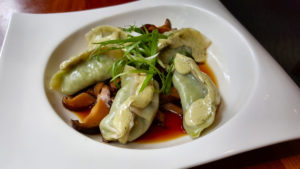 I decided to shovel in one more dumpling stop, at Haru Sushi, 55 Huntington Avenue (and several branches in NYC, which I hadn't known until just looking at their website), where I ordered up the article touted edamame dumplings. Hated them, truly hated them, the worst dumplings of the entire crawl, sorry. The filling was little more than a puree of edamame, or fresh soybeans, bland and grainy, the wrappers were plasticky, the sauce over the top was a weird, mayonnaise-ish something that was just unpleasant, and then the whole thing overwhelmed from underneath by slimy strips of shiitake mushrooms in broth (no asparagus like in the article photo). I ate one, tried to nibble on a second, and gave up. I'd already ordered some sushi to go along with – a "spider roll" (fried soft shell crab for those who aren't sushi regulars) which was decent, and a weird, but strangely quite tasty house special roll that I left up to the sushi folk at the bar, a "strawberry fin" roll, which was described as "Crunchy spicy yellowtail, jalapeño and mango, topped with scallops, wasabi tobiko and fresh strawberry". It really shouldn't work, but it did. Oh, I also missed that the article had a second dumpling from Haru, the king crab ones, or I'd have gotten those instead of sushi probably.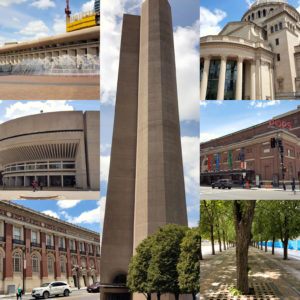 On to explore a little of the neighborhood around Symphony Hall pre-concert. A lovely afternoon there, which I had to duck out on early because of my flight schedule, the best I could do was having to be at the airport before 5pm (the concert was 3-5pm), pushing it for a 6pm flight, but luckily my hotel was just a few blocks from the hall, making it easy to grab my bag and head to the airport.
Summing things up on the dumpling crawl, from our original list of 16, tried 6 of the dumplings, 2 of the places don't exist anymore (the article was from 2013, admittedly), 1 of the places didn't have the listed dumpling anymore but had a different decent dumpling, 1 of the places I missed, as I noted above, that there was a second dumpling on their menu to try, 2 places were closed during the day (if I'd have realized that one of them was literally a block from my hotel, I'd have probably stopped there late evening one of the two nights and tried the dumplings), and the others were too far afield to make it to. And, we made it to a few places not on the list. Not bad, overall.
I'm going to stop there, pre-dinner, since that was back in NYC – and I think I'll wrap up the whole rest of the food stuffs in the Big Apple with a big post tomorrow or this weekend.