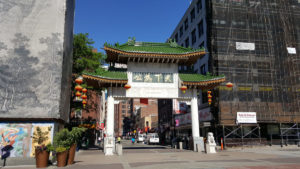 Are you ready? Of course you are. You're about to be jealous, in awe, and probably a bit queasy. No doubt you'll think we're just a trifle insane. So, you know how much I like my quests. And now and again in life, one finds someone else who likes those sorts of things too. One of those people in my life is my friend David, who lives in Boston. Longtime readers will remember him from last year's National Oyster Day trek in New York. This year, my turn to head to Boston and his proposal for a couple of massive Dumpling Diving Days. The impetus, as I mentioned in a post a couple of days ago, was to more or less make our way through the list of dumplings offered up on this article from Boston Magazine. Plus, he found another list that offered up more selections. I left the planning in his hands. We met bright and early on Friday morning just opposite the Chinatown Gate.

You're going to have to click on photos to enlarge them up to full size… Our first stop, Hei La Moon, 88 Beach Street. Here's a pro-tip. You could just stay here, skip the rest, because over two days of dumpling diving, we didn't find anything better than the dim sum here, though one spot came in a close second. Being early, and this being our breakfast at this point, we went past the recommended har gow, those lovely steamed shrimp dumplings, and in this case, some of the best I've ever had. This is one of those dim sum cart places, where stuff keeps being paraded by, and we couldn't pass up the pork and mushroom shumai, which were likewise among the best I've had, anywhere, and what might be my new favorite piece of dim sum, one neither of us had ever seen before (anyone know what it's called?), these bean curd wrapped rolls that include roast pork, chicken, turnip cake, and shiitake mushrooms, all in what was almost a soy based vinaigrette. Whoever came up with that one is a genius in the kitchen.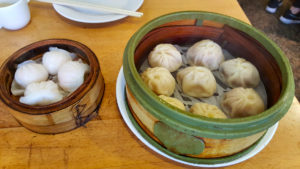 It was obvious we weren't going to be able to maintain that sort of volume of eating, and we began to pare it back, or so we thought. At Winsor Dim Sum Café, 10 Tyler Street, we ordered up what we thought were another order of har gow, and to accompany them with one of those steamed barbecue pork buns to share. This place doesn't have the carts, you order off a menu. Apparently we ordered pork soup dumplings. The har gow here are in a very sticky, gooey, translucent wrapper that stuck to everything and tore apart. They were also pretty bland. The soup dumplings were lacking in soup, and what there was seemed to be almost totally melted fat. We didn't quite finish these all off before moving on.
Hey, here's a question for the dim sum aficionados out there. Almost all dim sum comes in portions of either 2 or 3 of things, depending on size. You don't get fours, which I've always heard was because the number four in Chinese is associated with bad luck. Except har gow, which seem to always be served in portions of four. Any thoughts as to why?

We moved on to Empire Garden (a.k.a. Emperor's Garden), 690 Washington Street, a gorgeous old converted theater. Here, the highly recommended chicken and mushroom dumplings from the article simply don't exist. At least according to the two different "cart ladies" we asked. So, we grabbed another round of har gow, well seasoned, only slightly sticky, really quite good, and some far less successful pork and mushroom balls, which were weirdly textured and had little flavor other than the mushroom.

Next up, and the other hit of the day, Dumpling Cafe, 695 Washington Street, right across the street. The highly touted dumplings were the long, rolled, Taiwanese fried dumplings, and they were outstanding. Likewise, we ordered up a round of the baked roast duck buns. I think, again, we were thinking about a sort of bbq version, and these weren't, but the roast duck, cabbage, and onion filling was fantastic. Easily another spot to consider as your one dim sum stop. This isn't a "cart place", so you order off the menu.

Finally, we headed across the bridge and out of Chinatown to the new Blue Dragon, 324 A Street, the sort of reincarnation in gastropub form of the recently closed Blue Ginger, from famed TV chef Ming Tsai. Unfortunately they don't offer the much touted foie gras dumplings that the earlier incarnation did, and here, just basic shumai and wontons. The former pretty much had the texture of gummy bears and some weird flavor combination that just didn't work, and the latter were little teeny unseasoned pork meatballs falling out of overcooked, flimsy wrappers. Disappointing all around, especially given the pedigree of the place.
And thus ended Dumpling Diving Day 1 – it sounds like a lot, and we were certainly full, but if you look at it, in some ways, it was not many more, if any more, dishes than we might have picked off a cart at a typical dim sum place. Two people, eleven plates of dim sum, that's not out of line by that much. The bigger issue was that obviously many of these were not dim sum sized portions. Then again, we didn't finish the ones we didn't care for, and not quite on some of the ones we did. We wrapped it up, David headed home to spend the evening with his family….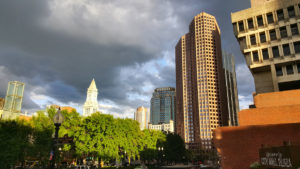 I headed back to the hotel, got in a hot shower, took a nap, and then set off on a 40 or so minute walk 'cross town to the seaport area, where I was meeting up with some other friends who live in or near to Boston, for dinner at yet another friend's restaurant, Il Molo, 326 Commercial Street. Chef Pino Maffeo and I used to work together in New York, many, many moons ago.


With five of us at the table, he just started sending out tasty little nibbles to share. A round of oysters on the half shell, three different varieties, some tuna tataki, mini-lobster rolls, shishito peppers with mortadella and almonds, fried Ipswich clams, and grilled octopus. Then the waiter wanted to know what we wanted to eat for our dinner! All delicious.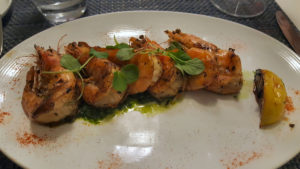 For my friends, Brian and Carl, Amy, and Ed, not having spent the day gorging on dumplings, they were all in for some great, beautiful platters of Mediterranean seafood. I decided to go with just a final appetizer, of perfectly grilled prawns in a green herb sauce. Excellent finish to the evening, a glass of prosecco from the house to start, and a glass of Cultivate Pinot Noir 2014, a lush, beautiful, berry fruit version of the grape, to go with my dinner. Highly recommend this place, and one of the friends I was with has already booked a table again for later this week with some other friends!
And that wraps up day one in Boston.