Hey, may as well – a mix of food and frolic. In NYC and Boston areas for the next 9 days.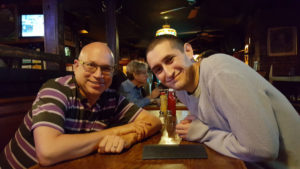 Say hello to Dan Perlman. Not me, on the left, but him, on the right. I have this quirky hobby of keeping in touch on and off with other Dan Perlmans around the world. Now and again, I get to meet them. This Dan, a native New Yorker, born and raised on the Upper East Side, spends his days performing and writing comedy and TV. He invited me to come to a way off the circuit stand-up show put together by a friend of his, up at The Abbey Pub, 237 W. 105th. You can check out where he's performing on his website.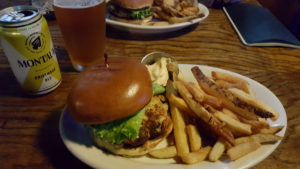 And, to Dan, again thanks for the invite to the show, which had its moments, some of the comics, including Dan, were pretty good, a few weren't, but that happens. And, also a thanks for treating me to my first bite to eat back in NYC, a decent if not exciting crabcake sandwich and a Montauk Driftwood Ale.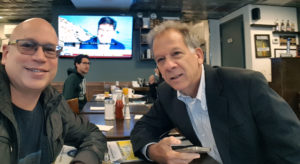 And hey, let's continue in the same vein. Say hello to another Dan, this one I've met before, a few years back. We originally connected because way back in the day, I signed up for AOL, when it was a new thing, and so easily got the danperlman mailbox. He signed up years later, and not wanting to put a number on the end of his name, or maybe add a middle initial or something, he decided to just leave off the n at the end of the last name. Needless to say, over the years, I've gotten probably several hundred emails from folk who are sure that he just made a mistake, and add back the n. I just forward them on, but it got us talking. Plus, his ex-girlfriend came to dinner at Casa SaltShaker and we got talking.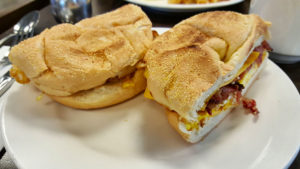 We met up at his favorite breakfast place, as we did the last time, George's, a classic old NYC diner at the corner of Rector and Greenwich, downtown. Had to get in a traditional egg sandwich with cheese and bacon, on a roll. That, juice, and coffee, that's the real NYC in the morning.
Then, a walk around Battery Park.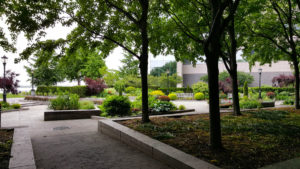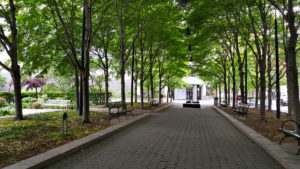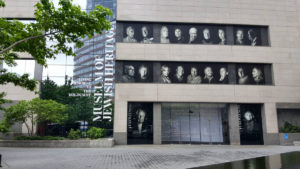 I didn't even know there was a Holocaust museum down there. Spent an hour or so going through it.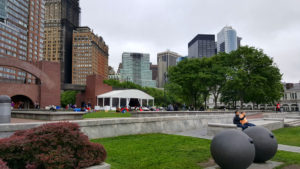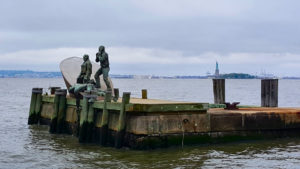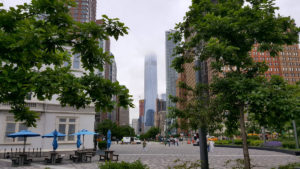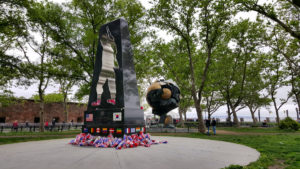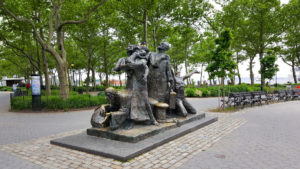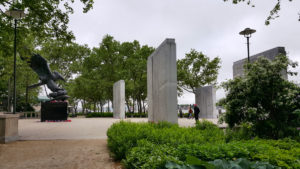 Then… as a hobbit might say, on to First Lunch…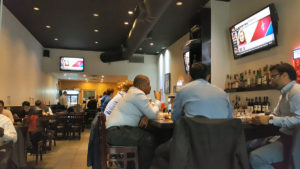 Bonchon Chicken, 104 John Street – this one came to my attention from an article on the best Asian dumplings to be found in Boston. In fact, my friend David, whom you've met in past trips, like our oyster day last year, and I, are meeting in Boston this weekend to make our way through that list, and a few more. We'd left Bonchon off our explorations, mostly because it's not located close to the other spots, and, I figured I could try it while in NYC, since the chain is scattered around the country (as well as in several other countries). I expected something much more fast food looking, rather than a downtown bar.
Now, this isn't quite what I got looked like – it's a stylized photo linked from the article, of the highly recommend takoyaki, or octopus dumplings.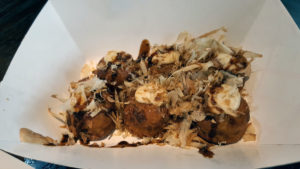 This is how it actually arrives – six of them, and they just ain't that purty, ya know? I found them to be oily, and they're filled with a gooey white paste that I'm not sure I want to know what it is, each with a tiny nugget of rubbery octopus in it, and then doused with tonkatsu sauce (basically thickened, sweet, worcestershire), kewpie mayo, and a ton of bonito flakes. They were… okay at best.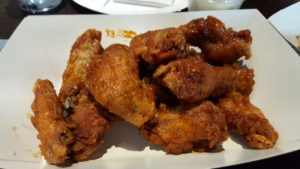 Now, I'd gone in just planning on the dumplings, but hey, the place is known for its Korean fried chicken. So I ordered up a small order of spicy wings. It was supposed to be 10, but arrived with 14 (still only got charged for a 10-piece size… then again, I only ate 10). These are more like buffalo wings than they are like Korean fried chicken wings, at least the versions I've tried elsewhere. I'm used to a sort of balanced sauce of honey, gochujang chili paste, sesame oil, soy, and sesame seeds. These were pretty much just fried wings with a lacquered coating of fiery hot chili, certainly something spicier than gochujang typically is. They were also pretty measly – mostly just skin and bone (and crust), little meat, oh, and really salty. I guess they get people to order more beer. Overall, pretty disappointing.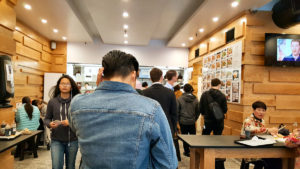 And, on to a proper halfling's Second Lunch – Xi'an Famous Foods, 45 Bayard Street – the original location, I believe, of this fast expanding chain of northern Chinese noodle shops. We even hear about them down in BA. And, based on one brief experience, I hope we get one or two of them. You line up, there's a big display of the menu with pictures. You order, you wait, you find somewhere to wedge yourself in at a table or counter, you eat, you cleanup, you leave. And, relatively inexpensive, and big portions.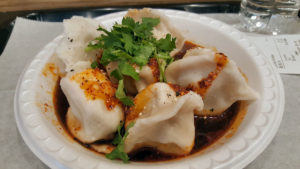 I was going to order some dumplings – a mere six dumplings, for 8 bucks and change, and figured I'd order a main course too. Then I saw a plate of the dumplings coming out and decided I'd go with just them, and then if by chance I was still hungry, I'd get back in line. Glad I did that. These are huge. That's a 12″ dinner plate, so you can estimate how big those dumplings are. I'd heard that the various lamb dishes are the way to go, so spicy and sour lamb dumplings it was. The dough is a little thicker than the more common potsticker doughs, and it's boiled near to the point that they're falling apart (in fact, watching them make my order, two of them did, and the guy had to quickly cook up two more to put on the plate). The filling is ground lamb, a touch gristly, though decently spiced and with a good amount of garlic chives in the mix. The sauce is a tangy, mildly spicy one – no serious kick, but good flavor. I'd eat them again, and/or, I'd go back and try something else on the menu.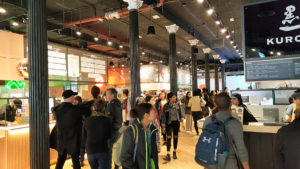 I looked in at the new Canal Street Market, 265 Canal Street – one side is a shopping area, the other side a food hall with, I think eight spots, five of them serving different Asian foods, two of them offering baked goods, and one with smoothies. All looked interesting, but I was too full to go for another plate of anything. Another time.
Since I started this post in the evening, I'll end it in the afternoon, and run these sundown to sundown, or something like that. We'll see how it goes.