I'm feeling like "Bite Marks" may have hit its upper limit. I want to approach the mini-reviews in another manner. I'll be giving it some thought, and am open to suggestions. A long one this time, and as usual, a range of types of eats – breakfast food, pizza, pasta, and sandwiches.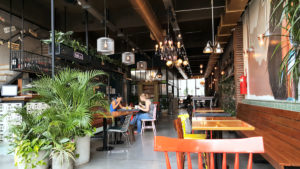 Bartola, Junín 1761, Recoleta – a new branch of an apparently popular casual spot in Palermo. We wandered in for a late breakfast one day, and they have a half dozen offerings of "brunch" dishes, several of which feature eggs in one guise or another.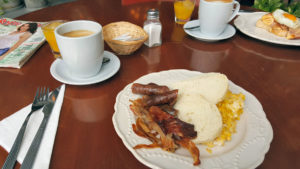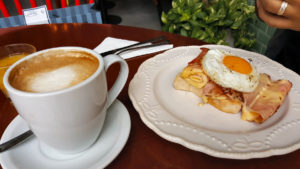 I went with the "Manhattan", which consisted of dried out scrambled eggs, some almost but not quite crispy bacon, some sections of salty, heavily smoked salchicha parillera (no substitute for a real breakfast sausage), and "toast", which wasn't toasted, but just dried thin slices of bread off the end of a sandwich roll. Henry went for the croque madame, which came on a slice of sandwich bread, also not toasted, topped with a couple of slices of lunchmeat ham and american cheese, melted, and a fried egg. Both came with a real mug of coffee, and an orange juice – the latter just a small tumbler glass, made smaller by…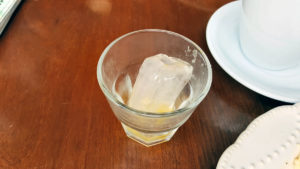 …an ice lump in each that took up most of the glass. Come on, it's not like it was fresh squeezed juice, it was out of a carton. Overall, a little disappointing. Okay, it's only 154 pesos, but that's $10, for mediocre imitation diner food. Honestly, a few tweaks and this could actually be a great value –  toast the bread and use some decent quality bread for it, don't overcook the eggs, crisp the bacon, and leave the ice cube out of the juice. It'd be a winner, but as it is, we haven't felt compelled to go back and try more….
---
…then again…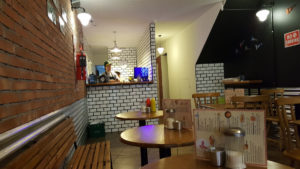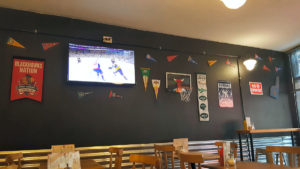 … that's also fueled by the fact that nearly as close to home is the brand new Jay's, Antonio Beruti 2640, Recoleta – a self styled "New York Diner", which offers up things like "all day breakfast" (music to my ears – I'm not big on eating breakfast early in the morning, but I love breakfast food, and having it at lunchtime or mid-afternoon makes me happy). Now, it's not quite a NY style diner – it's a little more hipster and kitschy, and the sports pennants from a wide variety of teams across the US side by side would never fly in NYC. And there's no waiter service – you go to the counter and place your order – they do bring it out to you, and they do have unlimited coffee refills on "café filtro", or basically, a filter coffeepot, which is very diner style, and something you never see here in BA (neither the filter coffee, nor the concept of "free" refills). Also, the first real norteamericano diner in town since the closing up of Randall's  several years ago. And nice folk, too, spent a little time chatting with them.
Just because it had to be done, once (and truly, never again, I didn't eat the entire rest of the day), the Upper West Side Breakfast for only 185 pesos (contrast that to the above paucity at 154) – two eggs any style, actual toast (white or whole wheat), hashbrowns ("brown" is the name, they shouldn't be this blond, but they do have good flavor, they just need to be browned more), four strips of bacon (same, they need to be much crispier – but I imagine in both cases it's just a matter of asking for it), and, two pancakes that were real pancakes, though the "butter flavored syrup" may have left a little to be desired. OJ and that unlimited coffee. What's not to like?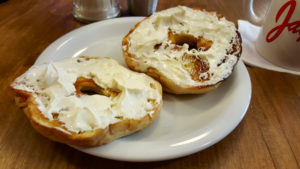 Less successful, the toasted bagel with cream cheese. First off, they serve it closed up like a sandwich. No. Second off, it may have the form of a bagel, but it's no bagel, it's a soft, white bread roll with a hole through the middle. No chew, no texture, nada. They get their bagels from a local bakery supply company. They need to pick a different one. Soon. To be a real NY diner they need to have an egg sandwich, too, which they don't. Lunch/dinner/snack stuff still to be tried, but I'm intrigued enough to go back and do so soon!
---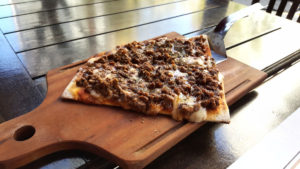 Gresca, Ugarteche 3208, Palermo – Relatively new spot that took over the space vacated by Annetta last year some time. There goes my iced tea with Italian food fix. the specialty at this spot is pizza a la parrilla, and it's nice to have a new option for places that serve up this style. Offered in full pie, half pie, and quarter pie. My choice for a first visit, the boloñesa. Good, though for me, I thought the bolognesa sauce was a little too sweet and lacking in vegetables. Still, it was good, and both the dough and cheese were delicious. I'd go back and try another. (155 pesos for this quarter pie, or "individual", which seems a little steep for a quarter of a pizza). Selection of beers by the bottle, including the Patagonia line, though nothing more artesanal/craft than that.
There's a bit of a scandal surrounding this place, or at least its owner, a former PR person for celebrities here in Argentina, Gaby Alvarez. Several folk who've reviewed the place gave it terrible ratings, most of them stating that they'd never been, but basically "would never frequent the restaurant of a murderer". A little digging – just over 9 years ago, he and his assistant were driving north of Punta del Este in Uruguay and lost control of their car, colliding with a young Argentine couple on a motorcycle. The cyclists were killed instantly, and the two in the car, after recovering from relatively minor injuries, were indicted and convicted of manslaughter, and then served a couple of years out of their sentence, being released early for good behavior.
A lot of the scandal apparently rests on him having had a few drinks and using cocaine, though he apparently wasn't driving. There was some evidence, however, that in the midst of an argument with his assistant who was driving (and wasn't stoned, I don't think), he pulled the emergency brake, causing the car to swerve, hit the cycle, and flip over. My view? He served his time, it's not like he got away with it. Whether or not one agrees with the sentencing and the amount of time served, it's the way the justice system works. And it's certainly not a reason for me to not try the pizza.
---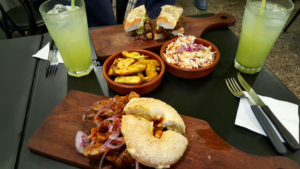 El Chiri de Villa Crespo, Juan Ramirez de Velazco 806, Villa Crespo – Little hole-in-the-wall sandwich shop that I've passed by many a time and not paid a moment's notice to. Likewise, Frank, my lunch companion, who had suggested it after hearing about it from someone else – and he lives just a few blocks away. Ignoring its existence, however, turns out to have been a mistake, now corrected.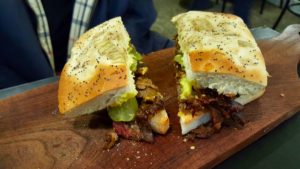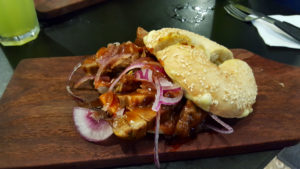 The word on the street… well, tips in Foursquare and Yelp… suggested strongly that the winning sandwiches are the slow cooked pork shoulder barbecue sandwich and the pastrami. And indeed, both turn out to be delicious. The pastrami, while not one that's going to win accolades in and of itself, is tender and has some nice spicing. It could be a little smokier, and the pickles on the sandwich a little sharper, more garlicky… after all, the chef here styles this place as a New York Jewish Deli sandwich shop. The pletzlach bread is one of the best of the style I've had here – overall, a sandwich I'd happily eat again (though honestly, with La Crespo just a couple of blocks away, if I had the urge for pastrami I have to admit I'd head there).
We were worried that, like so many other places here, the barbecue sauce would be treacly sweet, without any real zip. Thankfully, that's not the case, and the tender pork shoulder has some great flavor, the sauce is sweet, but not over the top, and has a touch of a kick to it. Decent bagel, nothing to write home about, I think I'd ask for it on the pletzlach next time if they'll do the substitute! Surprisingly, of the two sandwiches, this is the one I'd most happily go back for. Sandwiches run roughly 150 pesos apiece. It'd be nice if they had some decent beer available, though the lemonades were delicious. Makes for another really good sandwich shop on that stretch (Kon Kon's original location is just a block away).
---
Mauro.it, 11 de Septiembre 2465, Belgrano – I've heard about this place on and off for years. Somehow or other I'd gotten it confused with another spot out in the 'burbs and thought it wasn't here in town, and had simply never gone (that turns out to be a spot called Italpast, in Campana). My friend Max suggested we meet there for lunch, and my first thought was "way out there?", but I did a quick search and found it's really just a block or so outside of Barrio Chino, here in town. Okay, that's easy enough.
What else had I heard? That the owner, who I imagined as a gruff, cantankerous older Italian man, had lists of rules on signs all over the restaurant and on the menu. People characterize them as huge, nasty signs plastered all over everything. In truth, there are three small signs amid the memorabilia and photos and sports stuff festooning the walls, basically one saying that they won't serve cheese on seafood pastas, that the pastas are portioned per person, so there's no splitting one (you can share multiple pastas, but each person does have to order one), which I understand from a financial standpoint, and basically a no substitutions policy. Not anything all that out there, and none of the signs seemed nasty or offensive.
That's Mauro, the eponymous owner, sitting at a table talking to some customers – he's younger than me by a year or two, and he seems like a lot of fun actually after chatting with him on and off – he spends time at every table in the restaurant, and he takes all the orders himself.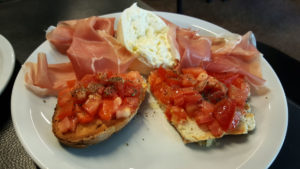 We started off with a little antipasti plate – two excellent tomato bruschettas, a big lump of burrata, and several slices apiece of prosciutto, sliced to order. Served up with decent olive oil, salt and pepper on the side. Not badly priced at 240 pesos given how much burrata costs around here.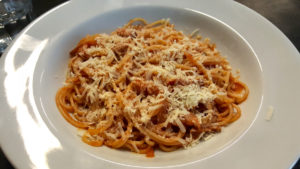 Now, there's one place where I understand why some people aren't fond of one of the rules (not posted, but on the menu). The menu consists, basically, of a list of more than a dozen classic Italian sauces. You pick your sauce, he picks your pasta. It's all Barrilla pasta from the package, no fresh made pastas, though the sauces are made in house, and while I understand the tradition of "for every sauce there's a pasta", much of that is more myth than reality – not that the tradition doesn't exist in Italy, but people aren't usually inflexible about it.
I picked the amatriciana – I'd hoped that it would be made with the traditional guanciale, cured pork cheek, after all, Mauro seems a stickler for tradition, but then he gave me a long speech about how difficult it is to come by, and how expensive it would be. Then again, he's charging 200 pesos for pasta from a box tossed with some sauce and cheese (albeit quite good sauce and cheese). And, it was a decent amatriciana, and I happily ate my half of it (we swapped plates midway through).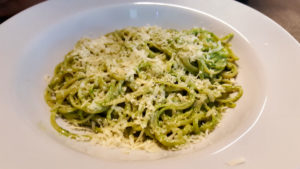 Mauro highly recommended his gorgonzola sauce. Also quite good, though I have to admit, I wish he'd recommended a sauce that went with a different pasta, just to try another. Given that it's a cheese sauce, the huge quantity of grated cheese over the top (a little more than I personally care for on both plates), seemed a bit gratuitous. Let the gorgonzola shine! I'd also say that for 200 pesos, and that the pastas are main courses, not precursors to main courses, these are somewhat small portions. I was still hungry for more – I suppose I could have ordered another pasta.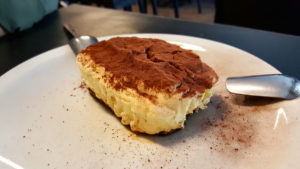 Okay tiramisu. Not one of the better ones I've had. Not bad by any stretch, but the balance of crust (basically reduced to a paste after sitting under the filling) to the rest, and lacking much of any coffee flavor, left me wanting. It's telling that between two of us we didn't finish it.
Mauro doesn't offer bread with the meals, even on request. So it was amusing to see him sit down at a table later at the end of lunch hour with a big hunk of bread and a plate of pasta. We called him out on it. He said it was completely a financial thing – if people fill up on bread, they don't order appetizers or desserts. At least he's upfront about it.
So, overall… hmm… on a pure ambiance and enjoyment basis, I wouldn't hesitate to go back. It's one of the more traditional Italian spots in town in many ways, and it's the kind of place I like to just go hang out – I mean, we spent nearly 2-1/2 hours there just chatting and enjoying. And, I liked Mauro quite a bit, he reminds me of a lot of restaurant friends in Italy, and some in New York. The food is good, even very good, but not exceptional, and I wouldn't mind, given that the pastas are the main courses, if there was more of it.
I do fall into the camp of wishing I had more say in what I get – for example, I often like to drizzle a little good olive oil and grind some pepper over my pastas, but those were whisked away after the antipasto plate and weren't an option. And I'm sure there are people who prefer a little more salt, or more cheese, while I'd like less (interesting that most of my Argentine friends complain that there's not enough cheese on the dishes – they do love their cheese here). But I also understand the impetus to serve things "his way", after all, "my way" is pretty much the way Casa SaltShaker operates (though I'm a bit more flexible if people ask in advance, and have no problem with it if someone wants salt, pepper, or other condiments, as long as we have them). Overall, recommended.