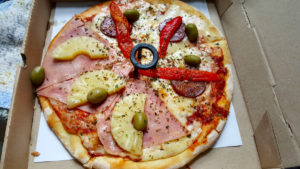 Amore's Pizza, Arenales 1721, Recoleta – This recently opened place here in the 'hood smells delightful when you wander down the block. I've passed it by a couple of times since it opened and tucked it away in my mind to order up from them soon. And then, one day, passing by, I thought I'd give it a shot. It's take-out and delivery only, and one negative, they only accept credit/debit cards if you order through PedidosYa for delivery (I don't know why it didn't occur to me standing there to just literally place my order with the app), but I had the cash with me, so no big deal.
Typical range of selections for pizza toppings. I admit to only ordering the Hawaiian pizza (or, Tropicál as they term it), because it's been the subject of much rancor online over the last month or so, and I haven't tried one in eons. So I ordered half that and half Calabresa, which is spicy sausage and bell peppers. Let's deal with the actual pizza first. First, it takes too long – over 20 minutes to make a pizza? (They weren't busy.) Second, it's mediocre. The crust is hard and chewy, the mozzarella is that plasticky type that starts to congeal into a translucent blob almost immediately, the sauce is tasteless, the toppings are supermarket grade. All in all, nothing to recommend it and they're not going on my list of places to order from again.
Now, I'm going to take a moment to wade in on the Hawaiian pizza "controversy". It's not my favorite, never will be, but it's not bad or anything, mostly it's that canned pineapple is too sweet. Use fresh pineapple and it might be more interesting. Use bacon or some sort of cured pork and it'd be far more interesting than lunchmeat ham slices. But for those who think of it like an abomination, I don't get it.

First off, the folk who say, "fruit has no place on a traditional pizza" – we'll set aside what tomatoes are for the moment, but it's still not true – you can get Roman style pizza with pear, gorgonzola, and nuts on it, traditionally. And those who say "fruit has no place in savory dishes" – really? That one shouldn't even take five seconds to come up with multiple examples to the contrary – from basic pork chops with apple sauce to venison with berries to prosciutto with figs or melons, etc., etc. And for the "Pineapple is just wrong in savory dishes", one could do the same, simply starting from a classic "sweet and sour" chicken or pork, for which the sauce is typically made from a combination of pineapple and tomatoes…. or hey, the traditional Christmas ham with canned pineapple and maraschino cherries (so those ingredient combos do work… and are probably where the guy in Canada who invented the Hawaiian pizza came up with it in the first place).

It all comes down to a matter of taste, and while I'd agree that canned, sugary sweet pineapple, at least for me doesn't work, but for many people it does, so, who really cares?
---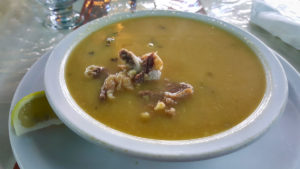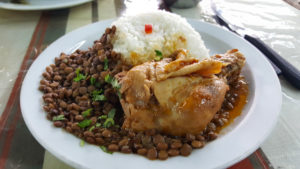 Leo's Polleria, San Luis 2421, Once – I haven't been going to as many Peruvian spots while Henry's away, since the impetus to go tends to be his preferences. Not that I don't like Peruvian food, it's just not usually my first go-to. Plus I've been into the whole dumpling thing of late. Decided one recent afternoon to give a shot to this spot for their daily menú. It was a Monday, so the soup was Shambar, the wheatberry classic of the north. This one acceptable, nothing more – a little too soupy without much substance – a bit of cracked wheat, some chickpeas, a couple of diced vegetable bits, and some stringy beef. The main course of pollo guisado had some decent flavor in the chicken, and wasn't overcooked, which is a plus, so many of them let it simmer away way too long. On the other hand, the lentils were flavorless – I think they were probably cooked in plain water, and then nothing added but some chopped cilantro scattered over the top. And the classic ajicito, or hot sauce, had little to no kick to it. Yawn all around – especially with both Las Totoras and Chimu within two blocks of them.
---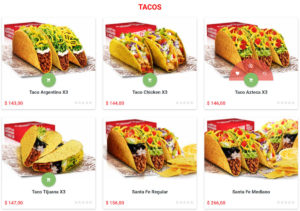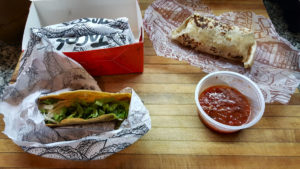 Crispy, Mansilla 2787, Recoleta – Okay, I understand advertising "photos" and such and don't really expect my delivery food to look as appetizing on arrival as it does in them. But, come on, at least try. This two location "chain", one here in Recoleta and one up in Rosario has a decent sounding tex-mex style menu of nachos, tacos, burritos, and quesadillas. They offer fast delivery – my order arrived in under half an hour. Their pricing is okay – running a little under 50 pesos/taco, for example. And, as fast food, it's not bad, I've certainly had worse, but I've had better too, at, say, Taco Bell.
The tortilla shells for the tacos are crunchy, a bit misshapen – clearly not commercial ones, so they're making their own, but each, for example, on the Azteca, the closest to a classic tex-mex taco they offer, had maybe two tablespoons of ground beef in the bottom, three or four bits of diced tomato, a few shreds of mozzarella cheese, and the rest is shredded lettuce. I didn't note any guacamole in it, if it was there it was scant. The accompanying hot sauce (extra charge of 24 pesos for about two tablespoons) at least had a mild kick to it, though it was mostly tomato. The "mini-burrito", my bad for not noticing that versus the regular burrito doesn't contain beans or rice, was an oily flour tortilla wrapped around what amounted to a block of mozzarella and an equal amount of shredded chicken breast with little to no seasoning.
I'd rather walk a couple of blocks over to the neighborhood Taco Box, albeit more expensive.
---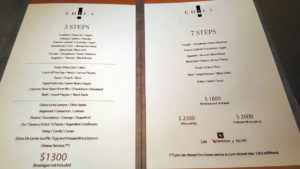 And, speaking of expensive… let's wrap up this time with a more detailed review.
Chila, Av. Alicia Moreau de Justo 1160, Puerto Madero – I've been to Chila once before, almost exactly five years ago. I liked the food quite a bit (with some minor faults), thought it was way too expensive for the portion sizes. At the time, though I didn't go for the tasting menu, if you'd done the full six course menu with paired wines, gotten a bottle of water, paid the cubierto and added a 10% tip, you'd have come in at 726 pesos, which with the exchange rate at the time came in at roughly $166. For BA, that was borderline outrageous. The "same" menu, now a seven course one, with two different options for wine pairings, if you go full tilt, add in that bottle of water (now 70 pesos), and tip, will come in at 2937 pesos, which with today's exchange rate means around $189, so not a huge change by international standards, but still making it one of the most expensive meals in Argentina.
Now, in the intervening lustrum, quinquennium, oh, hey, five years, Chila ended up on the Latin America's 50 Best Restaurants list, coming in at #35 last year, a drop from #21 in both 2015 and 2014, and #28 in 2013. And then, at the beginning of this year, the chef who made the name for the place, Soledad Nardelli, up and left. The new chef, who'd been her "right hand man" for several years, is Pedro Staurino Bargero, who has a pretty decent pedigree, having worked his way up through the kitchens of La Bourgogne in Punta del Este, D.O.M. in Sao Paolo, Mirazur in Provence, and David Toutain in Paris.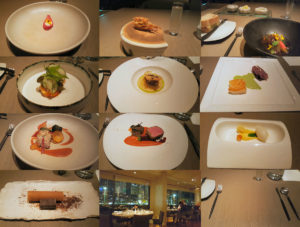 I'm not going to go through each individual dish, as they change constantly anyway. Of note off the bat, far less "Spanish" in style than it used to be. But the meal starts with a couple of amuses bouche, and then proceeds through seven planned courses, plus a "pre-dessert" palate cleanser. Not a misstep in the bunch, all completely delicious. All still quite small, as I noted in my original review, and honestly I could have easily eaten quite a few more (I could compare this to similar sized courses at my spectacular meal at Nerua last year, which was 21 courses, with wine pairings, for a roughly 50% higher tab, which was actually filling, or hey, if you want to stay in Latin America, Central, which has been #1 on the Latin American list for a couple of years running and actually makes it onto the world's best list at #4, charges little more than Chila for a 17 course menu).
Service was excellent, only one minor flaw – after the first course or two I was asked if I wanted more bread, I declined, but they left the bread plate, complete with crumbs, and the selection of butter, oil, and salt, on the table through the whole meal, right to the dessert. That makes no sense to me.
Setting that aside, I'm going to come back to pricing, because it's the only real fly in the ointment. Given the options of a standard or premium priced wine pairing, respectively costing 500 and 800 pesos for 7 wines plus a welcome cocktail shot, I had high hopes for the latter. Instead, the level of wines in the premium pairing were much the same as we serve at Casa S, in fact, four of the seven were ones we've served in the last few months (they're very good to excellent wines, I just expected a level higher in a restaurant of this caliber).
And we serve a "tasting pour" of roughly 3 ounces per wine, with free refills for those who want, versus these pours being half that, with no refills – given the particular wines served, it basically meant that one tasting pour of about 1½ ounces pays them for the full wholesale cost of the bottle, and they're getting 15 or so pours per bottle (we get 5-10, depending on the wine). It also means that by the end of the meal you've had only about 10-12 ounces of wine, less than half a bottle, almost double the retail price of the full bottles.
So, overall… love the room and the ambiance. Service is, while not impeccable, excellent. The food is beautifully presented and delicious, albeit too small of portions. The wine pairing, particularly for the premium pairing, needs to have its game upped (I hesitate to even wonder what the wines served at the regular level for 500 pesos are). The price is, in my view, too expensive for what you get quantity-wise in both food and wine, in particular for Buenos Aires. Still, just for the quality and experience, I'd recommend it to anyone who doesn't mind paying the freight.