The subject of the wide variety of Asian noodles came up a short time ago when I was criticizing a restaurant for using spaghetti in place of udon noodles in a Japanese dish (and still calling it udon). Now, there are way too many types of noodles between all the various Asian cuisines to remotely do a comprehensive job of exploring them, so I thought I'd hit some of the major, or at least better known cuisines here in BA, and the arguably most important noodles within each. Now there are a zillion things you could do with each and every noodle, and there are countless recipes out there, so I just had to pick some favorites.
So this post starts more or less in Japan. From my perspective anyway, the most important noodles within Japanese cuisine are probably ramen, soba, yakisoba, udon, and somen. And in this post, we'll start with the last of those.
Somen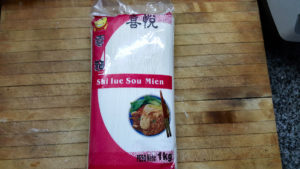 Somen are a wheat noodle, made with, generally, a bleached wheat flour and water, which gives them their very white color. In making them traditionally, if one were to do so, you coat your fingers with vegetable oil as you gradually stretch them as thin as they can possibly go – it's more work than I'm going to get into. And they are thin – like angel hair (capelli d'angelo) pasta or vermicelli (side note, if you didn't know, the difference between the two, the former are made with wheat flour, the latter with rice flour) – by tradition, and I'm sure it must be based on a pre-metric measure, they're thinner than 1.3mm. Finding them in a Chinese market, they're marked as sou mien and in Korean, somyeon. Classically, they're served in cold dishes, though you can find hot dishes for them – the general reason seems to be that they cook so fast that leaving them in a hot dish or sauce, they'll turn to mush, which is pretty much true.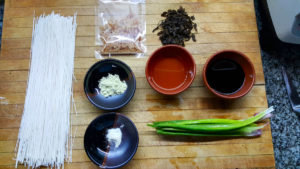 Our ingredients for this traditional summer somen dish – the somen themselves, bonito flakes (dried tuna flakes), kombu (dried seaweed), mirin (sweet rice wine), soy sauce, salt, wasabi, and green onion. Simmer the bonito and kombu in a little water to get a concentrated broth. Mix in roughly 3:1:1 the broth with the mirin and soy. Add salt to taste. This is the dipping sauce, called tsuyu. Let it cool. Chop the green onions. Mix the wasabi powder with a little water to form a paste and let it sit to develop its flavor for about 15 minutes. Boil the somen in salted water until al dente – it only takes about 3 minutes. Drain and run under cold water until cool, and/or shock in a bowl of ice water.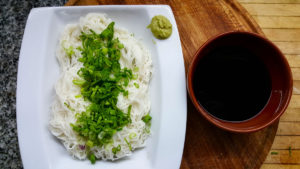 You can't really see it, but the somen are laid across a layer of ice cubes to keep them chilled, then topped with the chopped green onion. Often, the noodles are put in a bowl filled with water and ice, and just lazily float about. I find that it tends to dilute the flavors and the dipping sauce too much, and, you can't really garnish with the green onions and wasabi. Serve with all those. I find it easier to just mix the wasabi right into the dipping sauce.
---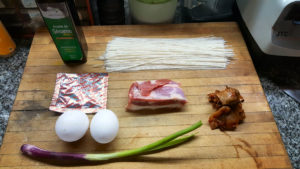 Somen are also, as noted, used in Korean (and Chinese, and, probably other Asian) cuisines. Since I've been on a bit of a Korean kick recently, I thought I'd go for my version of a traditional dish, Chijijim, or, crispy somen pancakes (or omelettes, or just cakes, depending on who's doing the translating). So, sesame oil, somen, hondashi (the powdered form of dashi soup mix, often used as a seasoning rather than a soup, as well), pork, kimchi, eggs, green onion. Not pictured, a little butter, or vegetable oil, to help stop it from sticking to the pan.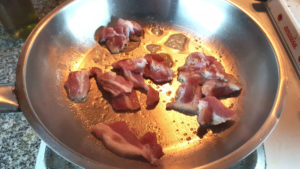 Slice the pork into thin bite sized pieces, then brown them in butter or oil. Season lightly with salt and white pepper. Lightly. It's going to get a hit of saltiness from the hondashi. Set the pork aside and wipe the pan out. Return the pan to the heat and get it really nice and hot. In a bowl, whisk the eggs with the hondashi powder (I used half a packet for one large pancake) and a few tablespoons of water.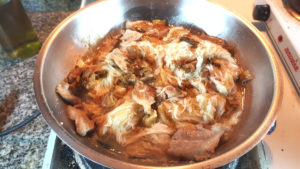 Meanwhile, or, really, before, bring a pot of salted water to a boil. Cook the somen for two minutes, then drain them – don't rinse them, and you want to be ready right there with a hot skillet. Add butter or oil, and about ten good dashes of sesame oil (1 Tb). Add the pork, the kimchi (chopped), and the noodles all at once, and stir together to distribute the meat and vegetables through the noodles. Pour the egg mixture over and make sure it seeps in well and all around.
Brown it well on one side. Drizzle more sesame oil, and either more vegetable oil or butter over the top, and then flip the pancake. Cook until brown and crispy on the second side.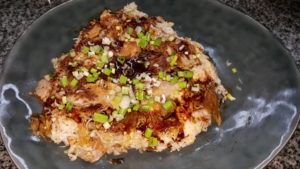 Move to serving plate. Top with chopped green onions and a sauce of your choice. I've seen this recipe offered up with oyster sauce, hoisin sauce, ponzu sauce, even ketchup! The sauce I made, I whisked together some soy sauce, black vinegar, brown sugar, and gochujang (Korean chili paste made from chili powder, glutinous rice or barley syrup, fermented soybeans, and salt), and then poured it all around the top of the pancake.
---
Other ideas – a Korean version of the cold somen noodles – tossed with chopped kimchi and the sauce used for making Korean fried chicken (gochujang, rice vinegar, honey, sesame), julienne of cucumber, and halved hard boiled eggs. A Chinese hot version where the noodles are cooked in a dark chicken broth flavored with shrimp paste, and tossed with bean sprouts, shiitake mushrooms, and shredded chicken, and then topped with hard boiled egg and crispy fried shallots. Another is chang sou mien, commonly referred to as "longevity noodles" and are a popular birthday dish, where the noodles are served in chicken broth along with cooked chicken drumsticks, abalone, quail eggs, mushrooms, green onions, goji berries, and drizzled with sesame oil.
Have fun with them!