February 9-11 Febrero 2017
Seasonal Table / Mesa de Esación
Tomatoes & Plums / Tomates y Ciruelas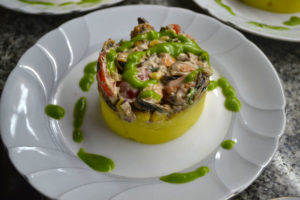 Black Olive Mussels "Causa" – base of potato pureed with rocoto chili, orange and lemon juices, olive oil, salt; salad of mussels, fennel, red onion, greek black olives, corn, cherry tomatoes, parsley all in a mayonnaise of egg yolk, olive oil, orange and lemon juices, black olives, malagueta chilies; emulsified parsley oil.
Causa de Mejillones al Olivo – base de puré de papas con rocoto, jugos de naranja y limón, aceite de oliva, sal; ensaladita de mejillones, hinojo, aceitunas negras griegas, maíz, cherys, perejíl en una mayonesa de yema, aceite de oliva, jugos de naranja y limón, aceitunas negras, malaguetas; aceite de perejíl emulsificado.
Bodega del Fin del Mundo Extra Brut, Neuquén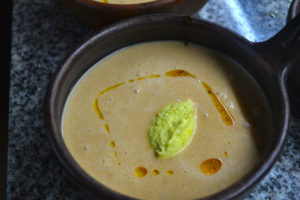 Chilled Tomato Gin Soup – pureed, chilled soup of tomato, onion, garlic, togaroshi, brown sugar, basil, gin, cream, salt and white pepper; sherbet of yellow bell pepper, cucumber, chinese mustard, salt, sugar, touch of sour cream; chili oil.
Sopa Fría de Tomate y Ginebre – puré enfriado de tomato, cebolla, ajo, togaroshi, azucar negra, albahaca, ginebre, crema, sal y pimienta blanca; sorbete de pimentón amarillo, pepino, mostaza china, sal, azucar, toca de crema agría; aceite de ají.
Doña Paula Estate Sauvignon Blanc 2016, Valle de Uco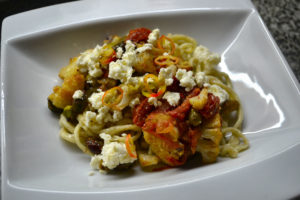 Bigoli with Roasted Cauliflower, Tomatoes and Pistachios – homemade bigoli (thick spaghetti made from whole wheat and semolina flours, eggs, salt) tossed with olive oil; herb roasted (oregano and basil) tomatoes, cauliflower, and pistachios; homemade ricotta; limo chilies.
Bigoli con Coliflór, Tomates y Pistachos Asados – bigoli caseros (espaguetis gruesas elaborado de harina integrál y semolín, huevos, sal) saltado con aceite de oliva; tomates, coliflór y pistachos asados con hierbas (orégano y albahaca); ricota casera; ají limos.
Bodega Atamisque "Serbal" Malbec-Rosé 2015, Tupungato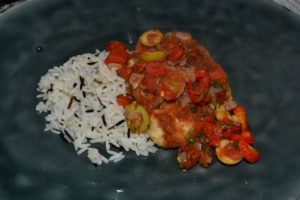 Spicy Tuscan Green Olive Chicken – butterflied chicken breast breaded in panko crumbs and gran pampeano cheese, fried; sauce of tomato, green olives, onion, garlic, red jalapeños, balsamic vinegar, parsley, oregano, rosemary, nira, salt and pepper; white and wild rices.
Pollo Toscano Picante de Aceitunas Verdes – pechuga de pollo mariposada y empanada en migas panko y queso gran pampeano, frito; salsa de tomate, aceitunas verdes, cebolla, ajo, jalapeños rojos, vinagre balsámico, perejíl, orégano, romero, nira, sal y pimienta; arroces blanco y salvaje.
Familia Cecchin Carignan Orgánico 2015, Maipú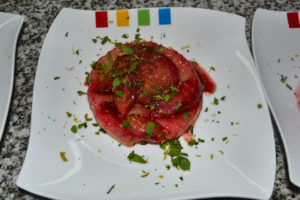 Plum & Almond Tarte Tatin – red and yellow plums caramelized in butter and sugar with Chinese five spice and habanero chili, lime juice, toasted almonds; puff pastry; chopped mint and lime zest.
Tarte Tatin de Ciruela y Almendra – ciruelas rojas y amarillas acaramelizadas en manteca y azucar con cinco especias chinas y ají habanero, jugo de lima, almendras tostadas; masa hojaldre; menta picada y ralladura de lima.
Latitud 33 Tardio, Mendoza