I'm beginning to feel like we're eating nothing but Chinese and Peruvian food. And I know you've barely had time to digest yesterday's dumpling post. But then again, we like both, and both are probably, in general, healthier options than burgers and pizza. Still, I'm not giving those up – they'll just be more sporadic. Or, this will all cycle and I'll move back to them or on to something new. Right?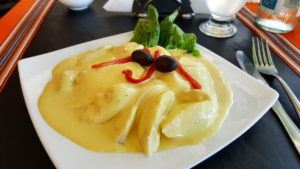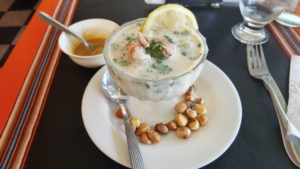 El Adobo, Av. Monroe 5500, Villa Urquiza – Who says I only go to Recoleta and Palermo to eat? Actually, only a couple of bizarrely deluded people who pick out one or another post and treat it as their proof, without looking at how far flung our food adventures are. I mean, sure, let's face it, I eat at more places in the strip that sort of runs from Retiro through Recoleta, Palermo, Las Cañitas, and Belgrano than anywhere else, partially because I live in the middle of that, and partially because there are simply more restaurants of more varied cuisines within those areas. But a quick look at my maps page and you can see that I do get out and about!
I'd randomly decided to take a walk through the small barrio of Parque Chas, and at the same time looked at my map for what was in the general area for eating. This was the only Peruvian spot that had popped on my radar. There were a couple of Chinese spots as well, but one of them was out of dumplings, and therefore will have to await a future visit, and the other, I grabbed some to go later on as a snack. El Adobo is a small spot, seating maybe 25 or so people, including a couple of outdoor tables. The menu is short and sweet. They were out of tamales so I went with a papas a la huancaina, and I ordered my favorite ceviche alternative, leche de tigre. Both pretty bland, surprisingly, as was the supposed hot sauce, the ajicito, which was a watery reddish brown condiment that tasted of something that Taco Bell might label "mild". The huancaina was a generous portion, and other than the lack of heat, was not bad, a good creamy sauce, flavored with cheese and peanuts, and little else. The leche de tigre, while chockful of fish, calamari, and shrimp, basically tasted like milk. There was no salt, no citrus, no chili, it was just a bland, creamy white soup with a little cilantro in it. Yawn.
A little look at the center point of Parque Chas' famed oval.
---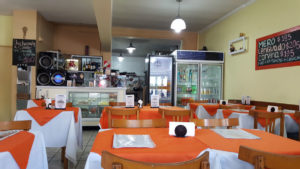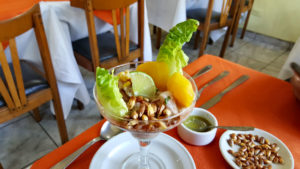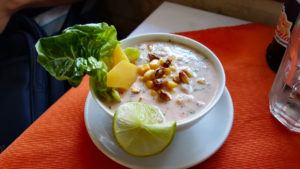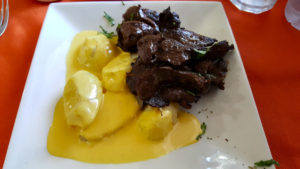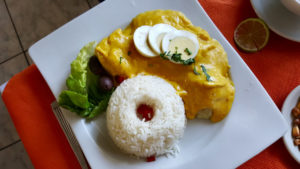 Cebicheria La Flor de la Canela, Av. Jujuy 494, Once – Nice little place just outside the Venezuela subte stop on the H line, a bit orange. Surprising for this sort of homestyle Peruvian spot, they don't offer a menú of the day. The a la carte menu  is lengthy, but much of it is taken up by variations on ceviche – almost an entire page – and another page of grilled items – steaks and fish – an offering of local fare. Service was friendly, though the kitchen is painfully slow, and disorganized in terms of sending stuff out.
Although I have things in a sort of normal order on the photos, the first thing we got, about ten minutes in, was my plate of anticuchos, nicely flavored strips of meat, though, surprisingly since they have a grill (supposedly anyway), not grilled, but wok fried, served with pretty good papas a la huancaina. Hot sauce on the side was at best, medium hot, and kind of stringy – there was clearly cilantro in it and they'd not blended it well. About another ten minutes went by and I got my leche de tigre – no picante whatsoever, though they'd asked. Then a few minutes late Henry's appetizer portion of ceviche, which, bizarrely, other than the cup it's served in, was virtually identical to the leche de tigre. The difference, according to the waitress, is simply the size of the pieces of fish in it. We also weren't overly thrilled that the fish used was gatuzo, a type of shark, which just doesn't lend itself well to that type of cooking. Finally, when we'd more or less finished all of these, the ají de gallina showed up – pretty presentation, but strangely, rather bland, especially considering that the plain huancaina sauce, which should be it's base, wasn't. Overall, nothing bad, but just kind of average home cooking style food.
---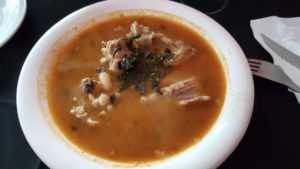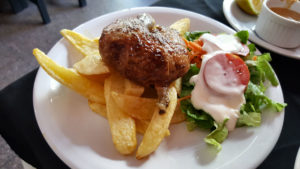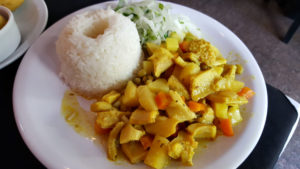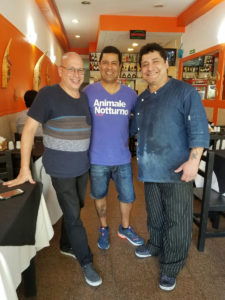 Las Totoras, San Luis 2537, Once – A new spot not far from where we live, opened up in November. The chef is a friend of another chef friend, so we have a bit of a connection there. Dropped in one day recently to try the daily menú. Being a Monday, the soup starter was shambar, a classic from Trujillo, Henry's hometown, with wheat grains and a variety of "parts is parts" meat – it's often better not to ask. For the main courses there was pollo a la brasa, cau-cau, or for more local tastes, a lunch steak with mash. We ordered a plate of each of the first two – really, really good! A visit with the chef and his partner and we left happy. The menú runs 85 pesos/person. At night, the chef says he does a little more fusion cooking in addition to the traditional criollo classics on mid-day offer.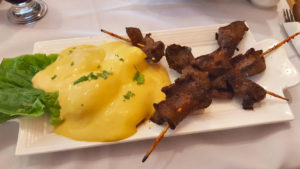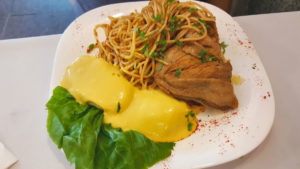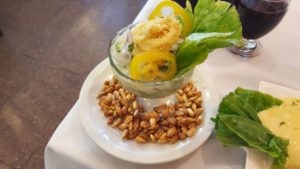 A second visit and we decided to order off the a la carte menu at lunch. Excellent all around – well spiced anticuchos de corazón, the grilled beef hearts that we both like a lot, and delicious tallarines rojo con pollo, or red noodles with chicken (recipe if you follow the link), both accompanied by creamy, spicy papas a la huancaina. And, also tried a leche de tigre, an appetizer sized portion – one of the better ones we've had, made with lime rather than lemon, a good amount of rocoto chili, salt, and cilantro, cubes of fish, topped with a couple of fried calamari rings and more rocoto. Great all around, and nice to have another Peruvian spot that we really like within easy walking distance!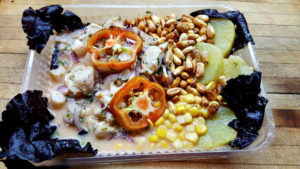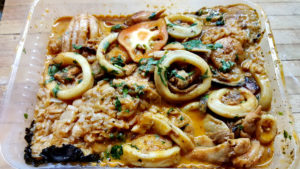 Can you tell we really liked this place? A third shot, this time a delivery order. Arrived in just under 40 minutes, which is better than any other Peruvian in the area does. A ceviche clasico – spicy, tangy, fresh fish, really well done. And, a picante de mariscos – a spicy (and it was) shellfish stew over tacu-tacu, the sort of re-fried rice and beans that's a classic of Peruvian home cooking. This place moves onto our top five list for homestyle Peruvian cooking!