January 5-6 Enero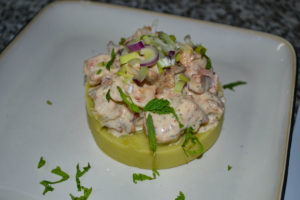 Chicken "Causa" – chilled mashed potato flavored with lime, green onion, jalapeño, and olive oil; poached chicken salad with bacon, sun-dried tomatoes, mayo of egg yolk, lime juice, sesame, szechuan peppercorn and corn oils, and mint; garnished with chopped green onions and mint.
Causa de Pollo – puré frío de papas saborizado con lima, verdeo, jalapeño, y aceite de oliva; ensalada de pollo pochado, panceta, tomates secas, y mayonesa de yema, jugo de lima, aceites de sésamo, pimenta sichuan, y maíz, y menta; adornado con verdeo y menta picada.
Chandon Cuvée Varietal Chardonnay, Mendoza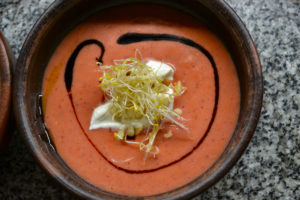 Strawberry Gazpacho – Puree of strawberries, cucumber, roasted piquillo peppers, red onion, garlic, balsamic vinegar, olive oil, salt and black pepper, strained and chilled. Rosemary infused whipped cream. Toasted pinenuts. Olive oil and reduced balsamic vinegar. Alfalfa sprouts.
Gazpacho de Frutilla – Puré de frutillas, pepino, pimientas piquillos asados, cebolla morada, ajo, vinagre balsámico, aceite de oliva, sal y pimienta negra, colado y enfriado. Crema batida infusada con romero. Piñones tostadas. Aceite de olive y reducción de vinagre balsámico. Brotes de alfalfa.
Lagarde Viognier 2016, Luján de Cuyo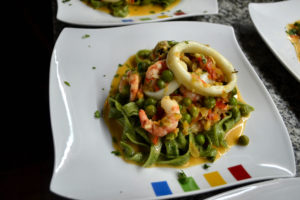 Cilantro Fettucine in Shellfish Sauce – housemade cilantro and green peppercorn fettucine; sauce of onion, red bell pepper, garlic, tomato, smoked merquén chili, rocoto chili, cooked down, deglazed with white wine, and finished with shrimp stock and cream, pureed and thickened; tossed with just cooked shrimp, calamari, mussels, peas, and cilantro.
Tallarines de Cilantro a lo Macho – tallarines caseros hecho con cilantro y pimienta verde; salsa de cebolla, morrón, ajo, tomate, ají merquén ahumado, y rocoto, cocido, deglaceado con vino blanco, y terminado con caldo de camarón y crema de leche, puré y espesado; saltado con camarones, rabas, mejillones, arvejas, y cilantro.
Pulenta Estate "La Flor" Malbec Rosé 2015, Luján de Cuyo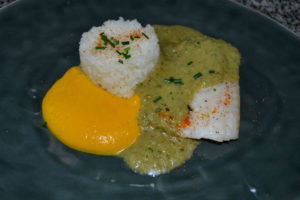 Sandperch in Green Mole – broiled sandperch served with rice, roasted squash puree, and a green mole sauce of green tomatoes, onion, garlic, thyme, oregano, epazote, green chilies, cumin, clove, and parsley, thickened with corn tortillas.
Salmón Blanco en Mole Verde – salmón blanco asado servido con arroz, puré de zapallo asado, y una salsa mole verde de tomates verdes, cebolla, ajo, tomillo, orégano, epazote, ajíes verdes, comino, clavo de olor, y perejíl, espesado con tortillas de maíz.
Miras Jovem Trousseau Nouveau 2015, Río Negro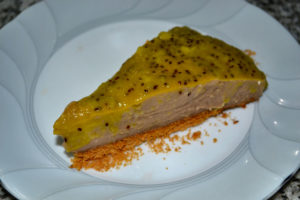 Kiwi Coconut and Chocolate Custard Tart – coconut cookie crust, chocolate and coconut milk custard, puree of kiwis set in a lemon gelatin.
Tarta de Kiwi y Natilla de Coco y Chocolate – masa de galletitas de coco, natilla de leches de chocolate y coco, puré de kiwis en gelatina de limón.
Amalaya Blanco Dulce de Corte Torrontés-Riesling 2014, Valle Calchaquí