Sushi. We love it. Setting aside that the porteño version of the stuff tends to be limited in scope, mostly to either salmon or cooked shrimp and octopus, and that way too many makis have cream cheese on them, it's just really freakin' expensive. For the price of a single roll, or a 5-6 piece nigiri order at many places, you can go to any of a dozen of the better seafood restaurants in town and get a main course of fish that's cooked, with a sauce, and accompaniments. If you order a typical selection of sushi with a mix of rolls and pieces, it's not unusual to end up with a tab that runs somewhere between 700-1000 pesos per person. That's NYC/LA level pricing, without, bluntly, the quality, variety, or care. Just something to think about.
Let's start off with a couple of oldies that I haven't talked about in awhile.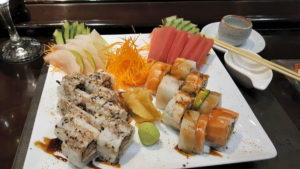 Dashi, Montevideo 1059, Recoleta (and numerous other locations throughout the city) – It's been a bit since I stopped in or ordered from this place, it used to be one of my mainstays in the 'hood for sushi. It's changed. Not so much in what's offered, but in how it's presented. First off, a little sashimi, the sole and tuna, at five slices apiece, came in at about 350 pesos. The salmon skin and rainbow rolls came in at close to 400 combined. Right there we're at over 700 pesos, but the kicker on it is that you tack on a cubierto charge, plus remember that little sake cup? They don't serve flasks of sake anymore at Dashi, they serve it by the cup (because, it was explained to me, no one would want to drink more than that), and charge 70 pesos for that little 2 ounce serving. Add in a bottle of water, and a tip, and all told this came in at close to 1000 pesos. It's good quality, but not great quality. Strike this one from the makis… the value just isn't there anymore.
---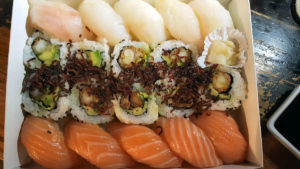 Maki, Ayacucho 1208, Recoleta – This place has been my primary neighborhood sushi spot for both dropping in and delivery since I discovered it when we first moved into the area, before we were even in this apartment. It's a cute little spot with a small sushi bar, seating for maybe eight people. Mostly it's takeout and delivery. I'm also fond of it because although the selection is somewhat limited, the quality is always excellent, and the pricing isn't near as steep as others (like the above). Here, five pieces each of nigiri salmon and sole, plus a ten-piece creative prawn, avocado, tamago (egg) roll, and it came in at a grand total of 410 pesos (the nigiri alone, think about it, ten piece in total with rice, versus the 10 pieces above of sashimi without, came in at about 60% of the price). My one disappointment in the place is that they used to offer a moriawase of both sushi and sashimi – a mixed selection, rather than having to order five pieces of each kind – but apparently it's too much work to slice one piece each of five different fish rather than all the same one….
---
Let's move on to some new sushi explorations!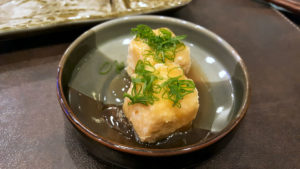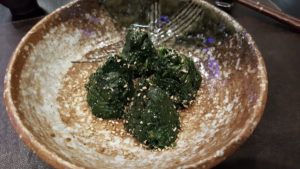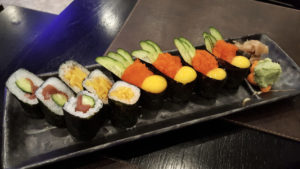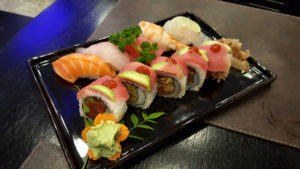 Matsuoka, Sánchez de Bustamante 1027, Almagro – It feels like this place is here in Recoleta, though technically it's a few meters over the line, basically situated right near where Recoleta, Almagro, and Palermo all come together at one corner. Why has no one told me about this place before? I only heard about it because of an article in Savoteur recently about where local chefs like to eat out, and one of the chefs from Nueva Casa Japonés recommended it. He's Japanese, he should know, right? Chef Juan Matsuoka has the chops (chopsticks?), with time spent in Japan, and having run the sushi bars at the Hotel Panamericano, Kitayama, and Irifune here in town before opening his eponymous place five years ago. Five years ago! Here in my neighborhood!
Small place, decorated nicely. Pleasant greeting on arrival. I was the only one there for about 30 minutes, though they were turning out numerous delivery orders. As time wore on a few more folk came in, though most for takeout. There's clearly an "old friends" network here, almost to a T, everyone who came in was clearly a regular, and there's a certain amount of hanging out and chatting, and sitting at tables while they wait for orders – it has a certain local charm, but at the same time, I can understand the complaints of some folk in their online reviews of feeling a bit like they're trying to eat while surrounded by people who aren't… they mill about, they come over and look at what you're eating, they talk loudly – there's not a lot of space, so they do feel like they're right on top of you.
Service, charming. Food, excellent, really. Some of the best sushi I've had in town. A little gift from the house of some agedashi tofu, perfectly prepared and flavored. Quite good goma-ae, maybe a touch sweeter than I personally like, but fresh spinach, and delicate sesame flavors. A selection of sushi – most of the rolls, and most of the nigiri, are available in whole or half orders, so you can get smaller quantities and mix and match, plus, they offer a moriawase with a quintet of nigiri – salmon, tuna, prawn, and two different white fish. All around, delicious. Minor disappointment that they didn't have the ikura, salmon egg, sushi that they feature prominently on their website (but isn't actually on the menu when you get there), but they offered up a foursome of tobiko, the flying fish roe, prepared the same way, even though it wasn't a menu item. All told, with a 230ml flask of sake (and a cubierto charge – just stop it already people, those are so antiquated), and tip, it came in at 880 pesos, nearly 100 less than Dashi, for far better and more food, and the same distance from home. Guess who wins?
---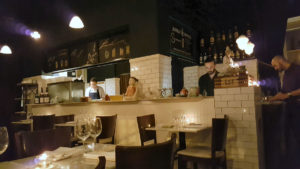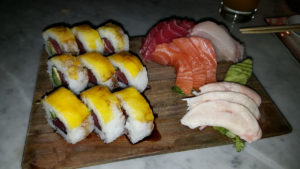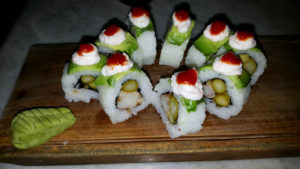 Nicky NY Sushi, Malabia 1764, Palermo – Oh, let's have a little fun with this one. First, the basics, second, the review, third, the myth. A small, dark restaurant in the heart of Palermo. Basic sashimi and nigiri sushi – salmon, tuna, white fish, prawn, octopus. A dozen plus creative, modern sushi rolls. Interesting sounding and well made cocktails. And, behind the sushi bar, through a thick curtain, is The Harrison Speakeasy, one of the supposedly hardest bars to get into in Buenos Aires – basically you have to know someone. Or, I'm told, just have dinner in the restaurant and then ask to retire to the bar for a cocktail afterwards. I can't vouch for the latter, though I did watch a party of four try to get a table back there rather than in the dining room and get flatly refused.
I looked through the menu, ordered up one of the specialty cocktails, a Sasamara, which was a delicious blend of gin, lemonade, and passionfruit. I ordered a mixed selection of sashimi, and two rolls. Here's where I hit the only misstep in otherwise excellent service, my waiter flatly refused, claiming it was too much food for one person. I tried to insist, and he said he'd order the sashimi and one of the rolls, but wouldn't order the other roll until after I'd received the first round. That's annoying – I'm fine with being advised that you think it's too much, but if I want to order it, that's my business, not yours. Basically, as soon as the first round hit the table, I flagged him down and ordered the second roll. Luckily, given that the first round took half an hour to arrive from the sushi bar, despite my being the first customer in the door and first to order, my second roll only took about ten minutes.
The sashimi, excellent quality, good sized pieces on the white fish and tuna, more "normal" size on the salmon and octopus. The two rolls, both creative, quite tasty – one of them with fried prawn, asparagus and crab, the other with tuna and avocado and a sweet bourbon sauce. My only objection on the menu – out of 13 creative rolls, 10 of them have cream cheese. I really don't get the Argentine obsession with cream cheese and sushi. It sure as hell isn't "NY style". Overall, quite happy, and all inclusive, with tip, came in at 900 pesos (they do have a pesky 30 pesos cubierto charge, the only other negative of the evening). It's not the best sushi I've ever had, but it's quite good, and I like the atmosphere.
So, on to the myth, the legend, the raison d'etre. Rather than telling the story, here's the quick Youtube video of it all:
Now… look, the internet is not the be all and end all of information research. But something about this whole story didn't sit quite right. So, a bit of delving into it. And, by the way, I love a good legend or myth, so even if they just simply made this all up, I'm cool with that. But in terms of what I was able to find… they make a point on all their signage that they're a recreation of the original Harrison Speakeasy at 109 W. 78th Street in NYC. And, as the story shows, this was supposedly behind their fish restaurant. Interestingly, Google Maps has "The Harrison Speakeasy" at that address, despite the fact that it supposedly closed in the 1930s – so someone's been manipulating the info somewhere along the line.
The current building, a beautiful double-wide brownstone rowhouse, is a five unit co-op apartment building. Now sure, perhaps originally the ground floor was a restaurant, but I couldn't find any evidence for that. And the building was built in 1900 – 22 years before this speakeasy supposedly existed, and was built as an apartment building, not a commercial one. In fact, despite the random photos of a sort of market looking area in the video, that whole block was converted to brownstone rowhouses starting in 1885 and didn't look anything like the photos in the video. Looking over dozens of sites that talk about the prohibition era speakeasies, not one of them ever mentions the Harrison, nor can I find any evidence of a Harrison Fish restaurant, except one that was down in Greenwich Village (which is also where most of the speakeasies seem to have been). The claim that the Harrison, opening in 1922, was the first one in NYC doesn't fit with prohibition which started in 1920 and speakeasies were springing up in both 1920 and 1921, all around the city. So, in the end, I think that this is either a made up story that just sounds good, or, a family legend that grew over time and no one bothered to check into the details. Either way, I've probably lost my chance at being invited behind the heavy curtain for a drink….