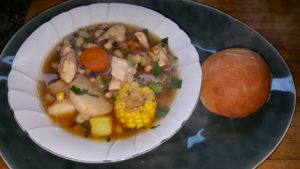 It's been awhile, but time to go with another entry in the big Bread & Soup Project. We're on to episode 16 (can it be an episode if it's not a video?), and the Caribbean island nation of Barbados. Inhabited since at least the 4th century by a series of Indian tribes, first from other parts of the Caribbean, then from South America, it was claimed by the Spanish in the 16th century, and given the name – "the bearded ones", though it's not clear, apparently, whether this referred to the then dominant indigenous group, or to the famed "bearded" fig trees that covered much of the island. In the early 17th century, the English arrived via the delicately named ship Olive Blossom, and British culture has dominated the island since – to the level that even though it's been an officially independent nation since 1966, it's ofttimes referred to as Little England.
One of the things I'm finding as I research these various soups and breads is that quite a few of the Caribbean island nations have cuisines that are awfully similar, and while it might be interesting to do a side by side comparison of the subtle differences between conch chowder, pepperpot, or split pea soup from the different islands, for purposes of this project, it's less so. Instead, I'm finding that in some cases I may simply have to pick a different soup from the shared canon of recipes, and that's the case here.
The most unusual soup I found in the Barbadian, or Bajan (official term and local slang, respectively) cuisine, is the Stepper Soup, basically a chicken and root vegetable soup where much of the flavor, texture, and visual factor is supplied by chicken feet. But, to be upfront, neither Henry nor I are fans of eating chicken feet, be they in Chinese dim sum, or anywhere else. Still, the major factor for their inclusion in this dish (well, some of it may be economic) is flavor and texture, so I included them in making the broth for the soup, but left them out of the finished dish. Some folk use pigtails instead of chicken feet for the same purpose.
On the bread front, the majority of breads in the cuisine are sweet breads, particularly coconut based, which doesn't really fit as a combo with the soup, so I went with a lesser used bread, Salt Bread, which seems to be one of the few, if not the only, local savory bread. Despite the name, it's not salty, it's more of a distinguishing moniker to separate it from the ubiquitous sweet breads.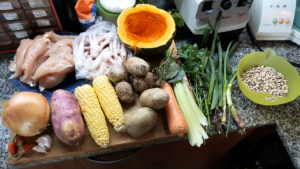 Let's start with the soup – like many of this sort, every family has their own version, and there are strong disagreements about exactly what should go into it. But some things are sacrosanct – obviously the chicken feet and also chicken, a mix of root vegetables, but, particularly, and seemingly an absolute must, are eddoes, or what we would call taro root (here in Argentina, papañame) – in the center of the picture. And quite a disagreement over whether it should be split green peas, or black-eyed peas. Henry likes the latter more, so I went with those. The rest of it is pumpkin/squash of some sort, sweet potato, potato, corn cut in rounds, onion, garlic, chili (we don't have scotch bonnets here, so I just went with some local hot peppers), carrot, celery, thyme, bay leaf, parsley, and green onion, and, not pictured, salt, black pepper, clove, and hot paprika.
As to process – I put the chicken feet (well cleaned), the stems from the parsley, and the bay leaves, in a pot of lightly salted water, and simmered them together for a bit over an hour to really extract the flavor and that sort of viscous texture from the gelatin in the feet. If I'd been making it more traditionally, I'd have skipped that step and just put everything in one big pot. I recommend soaking the black eyed peas for a few hours, or the other vegetables will fall apart before they cook through.
Once the broth was ready, I put all the cut up vegetables, peas, the thyme and spices, into a pot, covered them with the broth, and simmered them until they were all almost cooked through. Then added the diced chicken and cooked about 15 minutes more to cook it through and add flavor, and finally, added the chopped parsley leaves and green onion at the end.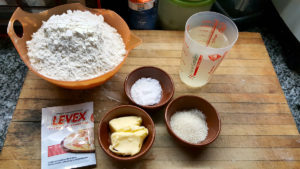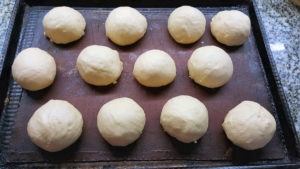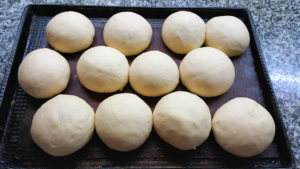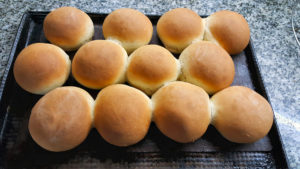 On to the bread, with more exacting measurements. 3½ cups of bread flour, 1 packet of instant yeast, 1½ teaspoons of salt, 3½ teaspoons of raw sugar, 2 tablespoons of butter, lard, or margarine (I used butter), and somewhere between 250-275 ml of warm water (just over a cup), depending on how your flour absorbs it.
Put the yeast, sugar, a couple of tablespoons of flour, and the water in the mixer or a bowl. Let it proof for a few minutes, then add the remaining ingredients – most of the water, but reserve some to see if it's needed as you mix it. You want a fairly soft dough. Knead well. Let it rise, covered, until doubled, then form into a dozen bread rolls, repeat the rise, and bake in a moderately hot oven until golden brown and baked through.
Delicious!
Next time, we head across the world to Belarus, where much of my family is from.