Early morning in Madrid, and no time to do anything but the three S's… and then off to the train station to hop on the semi-high-speed rail to lovely San Sebastián. Now, for those in the foodie world, particularly when thinking about Spain, this is the equivalent of Mecca.
I had this idea that I was going to really go for it all, hit all those places that have been named Top, Best, Eat Here Before You Die kind of spots – in fact, my original, tentative plan for this Gastro-Tour was to hit all of those in Portugal and Spain, having hit up a bunch of different editors with the idea of me covering the whole trail of them. I was quickly dissuaded of the idea by a long time friend at a magazine who pointed out that for a typical feature article they'd probably pay somewhere between $1500-2000 maximum, and that the roughly $5-6000 that it would cost to do the whole degustación experience with wine and all at the baker's dozen or so of places was just a little unrealistic. For my credit cards too.
I narrowed it down to three spots in San Sebastián, Arzak, Mugaritz, and Berasategui – the first, however, had no spaces available for the entire first two weeks of August, so I replaced it with Akelarre. Then I realized that a) even these three were going to stretch my financial limits and come in at around $1000, and b) that while intellectually interesting as a chef and curious person, I'm really far more interested in local and traditional cuisine. So I've cut it to one, Mugaritz, which will be tonight (I know, I know, some of my foodie and chef friends will say, but you went all that way, you're crazy not to… but hey, none of them offered to foot the bill, plus, really, one "modernist" place is going to be enough for me), and in the meantime, I'm out enjoying the local tapas, bar, and casual restaurant scene, and loving it!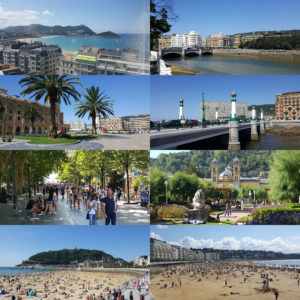 We'll start with a little composite of my wandering around the old town area of San Sebastián. You can click on it to make it bigger, like all the photos that I'm doing now since the start of this trip. Once the trip is over I'm going to do one of my infamous vacation videos that'll cover the whole thing – so you'll get to see more. Let's just say, San Sebastián is very pretty! And that view from my hotel room in the upper left doesn't suck at all. It wasn't supposed to be my view – I had reservations at a small hotel right in the heart of the old city, but on arrival found three immediate problems – they didn't take credit cards and wanted 100% cash upfront, which hadn't been communicated to me at any point; their internet service isn't actually in service; and what was purported to be a bed and breakfast turned out to be two spare windowless bedrooms in someone's apartment, and looking nothing like their listing. Took me five minutes online to find somewhere else nearby to stay (the Tryp Orly), a little more expensive than planned, but not bad, and definitely worth it!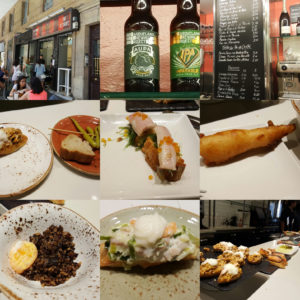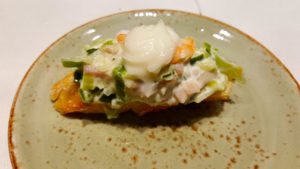 I had not had time for breakfast (having left the planning of which train to take until last minute, and upon waking up at 6:30 in the morning discovering that the only direct trains from Madrid to San Sebastián left at 7:30 and 8:00, and took slightly over 5 hours to get here, while all the later trains were connecting ones and took anywhere from 7-9 hours – so it was a dash to pack and race to the station). A quick consult to the internet gods and I headed to Bar Iturioz, San Martin Kalea, 30, where I dove into a series of tapas, pintxos (bruschettas), and small plates, a local beer ("Adua" Pale Ale from Basqueland Brewing Project). All amazingly good, my favorite was the creamed leeks, ham, and prawn….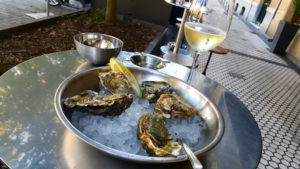 Cue the music for wandering about. A mid-afternoon stop at Kata.4, Santa Katalina kalea, 4, ostensibly the city's top oyster bar. I don't know about that. I thought it was pretty sparse – only five kinds of oysters, somewhat surly service. But, I tried them all – first time I've ever been served oysters on the half shell with the tops put back on, which was a little annoying, as you had to use the little fork to pry them out as they settle back into place, plus the oysters were not fully separated from their shells – it was just messy to eat. A glass of the local white wine, Txakoli, this one from Akarregi Txiki, a producer I'd not heard of before. Kind of a lemon-lime and mineral bomb, with lots of spritz to it, delicious with oysters!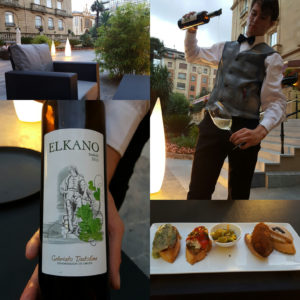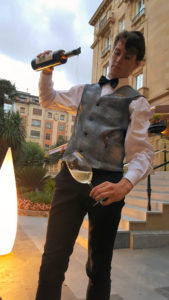 More wandering, then back to the hotel for a bit of a rest, and yesterday's write-up. And then an evening out on the tapas bar circuit. My friend John back in NYC had highly recommended, no, insisted, that I start at least one evening out at the luxury hotel Maria Cristina, for a cocktail or glass of wine. Beautiful courtyard, a glass of Elkano Txacoli (almost no fizz, which is unusual, and a little flat and just a touch too off-dry for my tastes), and a small plate of mixed pintxos (I'm cutting back on my ingestion by not eating the slab of bread under each and every pintxo, just where it's necessary – probably saved myself eating an entire baguette over the course of the evening…). None of them all that interesting, I kind of liked the piquillo pepper stuffed with crab salad, but I expected a bit more from a place of this caliber. Still, lots of pretty things to look at….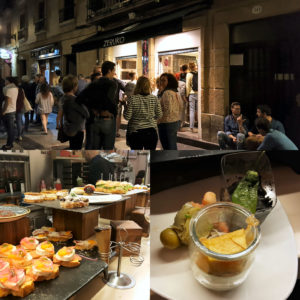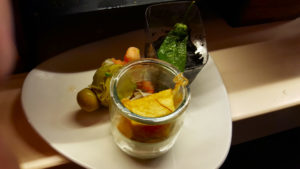 On to Bar Zeruko, Arrandegi Kalea, 10, a place known for its really creative, off the wall tapas, with touches of "modernist" cooking. I have to admit, the tapas bar scene, when solo, is a bit daunting – tapas bars are basically seething masses of humanity pushing and shoving to get as close to the food as possible. Service is variable, depending on the spot. At Zeruko, it's more or less on the honor system. You grab a plate from one of the barmen, if you can get their attention, and that's not easy. Once you have it, you then just grab your own goodies off the long bar, and when you're done eating you just tell them what you ate. Apparently for those in the know, the right-hand end of the bar are things that you then hand to one of the barmen to heat up, while the left end are to be eaten as is. I got yelled at by one of the barmen for having eaten a hot dish, cold. Sorry dude, didn't know.
But without a couple of friends helping stake out space and taking turns grabbing food, it means giving up the bar spot every time you want to grab something more than a couple of feet away, so I ended up just doing one round of three things, and having unsuccessfully gotten anything to drink (I asked, five times, but never got), I packed it in. Still, delicious tapas – I may even give them another shot at lunchtime today if they're open, when it's a little less hectic. I had a lovely skewer of artichokes and prawns, calamari in their own ink (eaten cold, sorry again), and baby eels with what I think was a cured egg yolk sandwiched in fried tofu, that was just amazing.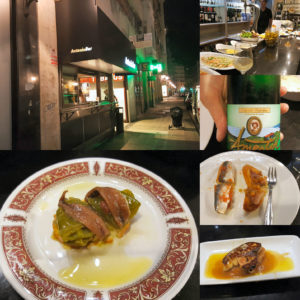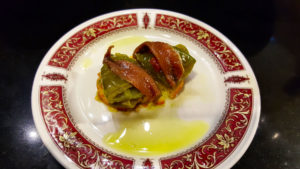 I wandered a bit more, and decided to finish off the evening at a little spot off the main circuit, Antonio Bar, Bergara Kalea, 3, where I left the selection of four tapas up to the counter guy – and got my favorite of the entire evening, anchovies with moderately hot chilies, plus both cured and smoked herring, and a medium rare slab of foie gras in a savory apple sauce. A glass of Ameztoi Txakoli, citrusy and just a touch off-dry, was a great finish for the night. Slept well, and ready to go today.