I almost just want to leave this review in the category of "a picture is worth a thousand words". It's been five years since I reviewed Cocina Sunae, a closed door restaurant offering up ridiculously good pan-Asian cooking off in Villa Ortuzar, just a bit outside the dining center of Palermo. At the end of last year, after a several year run, the Sunae clan closed up the closed door shop and shortly thereafter showed up in neon lights as the very open door Sunae Asian Cantina, Humboldt 1626, in Palermo.
Great room – sleek, modern, and at the same time feeling very warm and inviting. Friendly, attentive waitstaff, virtually all of whom seem to be bi or multilingual, in at least Spanish and English. Open kitchen where you can not only see the action going on, but have a moment with chef and team. Concise menu that gives a little taste from all over the "ASEAN", i.e., southeast asian, region. Let's go to the pix, because once again, it's all a hit!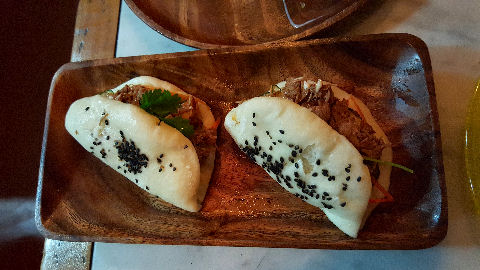 Gua bao – I mentioned a week or so ago that there are four spots serving up these Taiwanese steamed snack buns. Great filling – braised pork with a cucumber kimchi, perfect texture buns.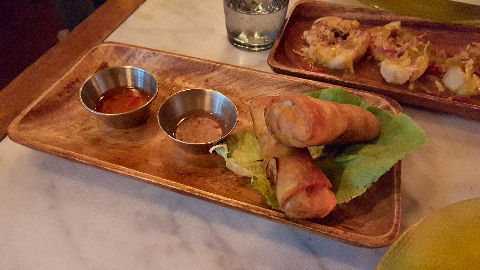 Crispy fried vegetable lumpia from the Philippines, with a spicy, sweet, and sour sauce.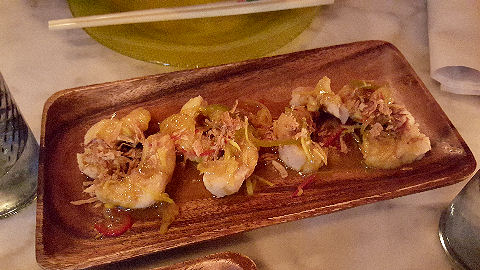 Sweet and spicy pickled fish escabeche.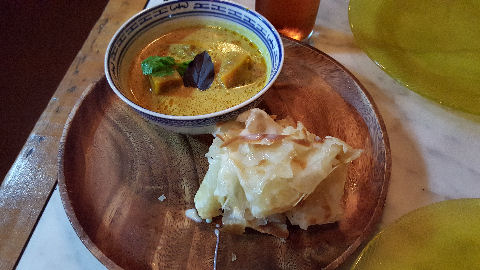 Malaysian – Indonesian – Singaporean – lovely folded roti, with squash in a yellow coconut curry. Delicious, though I would say that given the quantity of curry in the bowl, a second roti is needed on the plate.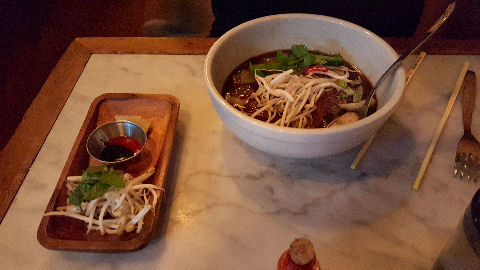 From Vietnam, a deep, rich pho.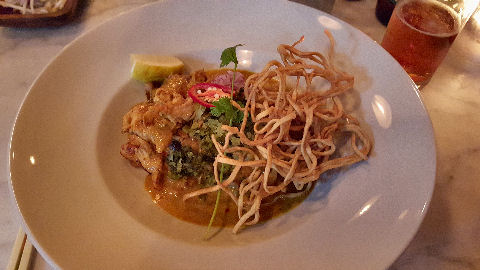 Back to that yellow coconut curry, this time spiked up a notch and filled with chicken and egg noodles, with crispy noodles atop – just, really, a noodle fest!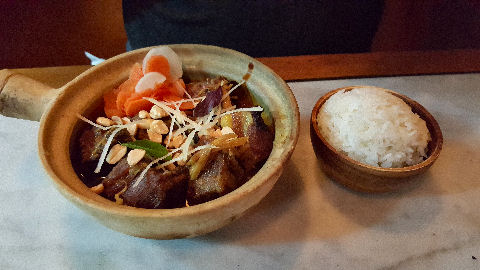 And on the other side of the curry spectrum, a red curry of pork that was a special one evening. Superb.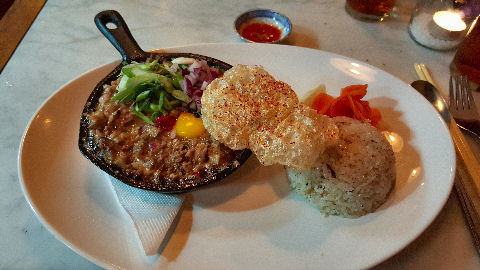 But here, here, is the crowning moment, at least for me. I love dishes like this. Sizzling Sisig, Sunae's version of a traditional dish from the Pampanga region of the Philippines, a bubbling stew of pork belly, ear, and snout, all cooked until just falling apart tender, surrounding a just barely set egg, and topped with crispy pork skin. This is not just a pork lover's delight as the menu portends, but an offal lover's delight.
As good as Cocina Sunae was, Sunae Asian Cantina tops it. Just go. This is, right now, the only place that I'd head to in city limits for southeast Asian cooking.