Just a look back at the last thirty days of dinners and some favorites out of the various dinners.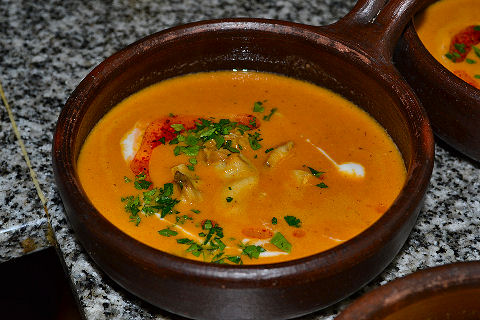 A raved about favorite over the last year since we introduced it and brought it back numerous times, our combination Parihuela-Chupe, a tomato based seafood soup with a touch of dairy, miso, herbs, and plenty of chili heat.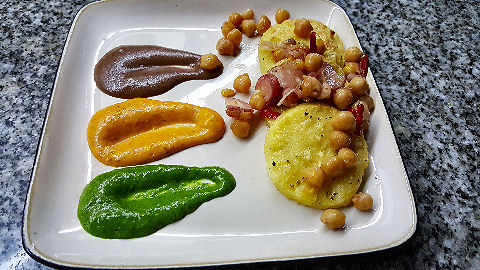 I'd call this a contentious dish, but the truth is, only one couple over four nights of serving it found it lacking. Along with the fact that we didn't serve MEAT every course except dessert, led them to trash us on TripAdvisor – apparently not having bothered to read our website to find out what sort of food we actually serve. Our classic semolina gnocchi with jalapeño and red-onion chickpeas, but we've added in a trio of emulsions on the side to augment the flavors – black olive, sauce vierge (tomato, shallots, garlic, thyme), and basil.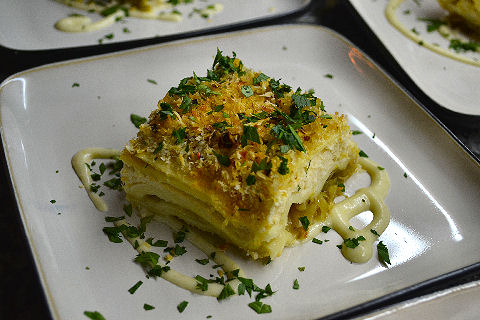 A new pasta dish, based on the cauliflower three-cheese pansôti that we've made before. Reinterpreted as a lasagna, three layers of semolina pasta, with melted leeks between the bottom two layers, the cauliflower three-cheese filling (with the addition of beaten egg to help it set) between the top two, the gremolata panko crumb on top with the addition of more grated cheese, and the lemon sauce underneath. It has all the same delicious flavors of the pansôti, but looking back, although this is easier to make, I think I like the presentation of them more.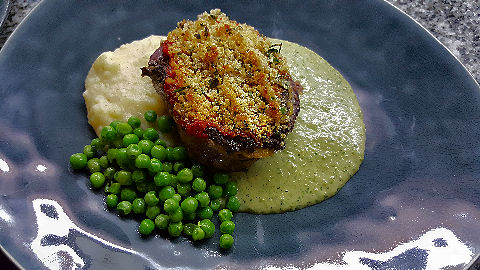 It occurred to me that the flavors of our cod "viennoise" reinterpretation could be further extended to beef. Here, medallions of ribeye that were vacuum packed and then sous vide cooked to medium rare, then topped with smoked mustard, portobello mushroom duxelles, matbucha, and fresh breadcrumbs with herbs. Served over a mixed herb and green chile mushroom stock veloute sauce, and accompanied by fresh peas cooked butter and our blend of potato puree and popcorn puree.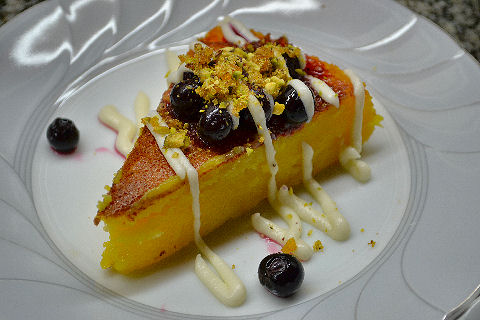 For many years now I've been making the lemon tart I learned from the owner of Marion's in New York. Over time I've changed it a bit – I've added a dose of saffron to it for color and a hint of a bitter edge. We top it with a white chocolate fluid gel, blueberries cooked in honey and limoncello, and a toasted pistachio brittle crumble.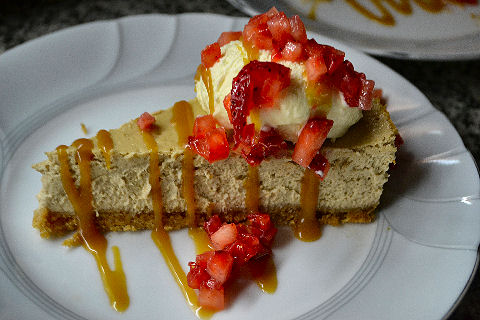 And, finally, a fresh pineapple cheesecake made with our own homemade cream cheese, using brown sugar instead of white, and spiced with a little Chinese five-spice mix. Topped with white chocolate mousse, diced strawberries, and a caramel blended with a local liqueur called Hierro-Quina Peretti, which, by itself I'm not fond of, but in small doses in caramel sauce, works wonders.