Time for Round #10 of The Bread & Soup Project! So it seems that Australia, as a whole, just isn't all that into soup. I checked in with friends, and my youngest brother, who live there, and the general consensus was, soup's just not much of a thing. I broached the subject of the infamous "pie floater", a meat pie nestled into a bowl of split pea soup. Now, I remember seeing it on menus in cafes when I was in Sydney back in the late 80s. I didn't hit cafes on my return visit in 2002, so I can't speak to whether it was still around. The internet seems to think it's a major part of Australian cuisine, particularly in Adelaide and, to a lesser extent in Sydney. No one I checked in with even had any idea what it was.
The general feeling was that if there were to be a sort of national soup of Australia, it would have to be pumpkin. And a pretty simple, basic pumpkin soup, generally with a dollop of sour cream. The sort of thing to have on tap for a colder day, but otherwise not much thought about. On the other hand, there was no uncertainty when it came to the turnover-ish plate, it had to be a sausage roll. No one even hesitated in suggesting that. So, away we go…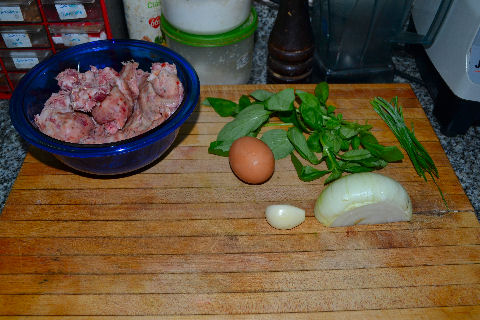 Even the sausage roll doesn't get all fancy with a bunch of different ingredients. There are plenty of recipes out there, but they all pretty much are just variations on what seems to be a core recipe – pork sausage meat, onion, garlic, basil, and chive.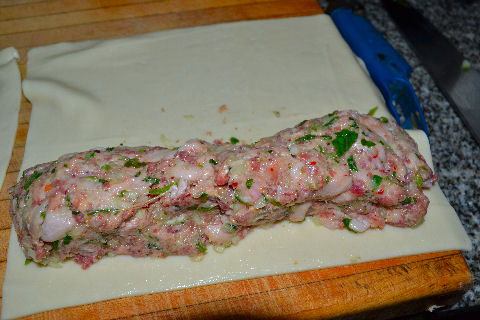 Everything gets chopped up and then mixed together, and gets rolled in puff pastry (I used puff-style empanada dough here – I could have spent a couple of hours making traditional puff pastry, but, just not going there).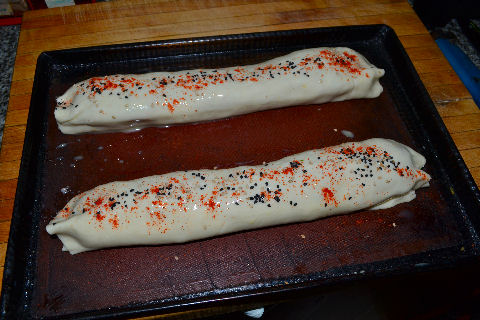 Then brushed with egg wash, and sprinkled with black and white sesame seeds and a little smoked paprika. Into the oven…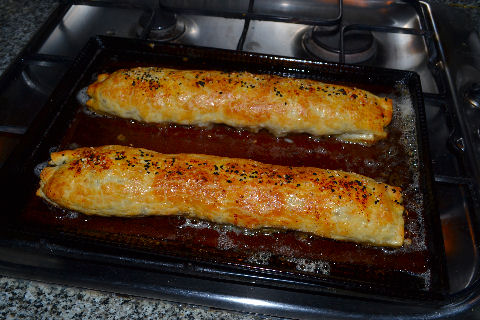 …and a half hour later, sausage rolls!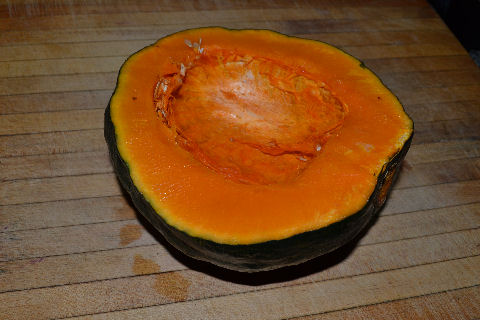 The soup requires even less work. "Japanese pumpkin", or kabocha squash, we have here. I grabbed a half of one to make a smaller batch of soup.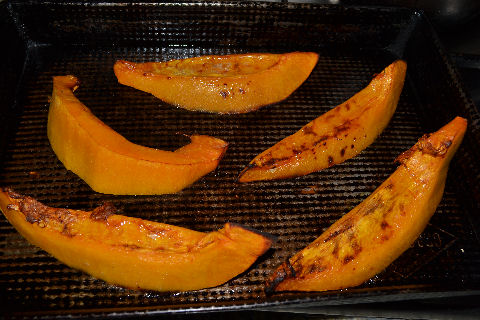 My brother, who's a trained chef as well, though he gave it all up to do something technology related that I don't attempt to understand, suggested strongly that the squash be lightly charred before going into the pot – so, under the broiler it went, brushed with a little oil.
General agreement that the soup base has to be light chicken stock – I had a carcass in the freezer, tossed that in a pot with some leeks, celery, peppercorns, parsley, bay leaf, and salt, and let it simmer away in water for about half an hour – here's clearly an area where you could have a strong influence on the final flavor of the soup, depending on what you put in your stock.
Sauteed some white onion, garlic, and a small, medium hot chili in butter – the chili doesn't seem to be the norm, but does show up now and again, and, we need a little kick in our soups – I used an ají limo, basically the same heat level as a tabasco or cayenne chili. When soft and the onions had started to color, I added the lightly charred pumpkin, topped it off with strained chicken stock, and let it simmer for about 15 minutes together. Then pureed it smooth, ladled it into a bowl, and dropped a dollop of sour cream in it. Sausage roll on the side, sliced on the diagonal, because, like sandwiches, we all know diagonal tastes better.
Pretty good too. Not going to be one of my favorites, but not unhappy with it. And, surprisingly, Henry loved both, and especially the combination together.
Next round, Austria.