New sushi spot just opened up here in Recoleta, Mir O'Hashi, Azcuénaga 1284 (branch of a Martinez based sushi bar), so, of course, had to go check it out. Take-out and delivery only. Basically a hole-in-the-wall with a teeny kitchen and a one person sushi bar. While enthusiastic, the three staff members seem a little clueless about the whole sushi world, I sort of got the impression that maybe they took a class in sushi making and not much more. None of them knew of any of the more well known sushi bars, nor had they, obviously, tried any of them. Although the menu lists several options, the only things available were salmon and prawns, and he prawns looked, and tasted, like ones that had been pre-cooked and then frozen, and thawed for use. Cream cheese on everything except the sashimi and nigiri. Wasabi and ginger only on request, since most people don't want them, apparently. Another disappointing yawn.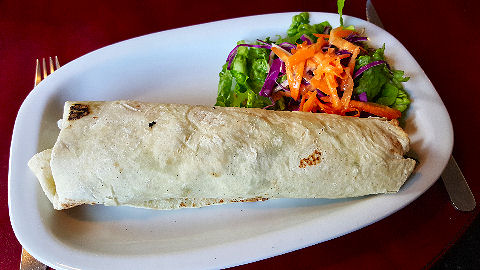 A couple of year-old spot that I'd not noticed before recently, al Rawshe, Santa Fé 3870, offering up a small, but tasty sounding selection of Middle Eastern dishes, combined with some local Argentine faves (not on the same plate, just a mixed menu). Had to, of course, stop in and give the shawarma a shot. More's the pity. A few paltry slices of meat that were probably just sauteed to order (not spit roasted), with virtually no seasoning, wrapped in a stale flatbread with a little bit of shredded lettuce, a couple of slices of very under-ripe tomato, and a watery yogurt sauce that just dripped everywhere. Don't know if there was hot sauce, because the waiter basically was uncommunicative and simply disappeared, other than taking the order and delivering the food. Really, nothing about this to recommend.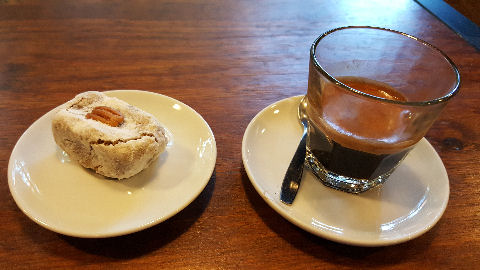 Some of you may remember my negative experience and rant at Lab Café a few months back. It actually had me pretty much ignoring any of the new, more or less hipster style coffee spots in town. But hey, I like a good coffee, and it's pretty silly to have one place ruin all of them for me. So I'm over it. Dropped in to Lattente, Thames 1891 in Palermo, to check out what the fuss is all about. No fuss, no muss. Friendly, helpful staff, cute place, great coffee, a nice selection of pastries to accompany the various different coffees, and they're even willing to recommend pairings that they think will work between particular coffees and baked goods. Thumbs up, highly recommended.
As I said in the last post on the topic, there seem to be more and more places for gourmet burgers springing up in BA every week. Some, but not all of the places, themselves, are new, but the offering of a top quality (ostensibly) burger, is. Something replacing what, in past days, might have been a frozen patty quickly grilled and stuck on a cheap bun with some condiments, just to get in the game.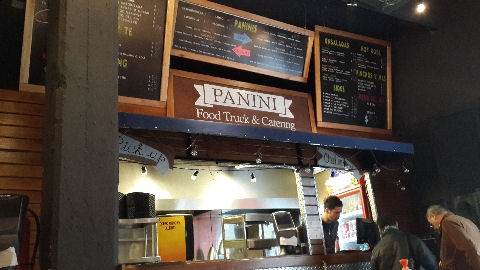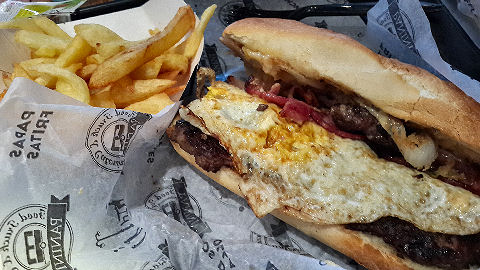 Throughout the summer last year, there was, apparently, a food truck parked, Monday through Friday, on the ground of the architecture museum. By the time I heard about it, they were gone, and messages on their facebook page suggested that they'd be back, in some fashion. They were, simply, called "The Food Truck Company". And, they have arisen from the ashes of the grill, in partnership with Panini, a small chain of casual Italian spots, as, The Food Truck Store. What they've done is moved the physical food truck indoors, into a large space behind the Panini at Libertador 1002, pretty much across the street from where they used to be located, at the corner of Callao. Not having visited the former spot, I don't know how much has changed in their offerings – they currently offer up a small selection of both cold and hot sandwiches, some salads, and side dishes. We stopped in recently to check them out, I, of course, went for the burger. Hmmm… Let's deconstruct this. Oh wait, they already did. The burger is served on a longer type sandwich roll, and in order to make it more or less fit, they broke the burger up into a half dozen pieces and sort of stuffed them in along the roll like they were filling a pita with falafel. Apparently they didn't have the same issue with the fried egg, which just sort of laid there. The single slice of bacon and the couple of limp pieces of onion were shoved in. The cheese, I think, was a sort of schmear of melted nacho type cheddar on the underside of the top of the roll. The itself had little seasoning, and, despite a request for my usual rare to medium rare, was cooked well done. This simply can't be the burger that people were raving about when they were across the street operating as an open air food truck – either something major has been changed, or they were having a completely off day…. Do they get another shot?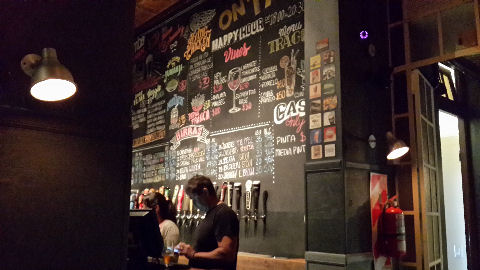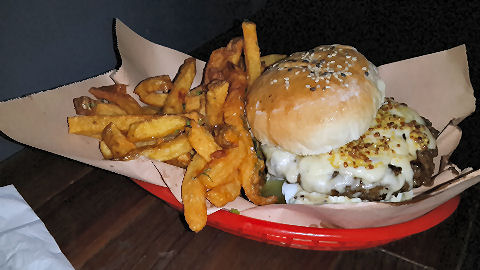 While On Tap, Costa Rica 5527 in Palermo, has become the go-to spot for craft beers these days (rotating selection of 20 local beers), there's also a bit of sottovoce touting of its food. We've tried the place twice for eats. The first time, it was the much lauded hasselback potatoes, crispy on the outside, soft inside, and lovely flavors of olive oil and a whole lot of salt – but at last check, they were off the menu. Pork brochettes were a bit bland, and a bit more under-cooked, verging on medium rare. But we're here to talk about the burger(s), of which there are two cow versions, a chicken version, and a veggie. The star of the show is the Gribiche Burger, based on the traditional French Sauce gribiche – an emulsification of hard egg yolks, mustard, neutral oil, pickled cucumbers, capers, parsley, chervil and tarragon. Now, the last two herbs are pretty much non-existent here in Argentina – now and again we see tarragon – so it's no surprise that they're not included in the burger toppings, which are gouda cheese, pickled cukes, capers, dijon mustard, and a fried egg. Ordered our usual rare to medium-rare, it came out a solid well-done. The burger patty itself is decently seasoned, perhaps a trifle heavy on salt, which, when paired up with both pickles and capers, makes the whole thing a bit over the top in the NaCl department. The bun falls apart in mere seconds, the bottom bun was pretty much non-existent by the time the burger reached our counter-spot, having dissolved into paste underneath the various ingredients. The fries are decent, nice and crispy outside and soft inside, but again, heavy on the salt. Overall, an interesting entry into the gourmet burger world here, but someone in the kitchen needs to back off the saltshaker – maybe they're doing it just to get people to drink more beer.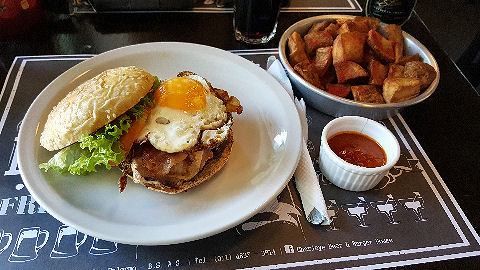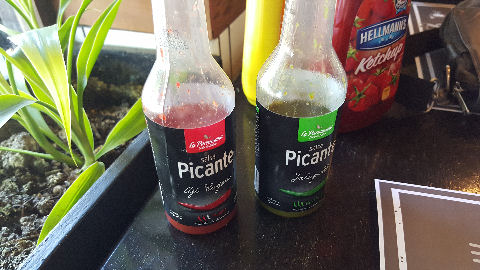 Purely spotted this place in passing, I haven't heard anything about it, no one's been touting it as the best in town, but, I was there, so why not check it out – Charley's Beer & Burger House, Uriarte 1610 in Palermo, corner of Honduras. For the claims of being a burger and beer bar, a little disappointing. The burger was fine, a bit underseasoned, not bad, not great, just good. Cooked well past medium despite the request for rare to medium rare. A bun that just falls apart in seconds. The best things, are the garnishes and condiments – actual crispy, smoked bacon, and a fried egg that still had a soft, gooey yolk, fresh tomato and lettuce, caramelized onions, and, in addition to the usual suspects of mustard, ketchup and mayo, they have both cayenne and jalapeño hot sauces available (presumably more for the tacos and burritos that are also on the menu, but hey, they're there). I ordered papas bravas instead of french fries. Wretched. Just wretched. Mealy, overcooked, burnt, tasting of old oil, and the "hot sauce" that accompanied them was anything but – maybe it had a little hot paprika in it, but even that would surprise me. They really fall down though in the claim of being a "beer bar", offering just blonde ale and stout from Quilmes, and blonde ale from Stella Artois, in bottle. Overall, just acceptable.
Not a great trio of burgers this time around. Come to think of it, other than the coffee, the whole roundup was pretty disappointing.