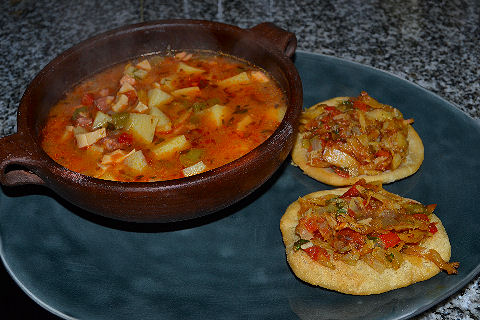 First, a little "business" – I've gotten a couple of emails and some facebook messages asking about whether all is well at Casa S, as I haven't been writing up dinners. All is. We've sort of moved into a phase where we've pretty much got a solid repertoire of recipes that we're using, the long promised cookbook is finally coming together, and there's just not a lot new to report. Mostly I'm tweaking dishes that I've written about before – here and there when we have a completely new dish that I think worked out particularly well, I'll write it up. But just posting pictures of the same dishes over and over again doesn't seem a productive use of my time, nor likely to be of interest to regular readers. So for now, mostly I'll be focused on this project, plus of course some reviews, and the never ending search for great hamburgers and the like, and wine.
Tangent – logistics – I got an odd email from someone asking why I didn't do this project "randomly" selecting the countries, which would be more, well, random. And yes, there's some logic to that, but, not really. Although I'm going alphabetically, it's not like countries are lined up geographically by the alphabet, nor by size, nor by any other criteria that I might pick, so it does come out pretty random – I mean, so far, I've tried my hands at the combo from southwest Asia, eastern Europe, northern Africa, western Africa, and now the Caribbean. Really the only thing that using some sort of random selector would accomplish would be that the next country up would be a surprise rather than predictable. Which, maybe, is what he really meant.
We're on to week five of the Bread & Soup Project, and have moved next in the alphabet to Anguilla, a British Overseas Territory in the Caribbean, a little east of Puerto Rico. Not surprisingly, much of the cuisine of the country is influenced by the British – then again, that's true for a number of the islands in the area. Still, it definitely maintains its island flair. Soup-wise, it wasn't much of a contest – Anguillan Conch Chowder (a.k.a. Island Viagra) pretty much dominated the charts. The bread component was a bit trickier – there just didn't seem to be any sort of filled bread within the cuisine. The most common bread, other than simple loaf breads, seems to be Johnny Cakes – something very different from the norteamericano cornmeal flatbread that I know from New England, being instead a deep-fried baking powder and wheat flour flatbread. I was just going to make those and say the hell with the filling, when I thought, hey, let's see if anyone ever fills these with anything, and it turns out that yes, they do – often with cheese, often with Saltfish. Let's see how it all turned out.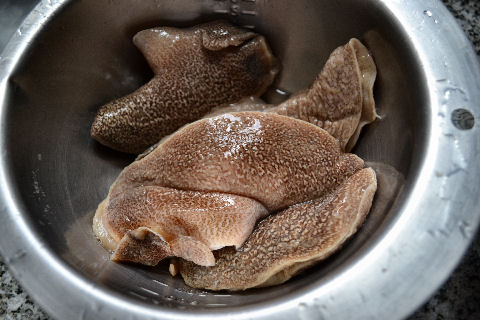 Although we don't have Caribbean conch here, we do have our own south Atlantic version of it. Thankfully, in Barrio Chino, I was able to find some already out of the shell, so I was able to skip the step of breaking the shells open to extract the critter.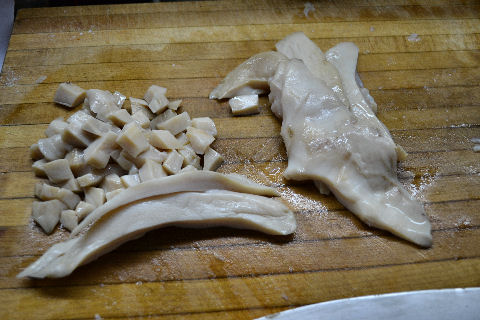 Cleaned well of all the organs, and bits of clingy stuff, and stripped of the tough, dark skin, then diced. Just as a note for planning, all that cleaning and stripping ends up with about 2/3 the original weight left to work with – here, about 400 grams, a little under a pound.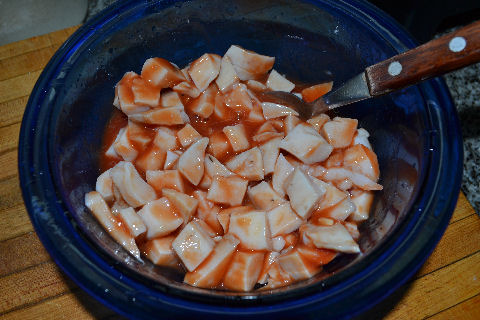 Marinated in tomato sauce and lime juice for about an hour.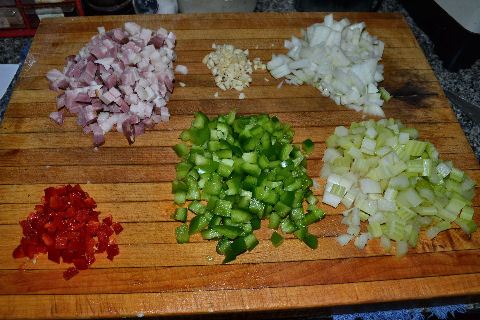 The good stuff for the soup base – bacon, onion, garlic, celery, green pepper, hot chili, and tomato (out of the picture).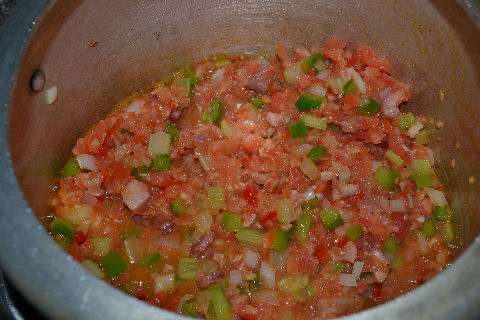 I'm not going to show every single step, as I added each ingredient. To do this sensibly, you need a pressure cooker – it takes some doing to soften up the conch. I sauteed the bacon in coconut oil until lightly browned, then added the above except the tomato, plus some bay leaf and thyme, salt and pepper, and cooked until the vegetables were starting to color as well. Added the tomatoes, cooked another couple of minutes, added in the marinated conch, and about a liter of water, put on the lid and brought it up to pressure, then cooked over low heat for an hour.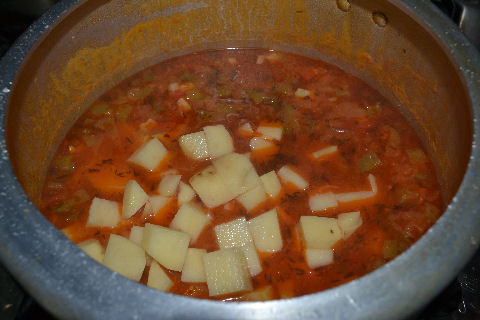 Removed the lid, added in a half kilo of peeled, diced potato and cooked about twenty minutes over medium heat to cook them through. Then a good wallop of rum, a couple of spoonfuls of hot sauce (or you can leave that for your guests to add to their tastes), and a handful of chopped parsley and cilantro. Results in the top photo above – and absolutely delicious. A lot of work, but worth it.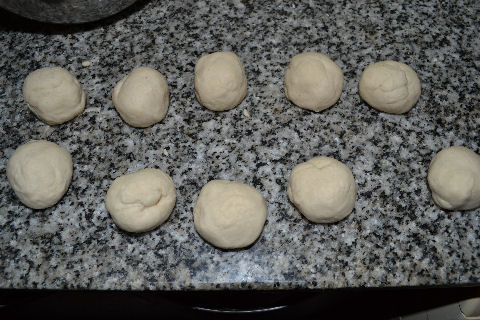 Johnny cake dough – 1 cup flour, 1.75 teaspoons baking powder, 1 tablespoon butter, 3/8 teaspoon of salt, and about a 1/3 of a cup of water (start with 1/4 and add as needed), mixed together to form a smooth dough, then divided into roughly 30gm/1oz balls.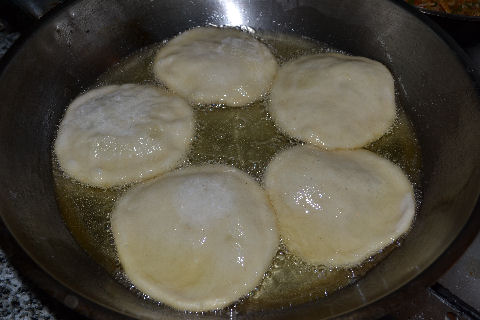 Flattened out by hand into rounds and then fried. Honestly, this didn't work so well – they really need to be plunged fully into a deep fryer so that they puff nearly instantly – pan frying them they started to puff and then collapsed back on themselves because the upper side was too heavy, being raw, to support the puff…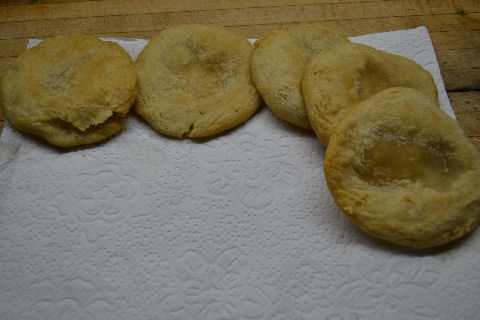 …and we ended up with too dense, too oily flatbreads that not only weren't that interesting, but you couldn't open them up to stuff them with the saltfish mixture. So in the end, as you can see from the top photo, we just topped them with it, and then mostly just ate the mixture and ignored the bread.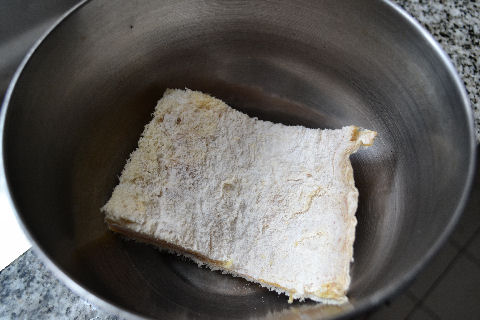 While I doubt that the traditional saltfish in the Caribbean is bacalao, or salt-cod, it's really all we have here, and I just couldn't quite get myself up for spending a couple of weeks salt curing and air drying some other sort of fish.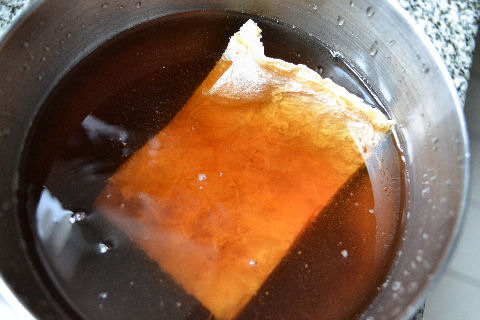 Soak in water with brown sugar – several different Caribbean cooks and chefs recommend that to help "cut the salt" – whether the brown sugar really does anything or not, I don't know, but I followed their recommendation.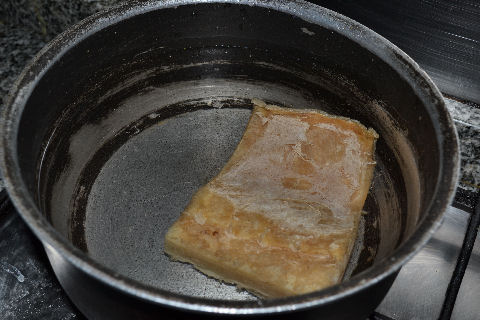 After an overnight soak (changed the water once, halfway through), into a pot with fresh water and simmered for about an hour until soft. Removed, cooled, and flaked – be careful to remove all the bones.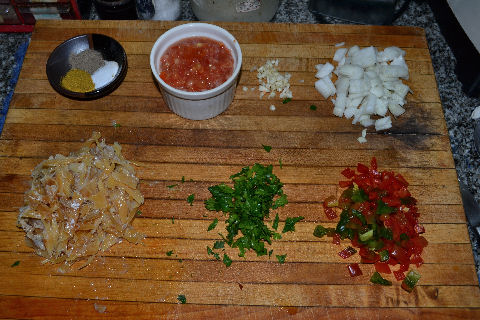 The mise-en-place ready to go.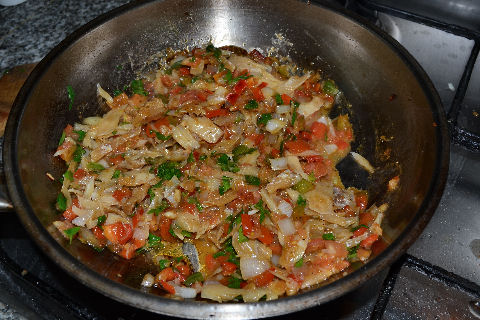 Saute chopped onion, red bell pepper, garlic, salt and pepper in coconut oil until softened. Add chopped tomato, a little curry powder to taste, and the flaked saltfish and cook for a few minutes together until the liquid has pretty much evaporated or absorbed. Add parsley and adjust the seasoning. Tasty stuff.