Time to get back into the swing of nibbling my way through casual joints around the city. Let's dive right in, and I think, from least interesting to most will be the way I work my way through this round.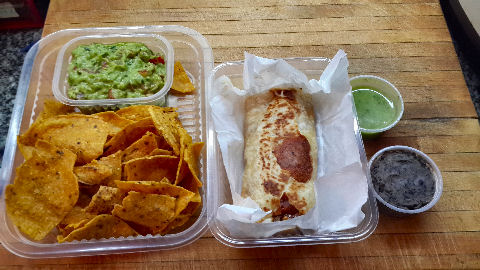 Takeout and delivery only Mexican has been available for a bit from Chiwa's, Gorriti 3579 in Palermo. I've passed by it a few times and it's always been closed up, but that's been during the daytime. I decided to order from them one evening when I didn't feel like moving away from the computer. Should have ordered tacos to add to my list of taco places, but, for some reason, I ordered a burrito, plus chips and guacamole. One thing I will say, they're fast. Delivery arrived at my door in 20 minutes. The chips are basic commercial tortilla chips, the guacamole was actually pretty good – nice and fresh, could have used a bit more zip to it – it's really just avocado and tomato. The burrito, not so much. That may have started out as a nice wheat tortilla, but it somehow ended up a mix of chewy and crisp – I'd say they probably cook it in a sandwich press, the way it's been flattened, and it's browned on top and bottom but not on the sides. It was also barely warm. The filling, which was supposed to be steak with green onion, mozzarella (the only other choice was cheddar) and poblano chile had virtually no flavor, and was rather small for 45 pesos. The dipping sauce was kind of a nothing, I'm not even sure what it was supposed to be, tasting vaguely of lime juice and cilantro, and the little tub of black beans (15 pesos for that!?) was ice cold. Pass. [Closed – didn't even last six months]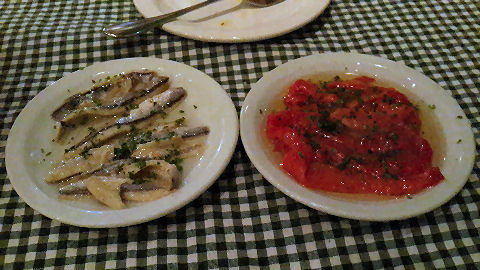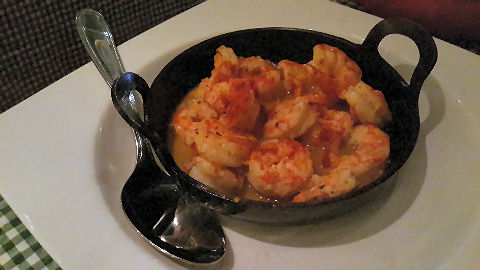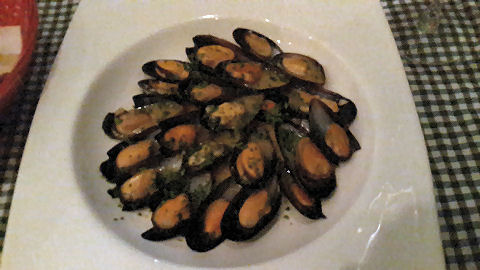 A new branch of the well know La Esperanza de los Ascurra has just opened up here in Recoleta, in the galeria at Vicente Lopez 1661, taking over the space vacated awhile back by Nectarine. I've actually not tried either of the other locations. Basically, they offer Spanish tapas plates. Not served up like a tapas bar where you can see everything displayed and pick and choose, but just a short menu to choose from. I popped over with a neighborhood friend to check it out. Everything nice and fresh – we ordered up grilled peppers, some boquerones, some garlic prawns, and some steamed mussels, but other than the last, small portions, and fairly steep prices (small plates hover around 50 pesos each, larger from 80 to 100). Everything could have used a bit of seasoning too – the peppers needed some salt, the boquerones too, the prawns could have used far more garlic, and the mussels could have used pretty much anything. Biggest disappointment, the lack of anything green – the only option was a gratin of chard – although the lunch menu offers a green salad, they simply refused to make one in the evening. It's more of a place to stop and have a glass of wine or a beer and a couple of nibbles before heading elsewhere to dine.
Actually, a little sidebar in re pricing these days. Because of the steadily declining Argentine peso, and steady inflation, prices keep looking more and more like they're outrageous, particularly for anyone who's been here for awhile. And more so for people who earn their living in pesos, it is getting really expensive to eat out, because wages aren't rising at the same rate that prices are. But for those who earn their living in dollars or euros, as many of us do, or for those visiting from abroad, the prices are really pretty tame. While looking at this array of four plates of tapas and two glasses of wine initially seems a little shocking, coming in at roughly 440 pesos with tip, for what just a couple of years ago would have been half that, the change in ratio to the dollar, particularly taking into account the "blue dollar", means that really, for all that we paid just under $30 for two of us, for a light dinner. Or the burrito above, for which 45 pesos sounds high on the surface of it, it's only $3. Or the other day when I moaned about the wagyu beef burger and a beer running me 200 pesos, that's well, $13 and change.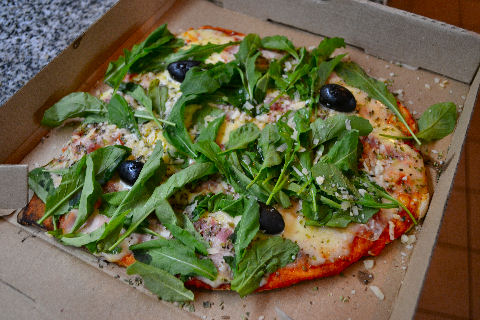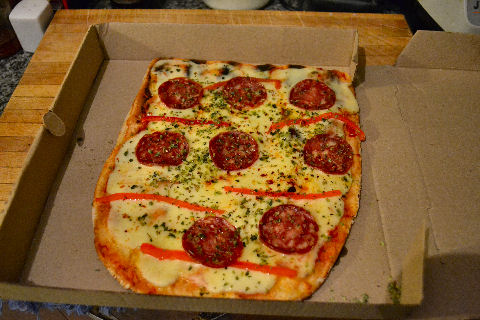 I love my pizza. And I really love a good pizza a la parrilla, or grilled pizza. So I was excited to see that a new spot has just opened up here in the 'hood, Pizza Grill Recoleta, Azcuenaga 1396, corner of Juncal, taking over the space that apparently was vacated while we were on vacation by the in-aptly named Foodies, a place that no one ever seemed to enter, including us, as nothing they offered ever sounded like you'd want to eat it. I toddled over when I first heard about it to find it semi-dark, but with a few folk moving around – the owner came to the door and explained that they were only doing delivery, and were keeping it dark in order to not have people do what I did, knock. They whipped up a granja pizza with panceta and arugula for me, and I took it on home – delicious! A week later I called and ordered a calabresa with spicy sausage and peppers – equally so. Great addition to the neighborhood, as the only other place nearby we will generally order pizza from here is Almacen de Pizzas, another recent opening. I like that a small pizza is completely eat-able by one person (mostly because the crust is so thin, you don't feel bogged down). Smalls run from 95-149 pesos, large from 119-179.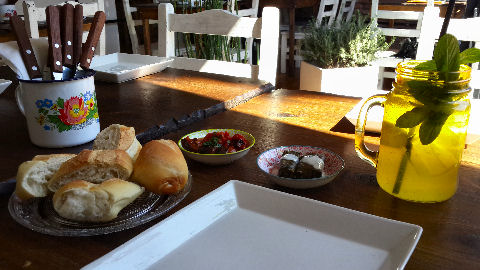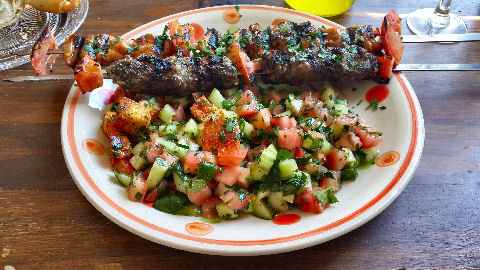 Wandering about in Palermo I stumbled across the newly opened Eretz, Malabia 1583. Attracted by the name (Hebrew for "land"), I thought, oh cool, a new middle eastern spot in town and perhaps with an Israeli bent rather than the ubiquitous Syrian – Lebanese – Armenian. It's a small spot, with just a few tables, their focus is various types of meat on skewers – a "brocheteria" as they call it – along with some various side dishes and appetizers, and a few types of burgers. Compliments of the house, a couple of stuffed grape leaves, a delicious eggplant and tomato spread, and some hummus. A mug of ice cold mint lemonade (they need better or at least more beers on offer, the choices were Quilmes and Stella Artois). And a choice of two of half a dozen brochettes with one side dish. I went with the highly recommended house skewer of spiced chicken, plus the "turkish" style beef. Both excellent – the chicken one came out a bit undercooked and they immediately whisked it away and gave it another couple of minutes over the fire, and the chef/owner, who is Israeli, came out to apologize, and also to ask where I was from, since I'd asked for a side of hot sauce (fantastic and fiery, freshly prepared), something that no one here of course orders. Great fatush salad accompanying. I can't find my copy of the bill, but all told it was something like 140 pesos with tip. Definitely a spot to go back to.